The Mets are a different team without David Wright in the lineup.
A bad team.
In the two games Wright has missed after breaking his right pinkie finger on Monday night, the Mets have scored just two runs.
On Wednesday afternoon, they were shut out for the first time this season and mustered a season-low three hits off Nationals phenom Stephen Strasburg and three Washington relievers.
"As much as you wanna say everybody picks each other up, yeah, David's a big part of what we were doing early on," Jason Bay said after the Mets were blanked 4-0 by the Nationals at Citi Field.
"Any team is gonna hurt a little bit [when they lose a star player], but you just gotta find ways to battle."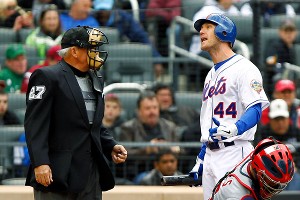 Debby Wong/US Presswire
Think Jason Bay and the rest of the Mets' hitters are frustrated? They should be.Losing Wright has hurt more than just a little bit.
The Mets got off to a 4-0 start with him anchoring the middle of their lineup out of the No. 3 spot. Before getting injured, Wright was hitting .583 (7-for-12) with one home run and four RBIs.
But since he has gone down, no one has stepped up.
(Carlos Beltran did last season, but was traded and plays in St. Louis now.)
Lucas Duda and Bay both went 0-for-3 on Wednesday and are hitting .136 and .158, respectively. Ike Davis finally snapped out of an 0-for-18 slide with a sixth-inning single, but the first baseman is hitting just .050.
"It's huge. You don't want to be the first player in MLB history to go 0-for-the-season, you know?" Davis said. "It's a good thing to get that out of the way."
The Mets went 0-for-6 with runners in scoring position on Wednesday, and are hitting .167 (9-for-54) in such situations this season.
"One of those things we're doing is taking pitches we can hit," said manager Terry Collins, who clearly wants his team to be more aggressive at the plate.
Last season, the Mets relied on Jose Reyes to be a table-setter, base-stealer and run-creator at the top of their lineup.
They don't have that luxury anymore.
Ruben Tejada has hit .467 (7-for-15) so far, but he doesn't impose the fear in opposing pitchers that Reyes did.
And with Wright out of the lineup, the Mets are severely lacking in the difference-maker department.
The Mets, who have yet to steal a base this season, led the National League East in runs in 2011, so their offense is quite capable.
It's just not the same without Reyes -- and especially now without Wright.
Collins' gut tells him that Wright is going to be able to play in Philadelphia on Friday.
For the sake of the Mets' slim chances of proving their doubters wrong this season, he'd better be.