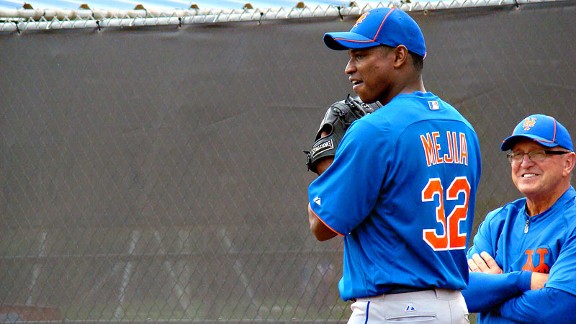 Adam Rubin
Jenrry Mejia has started facing batters in Port St. Lucie, Fla.
Jenrry Mejia faced batters Monday for the first time since undergoing Tommy John surgery on May 16, 2011.
Mejia is due to again face hitters Saturday, then next Thursday.
Still, Dan Warthen said don't read into the every-five-days workload against batters as a sign starting pitching is the role Mejia will have this year. Relief versus starting is still an ongoing discussion, according to the pitching coach. And Mets executives have seemed to imply relief is far more likely, at least at the major league level in 2012.
"We want to see how the arm reacts to hitters," Warthen said about the every-five-days workload.
Meanwhile, D.J. Carrasco (ankle) has resumed throwing off a mound, while fellow DL'd pitcher Pedro Beato (shoulder) is only progressing "slowly."
Chris Young, who had surgery to repair a torn anterior capsule in his right shoulder the same day as Mejia underwent the Tommy John surgery, has not yet started facing hitters.