David Wright is back in the lineup Saturday, despite a fractured right pinkie.
"During the game last night I kind of tested it out a little bit and it felt good, and it feels a lot better today, obviously," Wright said. "I think I'm ready. I got a lot of treatment yesterday, and a lot of the techniques that the hand specialist gave me to speed up the recovery, I was just doing it nonstop, and it surprisingly felt pretty good. So during the game I messed around with it a little bit and it felt OK. And then I took it to the next level this morning and it feels pretty good."
Terry Collins said Wright has a bone chip in the finger, although Wright said that is not the case. The manager said he figured on Friday that Wright would land on the DL.
"The fracture didn't break off," Wright said. "It now a matter of it's just got to heal itself. I guess in an ideal world, if you weren't a baseball player, you'd splint it up for a little while and let it heal that way. But I don't have that luxury of the time right now. It's going to heal on its own. It might take a little extra work doing it while playing at the same time. But I'm confident it will heal correctly on its own.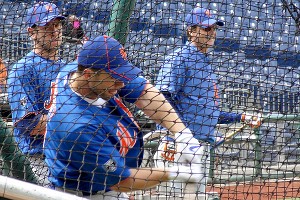 Adam Rubin
David Wright takes batting practice pregame Saturday.
"I'm going to go with a little extra padding, but nothing that's going to prohibit me from feeling the bat the way I normally would."
Wright added that he would try to slide feed first, or at least with a closed fist. He will wear a splint away from the ballpark.
As for throwing, Wright quipped: "Well, I guess it's always been an issue for me, but not anymore so. Throwing should be fine. Mainly the focus was hitting. Like I said, I feel confident enough where I'll give it a go today. ... Obviously how it feels after the game is a pretty good indication how it's going to feel for the short term. I'm sure it's going to be a little sore and a little stiff afterward. It will be good to get in there and just prove to myself that this is something I can play through. I wouldn't go out there and play if it was a coin flip how I felt. I feel pretty good, and I feel close enough to where I can go out there and help the team more than I could hurt it."
Josh Satin will return to Triple-A Buffalo without being activated, although he will stick around until Sunday just in case Wright has an issue.
"He just hit. The swelling is down," Collins said about Wright. "The grip's good. The strength's good. He just took probably, I don't know, 20 tosses and took some batting practice in the cage and looked great, so we'll put him in there today.
"The doctors actually told us the other day, when he could tolerate it, he could play. It wouldn't get worse. It's all about the discomfort side, getting the swelling down. The swelling is down."
Wright actually went into the cage and hit during Friday's game as well.
"As much as I said a few days ago that my gut was that he was going to be able to play on Friday, yesterday talking to him I was doubtful he was going to be OK," Collins said. "But he is OK.
"One of the things I hope everybody reads into this is that this guy is tough," Collins continued. "Very tough. He loves to play. He wants to play. But he's also professional enough to understand that when the medical people say, 'Look, our expertise says this needs rest,' he rests. It's my fault we didn't get him checked last year when he hurt his back, but nobody ever thought it was anything more than he dove and tried to tag the guy and maybe tweaked his back a little bit. We might have saved ourselves time had we addressed it earlier. I'm certainly responsible for that."
Collins said Wright's return sends a team-wide message.
"I think it's going to be huge for us," he said. "When you see this guy who is going out there -- the face of this team and the face of this organization -- playing with a broken finger, the hamstrings may not be as tight. I'm serious. I don't mean to make a joke about it. If you're a guy on this team and you're saying, 'Well, I've got a star on this team that's playing with a broken finger, I've certainly got a sore shoulder, but I'll throw some aspirin down and let's go.'"
Wright has not played since suffering the injury Monday.
Ruben Tejada, ss
Daniel Murphy, 2b
David Wright, 3b
Ike Davis, 1b
Jason Bay, lf
Lucas Duda, rf
Kirk Nieuwenhuis, cf
Josh Thole, c
Jon Niese, lhp
As for why Satin would have been the choice over Jordany Valdespin or Zach Lutz, Sandy Alderson said he felt the best configuration to win now would have been Daniel Murphy at third base and Justin Turner and Ronny Cedeno at second base. The GM said there was zero consideration that Valdespin or Lutz would have been credited with a full year of major league service time had they been called up now and stayed the entire season -- making them a free agent a year earlier than if they debuted later in the year.