Ike Davis' first homer in 11 months, a two-run shot in the first inning against left-hander Cole Hamels, ended up accounting for the only Mets runs in an 8-2 loss to the Philadelphia Phillies on Sunday.
#29 1B
New York Mets
2012 STATS
GM

9

HR1

RBI2

R2

OBP.200

AVG

.125
Davis then singled in his next at-bat. So his series-finale production doubled his season hit total to four. After a 2-for-4 day, he's now hitting .125 this season, up from .071 when he awoke.
"I'm just glad I hit the ball on the barrel and it didn't get caught," Davis said about the long ball against Hamels. "It felt good. I mean, I haven't hit a ball like that all year. It's a start – somewhere -- for sure.
"Some games I felt good at the plate. Probably the last three or four I didn't really feel good. But today I felt comfortable. Hamels had really good stuff, and I was lucky to hit one he left over the plate, and the other one found a hole."
Said Terry Collins: "The best part is it was against a lefty, because they've been eating him up pretty good right now."
Davis' last homer came May 6, 2011. Four days later, he collided with David Wright and did not return for the remainder of the season because of an ankle injury. Collins suggested the layoff may have contributed to the slow start to this season, but Davis would not accept the alibi.
The 49 Greatest Mets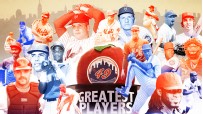 Fifty years after the Mets' first-ever home game (they lost), we give you ... The 49 Greatest Mets

Rank 'Em
You tell us: Who should be No. 50? »
"I don't want to blame it on anything besides myself," Davis said. "I don't want to make excuses. I haven't played well, and I need to play better. Hopefully I can keep getting hits and having good at-bats and keep building on it."
• Mike Pelfrey's final line suggested a good outing: 6 IP, 8 H, 1 R, 1 ER, 2 BB, 2 K.
But, Pelfrey readily acknowledged, he did not feel like his fastball was anywhere close to acceptable. He threw the pitch nine straight times to open the game and allowed three straight singles. Pelfrey then started incorporating his curveball and splitter more and had success, particularly getting groundballs.
At 99 pitches after six innings, Pelfrey said, he normally would have lobbied to remain in the game. But, given his lack of fastball command, he offered no objection when the staff told him he was done this time, with a 2-1 lead.
"The first three guys got on, and that's never the way you draw it up," Pelfrey said. "From early on, I thought the fastball command was probably only there for maybe the third inning. I didn't think the fastball command was that good. It was up, which was kind of a problem the last start. Instead of continuing to throw it, I started throwing the curveball and I started throwing the split. Those were good today, and it helped me out."
On a humorous note, Pelfrey was verbally abused warming up last season at Citizens Bank Park, so much so that fans were ejected, he said, for heckling him. This time, as difficult as it was for him to fathom, everyone was being supportive as he warmed up -- even the Mets fans that usually give him a harder time than the Phillies fans.
"If it doesn't say 34, maybe they don't know who I am," Pelfrey joked, alluding to all of the players wearing Jackie Robinson's No. 42 on Sunday.
• The Mets' one-run lead unraveled in the seventh. And the Mets' defensive shortcomings certainly were to blame for the seven runs scored against the bullpen.

#21 RF
New York Mets
2012 STATS
GM

9

HR3

RBI5

R4

OBP.250

AVG

.212
After Shane Victorino flied out to start the seventh, Jimmy Rollins sent a relatively harmless fly ball to right field. Inexperienced outfielder Lucas Duda initially took a step backward. The ball dropped in front of him for a single. Rollins ended up scoring the tying run in a two-run seventh.
Collins thought Duda would have had a shot at the catch had he made a proper initial break. The manager added that outfield coach Tom Goodwin is trying to get Duda more aggressive in the outfield. Collins explained that Duda often is tentative because he does not want to make a mistake.
"I think Lucas is going to be fine," Collins said. "The one thing about Lucas Duda is that he doesn't want to make mistakes. He doesn't want to be the reason that costs us a game. I know Tom has been with him constantly about it -- staying aggressive, staying aggressive out there. 'Don't be afraid to leave your feet. Don't be afraid to take a shot once in a while. There's nothing wrong with that.' So I think the more comfortable he gets, the better he's going to be."
• Despite Sunday's loss, the Mets won only the second series in their past 10 at Citizens Bank Park.
"We came in here against the team that everybody has favored to win this division," Collins said. "I know they're banged up a little bit, but we came in and won two out of three, and we've got to take it as an advantage. We're on the road. We'll get on the plane and have a sandwich and get ready for tomorrow."
Said Davis: "Obviously we want to win every game. We wanted to sweep them. But Hamels had really good stuff today and we just fell a little short."