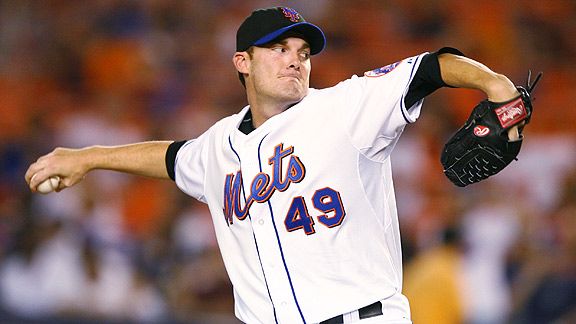 Al Bello/Getty Images
Philip Humber was the third overall pick in the 2004 draft, by the Mets. Here he pitches against the Nationals during the Mets' collapse in September 2007.
Bidding for his first complete game since last July 27, and the first by a Met against San Francisco since Kenny Rogers in 1999, Mike Pelfrey instead was pulled with his pitch count at 102 after eight innings. Then, all heck broke loose in the ninth inning as the Mets ultimately managed to claim a 5-4 victory against the Giants.
Closer Frank Francisco surrendered a leadoff single to Buster Posey, then a one-out walk to Nate Schierholtz and RBI single to Emmanuel Burriss that pulled the Giants within 4-2. Francisco then was given a quick hook by Terry Collins.
The Mets eventually were about to post the win, when Jon Rauch coaxed a fly ball to shallow center field from Brandon Belt. However, Ruben Tejada backtracked slowly and Kirk Nieuwenhuis, who should have taken charge from the get-go, overran the ball. It dropped beyond the center fielder for a game-tying two-run double -- reminiscent of the June 12, 2009 loss at Yankee Stadium in which Luis Castillo flubbed a would-be game-ending popup and Francisco Rodriguez suffered a hard-luck first blown save as a Met after 16 straight conversions.
Meanwhile, the Mets won it in the bottom half of the ninth after a pair of miscues by the Giants. With runners at first and second and one out, Justin Turner appeared poised to hit into an inning-ending double play to shortstop. However, Aubrey Huff -- just placed at second base for the first time in his 13-year career -- did not cover second base. The shortstop Burriss ultimately did not throw to first base in time to record even one out. (Huff was playing second base because Ryan Theriot had the flu and was unavailable, and the righty-hitting Brett Pill had been replaced as a pinch-hitter by the lefty-hitting Belt when Rauch replaced Tim Byrdak in the top half of the inning. Huff's first step instinctively was to first base on Turner's grounder.)
Still, San Francisco appeared poised to escape when Nieuwenhuis also seemed to hit into an inning-ending double play. But Scott Hairston clipped Posey's right leg on the force out at the plate. Posey's throw to first base to try to complete the double play was wide and sailed into the outfield, allowing Tejada to trot home from second base with the winning run.
Sunday's news reports:
• David Wright's streak of reaching base twice in each of his first 10 games of the season via hit, walk or hit by pitch -- the longest streak in the majors since 1999 -- ended Saturday with an 0-for-4 performance. Wright also had hit safely in each of his first 10 games. His average slipped to .439, which ranks second to the Dodgers' Matt Kemp (.474) in the major leagues.
• Read game recaps in the Post, Star-Ledger, Times, Record, Daily News and Newsday.
• Francisco, who has now surrendered runs in each of his past four appearances, remains stuck on the three saves he recorded during the season-opening series against Atlanta. Given he got the quick hook Saturday, will he remain the closer? After all, Rauch is near-perfect this season, with 8 1/3 scoreless innings, during which he has allowed only one walk and three hits, including what was scored a double on Nieuwenhuis' botched play. "I'm going to talk to Frankie tomorrow," Collins said after Saturday's win in a less-than-definitive response. "I don't like to do too much after the game is over. He's not happy with what happened, but I need him." Rauch had 11 saves last season with the Blue Jays, while Francisco had 17 as his teammate in Toronto. Read more in Newsday the Post, Star-Ledger, Record and Daily News.
• Posey, who required season-ending ankle surgery after a takeout play at the plate last year courtesy of the Marlins' Scott Cousins, found no issue with Hairston's slide. The catcher merely tried to briefly protest to plate umpire Doug Eddings that Hairston may have been out of the baseline when he made contact with Posey's right leg. Hairston wasn't, and even Posey admitted he was just arguing for the sake of doing so. "I just … I don't know," Posey told Andrew Baggarly at CSNBayArea.com. "There was so much going on. You're just trying to plead your case for what it's worth."
On Hairston's motivation, Posey added: "I think it's just going in hard."
Posey insisted to Baggarly that his complaint to Eddings was not because of heightened sensitivity after last year's May 25 play that ended his season. "No, it has to do with this game," Posey said. "We're trying to stay in the game. I would have reacted the same way regardless."
• Pelfrey now has a 2.29 ERA through three starts. He did not question his removal at 102 pitches, but noted pulling a pitcher on a high note -- Collins' stated motivation -- is for young pitchers, of which he may no longer qualify. Read more in the Post and Newsday.
• Tim Lincecum enters Sunday's start against Dillon Gee having struggled in his first three starts of the season. Lincecum, who has a 10.54 ERA, has seen a significant decrease in his fastball velocity this season. According to ESPN Stats & Information, Lincecum is averaging 90.2 mph this season, down a full 2 mph from last year's average. His maximum registered velocity so far in 2012 is 93.1 mph, versus 96.6 a season ago.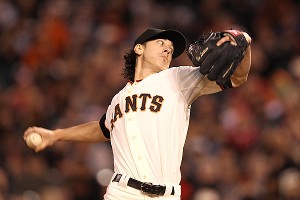 Ezra Shaw/Getty Images
Tim Lincecum has a 10.54 ERA through three starts this season.
In fact, of the six lowest average fastball readings for a start in Lincecum's career, three have occurred since last Sept. 25. The percentage of strikes he gets with his fastball has decreased every season since 2009 too -- from 64 percent that year to 58 percent this season.
According to ESPN researchers, Lincecum's Fielding Independent Pitching -- which neutralizes teammates' effect by considering strikeouts, walks, hit by pitches and home runs -- annually has slipped. He ranked first and then second in the NL in his two Cy Young seasons, 2008 and '09, at 2.59 and 2.34. In 2010, his FIP drifted upward to 3.15 (15th). In 2011, it was 3.17 (18th). So far this season, it's 3.36 (38th).
Lincecum downplayed the 2012 start to Zach Berman in the Times, comparing it to August 2010, when he was 0-5 with a 7.82 ERA and then rebounded in September en route to a Giants championship. "You never try to panic over one game in the scheme of things, or even three games," Lincecum told Berman. "Hopefully, it's comparable to that and it's something I can learn to get out of quicker and not have it turn into what I did that month. It's just part of learning my body."
• Philip Humber became the latest ex-Met to toss a no-hitter. Actually, Humber tossed the 21st perfect game in major league history Saturday, at Seattle.
Humber originally was drafted by the Mets in the first round (third overall) out of Rice University in 2004. With Justin Verlander taken second overall by the Detroit Tigers in that draft, Mets officials desperately wanted to draft Stephen Drew, but the highest levels of the organization were worried about the cost, and the Mets instead selected Humber, whom they viewed as a signable and "safe pick." He received $3 million. Drew eventually went 15th overall to the Arizona Diamondbacks and signed for $4 million.
The following spring training, Mets officials were in awe when Humber snapped off a full-count curveball that froze Miguel Cairo for a strikeout in an intrasquad game on the eve of the Grapefruit League season. Gary Carter, who was slated to manage the Mets' Gulf Coast League team that upcoming season, walked by Humber's locker after the intrasquad game and proclaimed, "Fast track!"
However, Humber underwent Tommy John surgery on July 19, 2005 after going a combined 2-7 with a 5.09 ERA in 15 starts between Class A St. Lucie and Double-A Binghamton that season.
Humber, who once was so close to Pelfrey that they were referred to as "Hum-frey" when they participated in the Arizona Fall League together, played a small part in the Mets' historic 2007 collapse. With the front office insistent on giving Pedro Martinez extra rest down the stretch that season, Brian Lawrence and Humber each made a late-season start for the Mets even after Martinez returned, so that Martinez could work every sixth day. Humber's start was a 9-6 loss to the Nationals on Sept. 26. In fact, from Aug. 10 on, the Mets lost all six games started by Lawrence and Humber. The Mets missed the playoffs by one game.
Humber was sent to the Minnesota Twins along with Carlos Gomez, Kevin Mulvey and Deolis Guerra in the Feb. 2, 2008 trade that landed Johan Santana in Flushing.
According to nonohitters.com, Humber became the seventh pitcher to toss a no-hitter after leaving the Mets, joining Nolan Ryan, Tom Seaver, Mike Scott, Dwight Gooden, David Cone and Hideo Nomo. Additionally, the website notes that two weeks after Alejandro Pena was traded to Atlanta, he recorded the final three outs of a Braves no-hitter started by Kent Mercker, which also involved Mark Wohlers.
Read more on Humber's Mets roots from Tyler Kepner in the Times. "Everybody talks about, when you get Tommy John surgery, you come back the same or better, and he's one of those examples that, hey, you don't always get that fastball velocity back," Jim Duquette, the Mets' GM when Humber was drafted, told Kepner. "It doesn't always happen that way."
• Mark Cohoon limited Portland to one run in seven innings, Josh Rodriguez successfully swiped home on a double-steal and Jefry Marte extended his hitting streak to 10 games as Binghamton won, 6-1, against the Red Sox's Double-A affiliate Saturday.
Buffalo was rained out at Syracuse, prompting a noon doubleheader Sunday, with Jeurys Familia and Chris Schwinden scheduled to start for the Bisons. Adam Loewen, who left Friday's game three innings after being thrown out at the plate by center fielder Bryce Harper, has a sore right foot, but is not considered a DL candidate.
Sean Ratliff, who was struck in the eye with a foul ball while in the on-deck circle during a spring-training game in 2011, has retired. Ratliff underwent four surgeries while missing last season. He tried to come back with Class A St. Lucie, but was 3-for-22. A fourth-round pick in 2008 out of Stanford, he hit .298 with 21 homers and 80 RBIs in 2010 between Binghamton and St. Lucie.
Read the full minor league recap here.
• Jenrry Mejia, who underwent Tommy John surgery on May 16, 2011, has pitched in an extended spring training game, according to the Post.
• Columnist Mark Herrmann in Newsday compliments Collins, contrasting his performance with Bobby Valentine's early struggles in Boston. Writes Herrmann:
Collins pointedly refused to criticize Nieuwenhuis Saturday for ruining a perfectly good finish by misplaying an easy pop and turning a sure final out into a tying two-run double. In the same postgame news conference, though, he admitted that the Mets had a lot of baserunning mistakes. "Just not very good," he said. ( Ike Davis got picked off first and David Wright was thrown out trying to steal third in the eighth, robbing the Mets of a chance for a blowout.) The man knows how to pick his spots. He knows his audience, unlike Valentine, who didn't realize you can't criticize Kevin Youkilis the way you did Todd Hundley. Things worked out for the Mets Saturday. Despite their miscues and regardless of losing a tough one Friday night, they beat the Giants, 5-4. Credit the mental toughness built by Collins and his staff. "It's a big vicious wheel," Josh Thole said, and he meant it as a compliment.
TRIVIA: Humber was the third overall pick in the 2004 draft. Who were his two Rice teammates also selected in that year's first round?
Saturday's answer: Gooden tossed seven scoreless innings in a 10-0 win against the Giants on April 21, 1993.