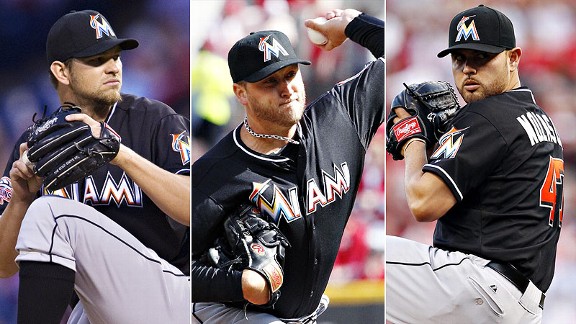 US Presswire
The Mets face (l to r) Josh Johnson, Mark Buehrle and Ricky Nolasco during a midweek series that marks Jose Reyes' return to Flushing with the Marlins.
METS (8-8, third place/NL East) vs. MIAMI MARLINS (7-8, fourth place/NL East)
Tuesday: LHP Johan Santana (0-2, 3.97) vs. RHP Josh Johnson (0-2, 5.94), 7:10 p.m. ET
Wednesday: RHP R.A. Dickey (2-1, 5.71) vs. LHP Mark Buehrle (1-2, 2.66), 7:10 p.m. ET
Thursday: LHP Jon Niese (2-0, 2.89) vs. RHP Ricky Nolasco (2-0, 3.93), 1:10 p.m. ET
Marlins short hops
• Jose Reyes is off to a slow start in his first season with the Marlins, with a .230 average, .294 on-base percentage and five errors through 15 games, albeit with a handful of highlight-reel defensive plays as well. After the Mets failed to make an offer, or even send a box of chocolates, Reyes signed a six-year, $106 million deal with Miami.
• Manager Ozzie Guillen served a five-game suspension after making comments praising Fidel Castro, which angered those in the Cuban-American community, particularly among the Marlins' fan base. Other than at the off-day press conference held by Guillen in Miami to apologize, which drew about 50 protestors, there have been no visible demonstrations outside Marlins Park.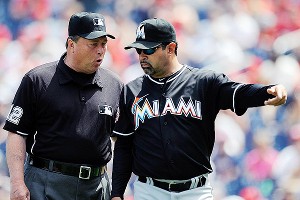 Patrick McDermott/Getty Images
Ozzie Guillen served a five-game suspension for praising Fidel Castro.
• Heath Bell, who did not blow consecutive saves at any point during his San Diego Padres career, opened his era with the Marlins by failing to convert his first two opportunities. The ex-Met Bell, who was traded to San Diego with Royce Ring for Jon Adkins and Ben Johnson on Nov. 15, 2006, nonetheless has the fourth-highest save percentage in the majors over the last three-plus seasons, at 89.3 percent. He trails only John Axford, Jose Valverde and Mariano Rivera. Bell signed a three-year, $27 million free-agent deal and was introduced as a Marlin during the winter meetings. After the two blown saves, both of which deprived Carlos Zambrano of wins, Bell saved his next two chances.
• Miami's new stadium, known as Marlins Park, is a pitcher-friendly ballpark with a seating capacity of 37,442. The dimensions (from left to right): 344, 386, 418, 392, 335. Despite the imposing dimensions, the Marlins have out-homered opponents 5-1 at the stadium so far, with Hanley Ramirez producing three of the long balls. Owner Jeffrey Loria also rebranded the Marlins, dropping "Florida" for "Miami" and changing the team logo to more of a South Beach feel.
• Ramirez (.263, 4 HR, 12 RBIs) has moved to third base to accommodate Reyes after logging his first 829 career major league games in the field at shortstop. He has committed only one error and generally looked solid. Slowed by a left shoulder injury last season, Ramirez hit only .243 with 10 homers in 92 games. Ramirez currently is tied with Miguel Cabrera for third on the Marlins' all-time home run list with 138. He trails Dan Uggla (154) and Mike Lowell (143).
• Josh Johnson's 2011 season ended after a five-inning start on May 16 against the Mets at Citi Field because of right shoulder inflammation. He actually was removed from that outing after getting hit in the right forearm with a comebacker off the bat of Carlos Beltran. Johnson threw live batting practice at the end of September, but ran out of time to return during that season. He did not undergo surgery. This season, Johnson rebounded from allowing six runs on 11 hits in 3 2/3 innings against the Phillies on April 11 by limiting the Cubs to two runs on seven hits in seven innings in his most recent start.
• Second baseman Omar Infante (left groin tightness) expects to return to the lineup for Tuesday's series opener at Citi Field. Infante has not played since last Tuesday, except for a pinch-hit appearance Saturday in D.C. Donnie Murphy (three games) and Emilio Bonifacio (one game) started at second base in Infante's absence. Bonifacio otherwise has exclusively served as the Marlins' starting center fielder. He had not taken grounders at second base this season, but Guillen wanted a lefty-dominated lineup Saturday against Washington phenom Stephen Strasburg. Infante was on fire before being sidelined. He is hitting .325 with four homers in 40 at-bats. The pinch-hit out against the Nats snapped Infante's eight-game hitting streak.
• The Reyes-Bonifacio combo gives Miami two switch-hitters atop the order as well as a pair of speedsters. The Marlins' 18 steals (in 21 attempts) leads the majors. Bonifacio already has nine steals, the most in the first 15 games of a season by a Marlin in franchise history. Quilvio Veras formerly held the record with eight.
• Marlins newcomer Mark Buehrle texted former White Sox teammate Philip Humber congratulations on becoming one of the 21 major league pitchers to throw a perfect game in the sport's history. Buehrle tossed his perfecto against the Tampa Bay Rays on July 23, 2009. Despite a 13-year major league career, Buehrle has never faced the Mets. That is largely because the Mets and Buehrle's former club, the Chicago White Sox, have not met in interleague play since 2002 -- the longest stretch the Mets have gone in not seeing an American League opponent. Buehrle signed a four-year, $58 million deal with the Marlins on Dec. 8. He is the only major league pitcher to log 200 innings each of the past 11 seasons. His 10-plus wins per year for the past 11 seasons is tied with CC Sabathia for the longest active streak in the majors.
• Logan Morrison played only five spring-training games because of right-knee soreness. Giancarlo (formerly Mike) Stanton appeared in only eight spring-training games because of left-knee inflammation. Neither is 100 percent, so they are spotted days off in the outfield. Stanton's full name is Giancarlo Cruz-Michael Stanton. Teachers in middle school in Los Angeles butchered his first name so frequently, he requested to be called Mike. But he has now decided to revert to his actual name. Morrison is one of the most active (and tawdry) players on Twitter at @LoMoMarlins.
• The Marlins are featured in the second-annual Showtime series "The Franchise." The first episode debuted Saturday night. The first episode included Guillen being informed of his suspension. The San Francisco Giants were featured last season.
• Ricky Nolasco is two wins shy of matching Dontrelle Willis' franchise record for wins as a Marlin at 68.
Matchups
Santana vs. Marlins (career: 6-1, 1.47 ERA)
Gaby Sanchez .800, 5 PA
Chris Coghlan .333, 1 RBI, 6 PA
Jose Reyes .250, 4 PA
John Buck .235, 4 RBI, 1 BB, 5 K, 18 PA
Omar Infante .205, 3 RBI, 1 BB, 9 K, 42 PA
Hanley Ramirez .143, 2 BB, 7 K, 23 PA
Austin Kearns .133, 3 K, 15 PA
Emilio Bonifacio .083, 4 K, 12 PA
Donnie Murphy .000, 2 K, 3 PA
Dickey vs. Marlins (career: 5-2, 3.91 ERA)
Omar Infante .500, 1 HR, 3 RBI, 1 BB, 2 K, 24 PA
Hanley Ramirez .400, 3 RBI, 1 BB, 1 K, 16 PA
Gaby Sanchez .333, 1 HR, 6 RBI, 2 BB, 3 K, 19 PA
Austin Kearns .333, 1 K, 3 PA
John Buck .300, 1 RBI, 1 BB, 1 K, 11 PA
Chris Coghlan .286, 2 BB, 3 K, 9 PA
Emilio Bonifacio .200, 1 BB, 3 K, 11 PA
Greg Dobbs .200, 3 K, 10 PA
Logan Morrison .182, 2 BB, 4 K, 13 PA
Brett Hayes .167, 1 K, 6 PA
Donnie Murphy .143, 3 K, 7 PA
Giancarlo Stanton .125, 3 K, 8 PA
Jose Reyes .000, 2 K, 6 PA
Niese vs. Marlins (career: 1-4, 5.67 ERA)
Emilio Bonifacio .500, 3 PA
Logan Morrison .429, 2 RBI, 2 BB, 10 PA
Brett Hayes .333, 1 RBI, 3 PA
Hanley Ramirez .273, 1 HR, 2 RBI, 2 BB, 2 K, 13 PA
Gaby Sanchez .214, 1 RBI, 3 BB, 1 K, 17 PA
Chris Coghlan .200, 1 K, 11 PA
Omar Infante .167, 2 RBI, 1 BB, 2 K, 19 PA
Giancarlo Stanton .000, 1 RBI, 2 BB, 2 K, 6 PA
Donnie Murphy .000, 3 PA
Austin Kearns .000, 3 PA
John Buck .000, 1 K, 3 PA
Johnson vs. Mets (career: 8-1, 2.68 ERA)
Justin Turner .500, 1 RBI, 2 PA
Jason Bay .417, 1 HR, 2 RBI, 4 K, 12 PA
Daniel Murphy .294, 2 BB, 2 K, 19 PA
David Wright .207, 1 HR, 3 RBI, 1 BB, 8 K, 30 PA
Josh Thole .200, 2 K, 5 PA
Ike Davis .143, 1 RBI, 2 BB, 2 K, 9 PA
Scott Hairston .000, 1 BB, 2 K, 6 PA
Ruben Tejada .000, 1 BB, 3 PA
Ronny Cedeno .000, 1 K, 2 PA
Lucas Duda .000, 1 PA
Buehrle vs. Mets (career: never faced)
Ronny Cedeno .444, 1 RBI, 1 K, 9 PA
Jason Bay .235, 2 RBI, 2 BB, 7 K, 19 PA
Nolasco vs. Mets (career: 5-7, 5.27 ERA)
David Wright .389, 4 HR, 13 RBI, 3 BB, 15 K, 57 PA
Daniel Murphy .353, 1 RBI, 3 K, 18 PA
Ruben Tejada .333, 1 K, 6 PA
Scott Hairston .333, 1 HR, 1 RBI, 6 PA
Jason Bay .273, 2 HR, 3 RBI, 2 BB, 2 K, 24 PA
Josh Thole .250, 1 K, 8 PA
Ike Davis .182, 1 RBI, 1 BB, 4 K, 12 PA
Lucas Duda .000, 1 K, 6 PA
Ronny Cedeno .000, 1 K, 6 PA
Mike Nickeas .000, 1 K, 3 PA
Last series results
Mets won, 2-1, at Dolphin Stadium, Sept. 5-7, 2011 (AP game recaps)
Marlins 9, Mets 3: Chris Capuano failed to reach the fifth inning for the first time in 27 starts this season, lasting only four innings and taking the loss. Capuano (10-12) allowed six runs and eight hits, walked one and struck out three. Florida took a 2-0 lead in the first. Emilio Bonifacio opened with a double, took third on Omar Infante's sacrifice and scored on Capuano's wild pitch. Gaby Sanchez doubled with two outs and scored on Logan Morrison's single to center. Jose Lopez homered with two outs in the third to make it 3-0. Angel Pagan's RBI groundout in the fourth cut Florida's lead to 3-1. The Marlins responded with Bryan Petersen's RBI single and Bonifacio's two-run single in the bottom of the inning. Mike Cameron had an RBI double in the fifth and Sanchez had a two-run single in the sixth to stretch the lead to 9-1. Javier Vazquez pitched seven solid innings for the win. Jason Bay hit his 11th homer, a two-run shot off reliever Chris Hatcher, in the ninth.
Mets 7, Marlins 4 (12 innings): Nick Evans drove in three runs, including a go-ahead single in the 12th inning, to lead New York over Florida. Jose Reyes, Justin Turner, Angel Pagan and Evans each had three hits for New York, which lost a two-run lead in the bottom of the ninth inning. Marlins reliever Jose Ceda (0-1) gave up three straight hits to begin the 12th, including Evans' soft liner to center that scored Pagan. Later in the inning, Reyes hit an RBI single and Lucas Duda drew a bases-loaded walk to give the Mets a 7-4 lead. Ryota Igarashi (4-1) got the win in a game that lasted 4 hours, 29 minutes, including a 1:14 rain delay.
Mets 1, Marlins 0: R.A. Dickey made an early run stand up, blanking Florida for seven innings. Dickey is 3-0 against the Marlins this season. The knuckleballer allowed only one run -- it was unearned -- in 20 innings over that span. Jose Reyes led off the game with a single and scored on a one-out double down the left-field line by Lucas Duda for the only run. Dickey (8-11) and relievers Josh Stinson and Manny Acosta combined on a five-hitter. The Mets played their final game at the Marlins' stadium before Florida moves into a new home next season. The Mets finished 75-74 at the park the Marlins had shared with the Dolphins since 1993. Dickey gave up four hits and three walks. He struck out three. Brad Hand (1-6) allowed one run, three hits and four walks in six innings. In the eighth, the Marlins put Emilio Bonifacio on third base, but Stinson struck out Gaby Sanchez swinging to end the inning. Acosta pitched the ninth and recorded his first save since Aug. 11, 2010, at Houston.