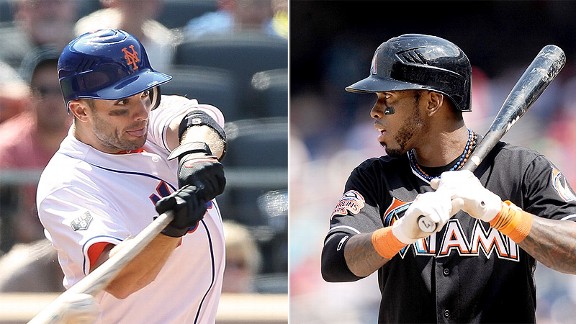 Getty Images
David Wright and Jose Reyes reunite Tuesday at Citi Field.
Because the Miami Marlins were rained out in D.C. on Sunday, Jose Reyes will spend nearly a full 48 hours at his Long Island home before heading to Citi Field for Tuesday's reunion with the Mets.
#7 SS
Miami Marlins
2012 STATS
GM

15

HR0

RBI2

R6

OBP.294

AVG

.230
Here are David Wright's thoughts on Reyes' return:
What do you think Tuesday will be like for you?
Wright: "I didn't get a chance to see him during spring training, so I'm looking forward to it. I think it's going to be a little odd seeing him in a different uniform. That's going to be a little strange, but all in all I'm excited. He's one of the best players in this game. And to go out there and kind of see what it's all about, seeing him from a different dugout, obviously you'd like to be on the same side as him. But I'm eager to see what it's going to be like playing against a talent like that."
Will he drop down a bunt?
"Not if he knows better -- unless he wants an 0-for. [Laughs.] But I think he's smarter than that, because the last thing I want him to do is get a hit over that way."
Fan reaction?
"Jose was a big part of this organization for quite some time. Obviously it stung, just like it stung me, after he signed [with] Miami. But I think, all in all, he should receive a positive response for just what he meant to this organization, meant to this franchise for so long."
Thoughts on video recognition on scoreboard?
"I don't get too involved in what they do a tribute for. I mentioned that he did a tremendous amount for this organization while he's here. I do think that whatever positivity comes from his return, it's well deserved because, he was, like I said before, one of the most dynamic, one of the best players in baseball over that time."
Do you speak much?
"On and off. Once the season started, not too much. I kept in touch with him quite a bit during the winter. He was great. He called me and let me know about his decision and just was very, very classy and just wanted to let me know how much it meant to him playing together for so long. And I thought that was a real nice move on his part. I consider him one of my closest friends in baseball, and that's no different now. Obviously we're going to try to go out and beat them as badly as possible, and hopefully he doesn't get any hits against us. But as soon as he leaves here, you always kind of check the box score and hope he does well."
What was Jose's call that he's leaving like?
"I guess the writing was on the wall, per se. You saw the reports and you saw how aggressive Miami was. Miami got a great player, and Jose got a contract that obviously he deserved and that he earned. I'm pretty sure he's happy over there. I'm sure there's little things that he misses from over here and misses some of the guys here. I hope he's happy with his decision and I think he's going to have some monster seasons.
"That's what you get when you get to free agency -- you get a chance to choose. He had that option, and obviously a lot of teams were interested. I think what they've been able to put together in Miami is a very, very good team. And Jose is kind of the catalyst for that."