Ike Davis stranded the bases loaded three times in Monday's doubleheader sweep by the Giants, although the first baseman cautiously noted that the final instance -- a called third strike in the nightcap as a pinch hitter -- was not entirely his fault. Davis and Terry Collins clearly said the final pitch was low.
Davis flinged his bat after the at-bat. He left 11 runners on base in two games.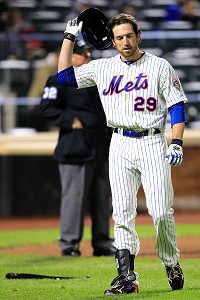 Chris Trotman/Getty Images
Ike Davis reacts after a called third strike left the bases loaded in Game 2 of Monday's doubleheader.
"It's part of the game," Davis said about the called third strike from plate umpire Dana DeMuth on what he felt was a low pitch in the eighth inning of Game 2. "We don't hit fastballs down the middle, and sometimes they call a ball that might have been low. It's not the reason for me hitting whatever I'm hitting (.136)."
Said Collins: "I'm not going to go there. I didn't think it was a strike."
Justin Turner started over Davis at first base against left-hander Madison Bumgarner in Game 2, and Davis said he spent a lot of time in the batting cage working Monday night as a result.
"I did some work in between the games, and actually felt like I found a little bit of something in the cage," Davis said. "I felt great that pinch-hit at-bat and took two really good swings and happened to fall short, I guess."
Asked about what precisely he discovered in the cage, Davis said he finally found a comfortable position for his hands at the start of his swing.
"I hadn't found a position where I felt comfortable to launch from, to let my hands go, and I hit a lot today," he said. "So I feel like future games are going to be better, for sure."
Meanwhile, are Davis' demonstrative protests of umpires' calls, even if justified, hurting him in antagonizing the men behind the plate?
"I don't necessarily agree with that," Collins said. "In our league, you have to be professional. … Years ago umpires could hold a grudge. Because there are so many TV cameras today, and with all the stuff being aired today, they really can't. I don't think they do that stuff anymore. They're human beings. Once in a while they miss a call. We make mistakes. But I don't think they really screw guys like they once did."
• Dillon Gee, who allowed seven runs on a career-high 12 hits in 6 2/3 innings, said of his performance: "That's one to forget right there. There's not a whole lot I can say about tonight. Obviously I came out in the first inning and set a really bad tone for the game for us, and continued to live up in the zone all night long. And they hurt me."
• The Mets hit .184 (7-for-38) with runners in scoring position in the series. They have lost five of their past six games.
"We haven't pitched like we're capable of pitching this week," Collins said. "That's the biggest thing. But we've got a good offensive club that's not hitting. And that's hurt us. We had some chances. We had guys all over the bases tonight. That's what we've got to start doing -- driving in some of those runs. And I think it will get us going."
Still, Collins insisted, he is not at a boiling point. Nor is he ready to formally address the team.
"Not yet," Collins said.