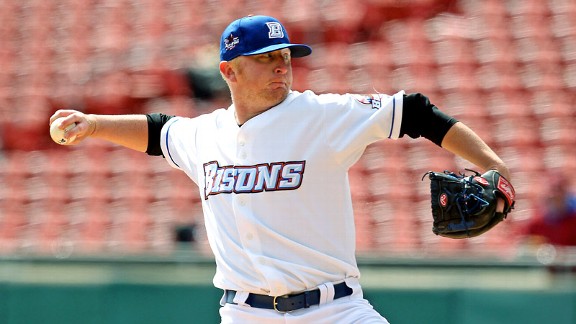 Mike Janes/Four Seam Images via AP Images
Chris Schwinden has arrived from Triple-A Buffalo to take Mike Pelfrey's rotation spot.
Chris Young, who underwent surgery to repair a torn anterior capsule in his right shoulder last May 16, is close to entering game action. Pitching coach Dan Warthen said there has been no acceleration of Young's return as the result of Mike Pelfrey expected to be lost for the season because of Tommy John surgery.
Young is scheduled to throw a simulated game Monday in Port St. Lucie, Fla. If he passes that hurdle, he should advance to a Florida State League game five days later -- May 5 against Dunedin at Digital Domain Park. Young will pitch at a higher level of the minors as well before joining the major league team.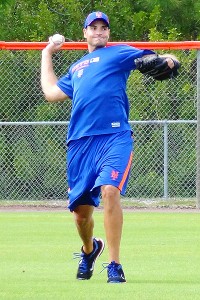 Adam Rubin
Chris Young may be in a Florida State League game next Saturday.
Chris Schwinden is the current occupant of Pelfrey's rotation spot. And Terry Collins said he's not a one-start plug.
"He's going to get an extended look," Collins said about Schwinden. "We brought him here for that. And we'll give him an opportunity to show us what he can do. But we were very impressed with Jeremy Hefner the other day. I thought he threw the ball very good. So we had some options here. We'll just see what happens down the road."
Collins effectively ruled out seeing Triple-A prospects Matt Harvey or Jeurys Familia in the foreseeable future at the major league level.
"We're not going to push Familia or Harvey," Collins said. "They're going to spend, I'm sure, the majority of the year in Triple-A. One of the things I thought Sandy [Alderson] did that I thought really helped was bringing Chris Young back. I think C.Y. will probably be ready middle of May, end of May. And if that's the case, we've got ourselves a pretty good pitcher coming up."
Why the conservatism with Harvey and Familia?
"You've got to pitch consistent," Collins said. "I've spent too many years in Triple-A with good pitchers to know that numbers aren't always the true indicator of whether they can pitch here. So Matt Harvey, the one thing he's got to show us is that he can throw all of his pitches for strikes, regardless of what the results may be. With his arm and his stuff, if he can pound the strike zone with all of his pitches, he's going to be effective."
Schwinden, 25, went 0-2 with a 4.71 ERA in four starts last September.
"Last year, when he first came up, the games he pitched early, he fell behind in the counts and got roughed up a little bit," Collins said. "The game against St. Louis, he was strike one against a lot of guys. That was a big advantage for him. When you pitch in this ballpark [Coors Field], you cannot fall behind. You've got to attack the hitters. You've got to get ahead."
Also among rehabbing Port St. Lucie players:
• Jenrry Mejia, who had Tommy John surgery the same day as Young's shoulder surgery, is due to throw 75 pitches in his next outing, in a structured setting. After that, Mejia could enter a game-type setting as well.
• D.J. Carrasco, who fired two scoreless innings for St. Lucie on Thursday as he returns from a right ankle sprain, still needs to work back-to-back days in the Florida State League during his rehab assignment.
• Pedro Beato (shoulder) is four to five days from facing hitters for the first time.