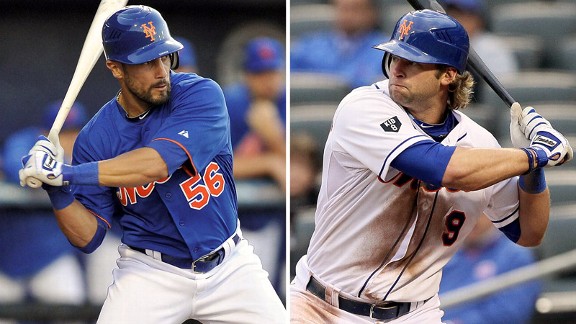 US Presswire/Getty Images
When Andres Torres returns, Terry Collins sounds like he is moving Kirk Nieuwenhuis to left field. Still, the manager did not fully commit.
Andres Torres is due to play full games with Triple-A Buffalo on Friday and Saturday. And the ex-Giant should be activated from the disabled list on Monday in Houston.
What's the outfield alignment then?
Terry Collins said he has not committed, but he sounded strongly leaning toward Torres in center field and Kirk Nieuwenhuis in left field. That's the case even though Torres has played 72 major league games in left field (30 starts), while Nieuwenhuis could not recall playing that position at any level.
"You know, you've got to play a guy where he fits the best," Collins said, referring to Torres. "That's like taking a guy who is a great second baseman and [saying], 'Well, he's played a little third base in Double-A, so we'll put him at third base.' And when he doesn't know how to play it, he gets kicked around a little bit. Where does Andres fit the best here? Well, his most success has been in center field. I don't know what we're going to do. I really haven't thought about it, because with what's happened on this club, we don't know what's going to happen in the next three days. So we'll wait to make that judgement then."
Of course, Torres (strained left calf) has only played center field since beginning a rehab assignment in the minors. So it does not seem like the organization has any plans to move him from that position.