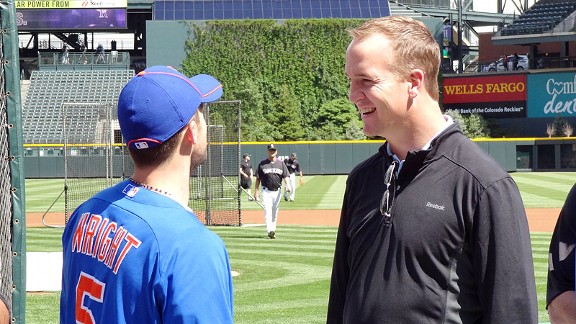 Adam Rubin
Peyton Manning chats with David Wright during batting practice Sunday at Coors Field.
Peyton Manning, visiting Coors Field for Sunday's Mets-Rockies game, bumped into David Wright entering the stadium and did a double take. Wright, participating in a Met-themed western dress day for the postgame trip to Houston, was wearing a sombrero and fake mustache.
Manning also got to reunite with fellow former Tennessee Volunteer R.A. Dickey. The new Denver Broncos QB already is close with Rockies slugger Todd Helton, another former Vol, who actually preceded him as UT quarterback and gave way to Manning because of an injury.
"It caught me off guard," Manning said about entering the stadium alongside costumed Mets. "Jon Rauch almost broke my hand shaking hands with him. And he introduced me to some Mets teammates. And I heard this guy say, 'David Wright.' I was like, 'That isn't David Wright.' He was in a full mustache, sombrero -- the full hat. It caught me off-guard.
"I was glad to see him in his normal Met uniform [during batting practice]. That's a good deal. I know baseball has some unique traditions and customs. That was kind of fun to witness."
How well did Manning know Dickey at UT?
"R.A. is my age," Manning said. "R.A. was in school with me. It was great seeing him. I was sure to get a picture of he and Todd and I. It's pretty good for R.A.'s 35, I'm 36, Todd's -- how old is Todd? -- 38. Pretty good for three guys who were all in school at the same time back in the mid-'90s to still be doing it.
"I'm real proud of R.A., what he has accomplished and conquered. The Tennessee Volunteers all keep up with each other. It was good to see him today."
Broncos receiver Eric Decker accompanied Manning. Decker took batting practice, but not Manning.
"Decker played college baseball [at Minnesota], so he wanted to do it. I thought he represented the Broncos well today hitting two home runs," Manning said. "Some guys were debating whether he would hit any out today. So I'll be glad to deliver the good news that he hit two out. I'm pretty sure he'll walk tall all week over there at Dove Valley [training facility]."
Manning previously has taken batting practice with the Rockies. He joked that ex-Minnesota Twin Michael Cuddyer now has his locker. Manning spent a week at Coors Field training last summer while rehabbing.
"I've been here a number of times to see Todd play," he said. "I was here last year during the lockout to work out. I've taken BP a couple of times. It's always great. The people with the Rockies have been so great kind of hosting us. So it's kind of great to be here as a member of the home team, not as a visitor. I've spent a lot of time here at this ballpark. I'm glad to be here full time."
Manning said he is a big baseball fan. He used to be a shortstop.
"I love baseball," he said. "I grew up playing baseball. My dad was a big baseball fan growing up. He played for Ole Miss and he was drafted. He was a Yankee fan growing up. I was always a Cardinal fan growing up. But, really, since I got to college, I really haven't been in a Major League Baseball town anywhere I've been -- New Orleans, Knoxville, Indianapolis. So really, since I've been in pro ball, the Rockies have been the team that I've kept up with, the team that I checked the boxscore, checked to see how Todd is hitting. They're certainly my team now, for sure.
"As much as I like taking BP, I actually enjoy taking groundballs more than anything else. I miss that about baseball more than anything. I can't remember who the guy was I was working behind [at Coors Field]. This would have been eight or nine years ago. I was taking groundballs behind him. He kind of rotated in to hit, and the third base coach was hitting groundballs to me, by myself. I'm sure he was like, 'Why am I hitting groundballs to Manning? It's one thing if Manning rotates in, but why am I just focusing on him?' I got caught up into it. I love everything about baseball. It's just such a different mentality than football -- so many more games and a different atmosphere. I've always been a fan of it. Having the connection, the friendship I've had with Todd, has made it very special for me."