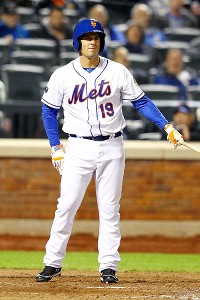 Al Bello/Getty Images
Zach Lutz is being demoted to clear roster space for Andres Torres' return Monday in Houston.
Zach Lutz will be demoted to Triple-A Buffalo to clear roster room for the activation of Andres Torres from the disabled list, assistant GM John Ricco said.
Terry Collins had implied in recent days that Jordany Valdespin might be the roster casualty -- with the logic being that if something were to happen to Ruben Tejada, Justin Turner could complete a game at shortstop.
Lutz was 1-for-8 with five strikeouts during his abbreviated major league stint.