Johan Santana has a 2.25 ERA. He has allowed one run or fewer in four of his five starts. And yet Santana is still sitting at no wins on the season. It's only the second time in his career he has not picked up a win in any of his first five starts to a season -- the other instance coming in 2000, his rookie season with the Minnesota Twins.
The salvation was the Mets, despite surrendering game-tying homers in the eighth and 10th innings, ultimately posted a 6-5 win against the Rockies at Coors Field in Sunday's rubber game. Santana, who tossed six scoreless innings, received a no-decision.
"We won, and that's all I care about," Santana insisted. "At some point we'll do the little things, I think. It takes a whole team effort to win one game. Even though I did my job, everybody has to come through. I'm happy we were able to come back and win the ballgame. I'll try my next time to see if we can go deeper in the game and win a game."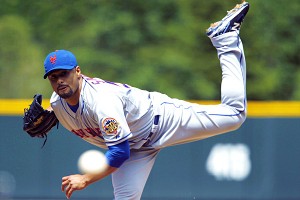 David Zalubowski/Associated Press
Johan Santana remained winless this season despite tossing six scoreless innings and departing with a 4-0 lead on Sunday in Colorado.
Terry Collins said he could not in good conscience let Santana go beyond 90 pitches, since it was the southpaw's first time working on standard rest in a regular-season game since returning from Sept. 14, 2010, surgery to repair a torn anterior capsule in his left shoulder.
"He was probably fine," Collins said. "But we've been talking and talking and talking all year about we've got to watch this guy. This is the first time he's coming back on four days' rest. And I'm not going to abuse him. It doesn't make any sense. … I would be very unhappy with myself if I kept him out there for one extra inning on a day when he didn't have very good stuff and we woke up five days from now and he can't pitch. That just doesn't make much sense to me."
Collins and Santana both noted the ace did not have his best command Sunday. Yet he still limited the Rockies to two hits and three walks in his first career game at Coors Field. Overall, Santana has tossed 22 scoreless innings against Colorado in his career -- the most against the Rockies of any major league pitcher to start a career.
Breaking balls can be difficult to throw in the high altitude, especially because the dryness makes it difficult to execute the ideal grip.
"I told him today, 'I haven't seen a lot of you, but that's the guy I would expect,'" Collins said. "He didn't have his good stuff today. He didn't have his good command today. And he battled his brains out. Even though he only threw maybe 90 pitches, that's a lot of work. That's a lot of work when you throw when you don't have your good stuff, your good command, and you've got to really work hard. I mean, he's probably more tired today than he was five days ago."
Said Santana: "I struggled a little bit today trying to throw some pitches, but I was able to battle through a couple of innings. I was throwing my changeup. I threw some good ones and I threw some others that weren't even close. But overall I felt good and made adjustments and I competed. As far as I remember, it's my first time pitching here. I heard a lot about [the difficulty of throwing] the breaking ball and all that. I mean, I wasn't thinking about it. I was just trying to do my job and trying to stay aggressive and locate all my pitches. It was kind of dry out there, but I wasn't thinking about it at all."
The bottom line, according to Santana? He's healthy.
"We're still making progress," he said. "I think the most important thing is that I feel good, and I'm able to come back from one start to another without any problems. So everything has been positive. And that's the way I'm going to continue to do it."