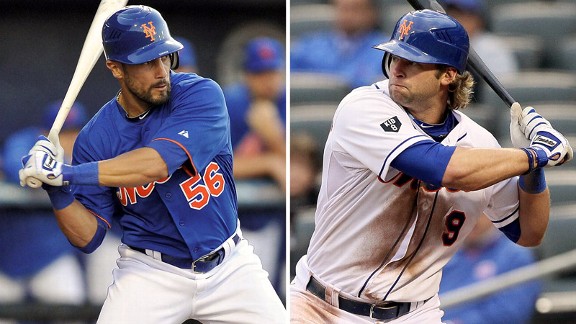 US Presswire/Getty Images
Andres Torres is back in center field Monday, but Kirk Nieuwenhuis is the leadoff hitter.
What went into the decision to leave Kirk Nieuwenhuis atop the order with Andres Torres back from the disabled list?
"Forty-five hits in three games," manager Terry Collins replied, referring to the gaudy offensive production the Mets posted while winning two of three weekend games in Denver.
Collins added that Torres only had 22 plate appearances during a rehab assignment in the minors, so having him initially bat seventh, until he has seen more pitching, makes sense anyway. Torres, as a switch-hitter, also can break up a lefty-dominant bottom of the order to guard against the effectiveness of an opposing manager inserting a left-handed reliever.
Still, Collins elected to move Nieuwenhuis to left field and return Torres to center, even though Torres is the one with professional experience in left field.
On the fielding assignments, the manager explained: "Well, we looked up a lot of numbers. Andres Torres is a pretty good center fielder. So Kirk's played the corners in spring training. He maybe hasn't done it during the season, but he's athletic enough. He can play out there."
Asked what type of defensive metrics the Mets used to determine Torres' center-field proficiency, Collins added: "We've got the same things you guys have. We go to the same web sites that you guys do to look up the stats. They all say Andres Torres is a pretty good center fielder. Especially in this park [it's important], because if you've ever played center field in this park, it's interesting. The first time you hit that little hill out there [in deep center], you can break your neck."
Said Torres, who has started 30 major league games in left field: I"ll play anywhere. I'm a team a player. ... Kirk's been playing great, too. He's a great kid. He's been playing really good. Like I said, I'm here. And whatever they tell me to do, I'll do it."
What happens when the Mets face left-handed starters in the final two games of the series -- J.A. Happ on Tuesday and Wandy Rodriguez on Wednesday?
Scott Hairston will definitely start Tuesday, Collins suggested. Wednesday is more up in the air because Rodriguez has experienced more success against right-handers than lefties this season (.202 versus .267).
A Nieuwenhuis-to-the-bench decision might be avoided for another reason. Right fielder Lucas Duda is out sick Monday, and the illness may sideline him beyond one game, which would allow Hairston and Nieuwenhuis to both start alongside Torres. Duda believes he has the flu.
"He feels terrible today," Collins said about Duda. "He's got a hooded sweatshirt on, another jacket on top of that, with a heating pad on."
Longer term, Jason Bay will be back from a fractured rib. But there is nothing imminent there. Collins said Bay remains in New York and will not be cleared to perform baseball activities until he is pain-free.
As for Torres, he originally injured the calf during spring training, on March 20. The ex-San Francisco Giant said he did not feel like he tried to return too quickly, even though he reinjured the muscle on Opening Day and landed on the disabled list. He will use plastic rather than metal spikes to try to guard against another injury.
"I went to Buffalo. It was like 34 degrees and I stole bases and ran some balls out and I feel good now," Torres said about the second half of his week-long rehab assignment. "They hit like two balls to the gap. There's one I made a really good catch, where he just went the other way to the gap, and I caught the ball."
As for whether he rushed back for Opening Day, Torres said: "To be honest with you, I was feeling good."
Meanwhile, asked how he felt remaining in the leadoff spot as a rookie even with Torres' return, Nieuwenhuis downplayed Collins' decision.
"That's tonight," the rookie said. "I don't know about next week or whatever. That's just for tonight. We'll see."
• Collins said he planned to give Daniel Murphy his first day off Tuesday. Murphy has started the team's first 23 games at second base.