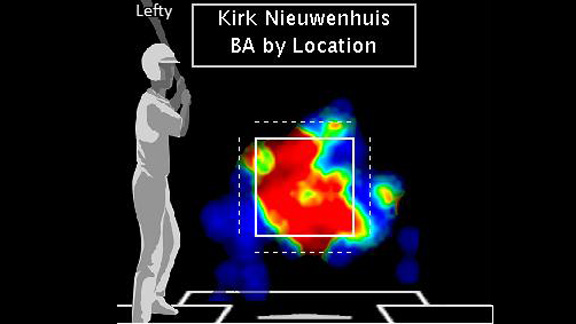 If you threw Kirk Nieuwenhuis a pitch in the strike zone in April, chances are that he crushed it.Who were the MVMs of April?
Let's call them the Most Valuable Mets, and we'll make this the process by which we do our monthly reviews of the Mets' performance this season.
We'll take a closer look at the key players for the team each month, picking both the MVMs and the MVS (Most Valuable Statistic).
#1-- David Wright
Through the first month of the season, Wright has returned to the form that made him one of baseball's biggest stars during his prime years of 2006 to 2008.
Wright hit .389 in April, the third-highest batting average he's had in any calendar month in which he played at least 15 games.
As we noted earlier this month, Wright was a lot less reckless in his swing choices than he has been in the last couple of seasons.
David Wright with 2 Strikes
That's been very noticeable in two-strike counts, as shown in the chart on the right
The last three Aprils, Wright struck out in 29 percent, 26 percent, and 26 percent of his plate appearances respectively.
This April, even with three strikeouts on Monday, he was whiffing at a rate of only one of every six plate appearances.
Instead, he's doing things like he did on Saturday, when he had three hits, and two RBI in two-strike counts in the Mets 7-5 win over the Rockies.
#2-- Kirk Nieuwenhuis
The injury to Andres Torres turned out to be a blessing in disguise for the Mets, who discovered they had something pretty good in Nieuwenhuis, who has shown a propensity for the Web Gem and the big hit.
Win Probability Added Leaders
Mets Hitters
Nieuwenhuis hit .325 with eight RBI. Of his six hits that drove in runs, five of them either tied the score, put the Mets ahead, or brought them to within one run.
That's how he ended up second among Mets hitters in April in Win Probability Added, a stat that measures a player's contributions on a play-by-play basis.
The numbers don't figure to stay this good for Nieuwenhuis. His numbers are the product of a .453 batting average on balls in play (BABIP).
Nieuwenhuis was 9-for-28 when he hit a ground ball and 6-for-13 when he hit a fly ball that stayed in the ballpark. Those sorts of performances are rarely replicated for the long term.
The thing to watch in May will be how Nieuwenhuis develops as a hitter. Nieuwenhuis was susceptible to getting himself in two-strike situations, often by taking pitches in the strike zone, then swinging at pitches that were not close to the plate.
The heat map atop this story shows Nieuwenhuis' performance by pitch location.
See all the red? Nieuwenhuis hit .471 in at-bats that ended against pitches in the strike zone. The only players with a higher batting average were Wright (.481) and Derek Jeter (.477).
#3-- Johan Santana
Santana posted a 2.25 ERA through his first five starts and did so in an unusual manner.
The changeup that had been so nasty during Santana's heyday somehow managed to be both valuable and rusty in his first month of action since the 2010 season.
Most Strikeouts with Changeup
Lefties in 2012
Despite throwing only 45 percent of his changeups for strikes (a rate far below his career norms) Santana still managed to get 17 outs with the pitch, yielding only one hit and two walks with it.
The Marlins and Rockies took 34 of the 47 changeups he threw. But on the ones they swung at, they did nothing. He got five outs with it against each team.
Santana has kept his changeup in an area in which the worst thing that can happen is that the pitch is called a ball, and he gets another shot at getting the hitter out.
He's thrown nearly three-quarters of his changeups to the lower-third of the strike zone or below. That's an unusually high rate -- one about 20 percentage points higher than his 2009 and 2010 numbers.
But it's one that worked for him in the first month of the season.
#4-- Jon Rauch
Rauch, who had a miserable 2011 with the Twins, was about as good as you could ask an eighth-inning reliever to be in his first month with the Mets.
Jon Rauch, 2012 Season
Of the 40 hitters Rauch faced in April, 32 came in situations in which the score was either tied or within one run. He retired 28 of them.
It's tough to blame Rauch for his two blemishes.
His blown save came when the Mets misplayed a potential game-ending popup to center field -- the only hit Rauch would allow on 15 fly balls for the month.
And he came within a hair of striking out his final hitter Sunday, which would have allowed the Mets to finish the eighth inning at Coors Field with a 4-0 lead, instead of tied, 4-4.
Rauch's slider was his money pitch all month. He got 15 outs with it and allowed no hits, with the only ball classified as "hard-hit" in our pitch-tracking system being a fly ball on which Nieuwenhuis made a diving stop.
#5-- Josh Thole
Thole was 7-for-17 against left-handed pitchers in April.
Josh Thole vs LHB
That doesn't sound like big a deal until you put it into proper perspective. Thole totaled six hits against lefties in minimal duty in 2011.
With quantity came quality too. Thole saw 4.5 pitches per plate appearance in his 19 turns against southpaws. He made pitchers earn their outs rather than help them get outs.
He had two huge moments against lefties, netting a game-tying ninth-inning single on a 3-2 pitch from Javier Lopez against the Giants, and a full-count bases-loaded walk against reliever Mike Dunn to tie a game in the seventh inning against the Marlins.
Both of those at-bats were extended by Thole fouling off at least one two-strike pitch that was right on the strike zone border, according to our Pitch F/X system.
Most Valuable Stat-- Late & Close Performance
Some will point to the Mets' minus-20 run differential and say their 13-10 record is the product of good luck and a small sample size.
Notable Mets
Late & Close Situations
But the Mets would probably tell you that they earned their way to this mark by wearing out opposing pitchers and coming through in big spots.
We alluded to it throughout this piece, but the thing that allowed the Mets to exceed expectations in April was how they hit in the game's most-important situations.
Baseball-Reference.com defines a Late & Close plate appearance as one coming in the seventh inning or later with your team tied, up by one, or trailing, but with the tying run at least on deck.
The Mets had a .286 batting average and a .389 on-base percentage in Late & Close situations in April. Those were 28 and 29 points higher than the NL teams with the next-best numbers.
And they represent the biggest statistical reason why the Mets are where they are at this point in the season.
"In-depth" appears Tuesdays during the regular season