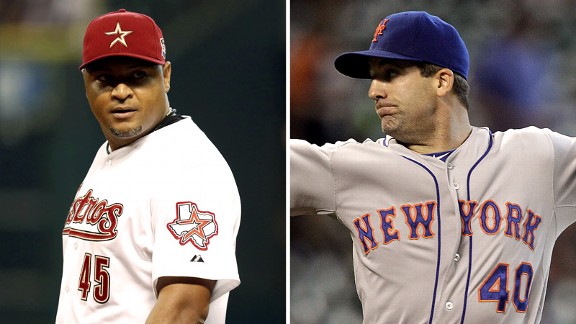 US Presswire/Getty Images
Carlos Lee and Tim Byrdak, former teammates with the Astros, jawed during Wednesday's game.
Tim Byrdak did not appreciate jawing from the Houston Astros dugout while the southpaw appearance in the Mets' lopsided, 8-1 loss Wednesday afternoon. So he returned the verbal firing at former teammate Carlos Lee.
Still, Byrdak downplayed the exchange afterward. Astros players told The Houston Chronicle they thought Byrdak was quick pitching.
"It's no big deal," Byrdak said. "He said he was only kidding around. I heard somebody say something, and I just didn't appreciate it. It's one of those things where I'll kid around in here, but I don't take [expletive] from nobody out there. But he told [Josh] Thole after the game he was just goofing around and stuff like that. I didn't hear what he said. I just know somebody was yelling. That's all it was."
Astros manager Brad Mills told the Chronicle: "There's going to be a big discussion always about when a pitcher quick-pitches. Always. Nothing was being said to him. It was being said to the umpire, and then Tim took offense to us saying something to the umpire and he started yelling. It really didn't become much at all. ... I don't see anything happening down the road at all. It's kind of funny more than anything else."
Said Lee to the newspaper: "I saw him upset and I just started screaming at him. I don't even know what I started screaming, but I started screaming. I didn't even see the play. I didn't see what happened. I saw everybody yelling and I'm like 'I'm going to yell too.'"