Terry Collins offered no commitment to continuing with Chris Schwinden in the rotation after the rookie had a pair of four-inning outings filling in for Mike Pelfrey on the road trip -- both Mets losses.
Asked if he was going to evaluate that rotation spot, Collins initially said: "I don't know yet until I get back. The game just got over. I haven't talked to anybody about what we're going to do from here on out."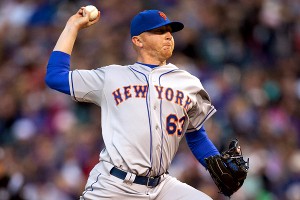 Justin Edmonds/Getty Images
Chris Schwinden allowed a pair of homers to Chris Johnson on Wednesday afternoon.
Then asked if he would commit to Schwinden starting on turn Tuesday at Philadelphia on turn, Collins sounded if he was headed in another direction.
"Would I commit to it?" Collins repeated. "I'm not committing to anything. Things change in this game, so we'll see what happens."
Still, Collins described eventual rotation spot occupant Chris Young as "a ways away yet."
Young threw a 75-pitch simulated game Monday and may be a month away from being ready for major league competition.
If the Mets dip to Triple-A, Jeremy Hefner could get the call. Miguel Batista is in the major league bullpen and the de facto long man/spot starter.
"I thought today was going to be different," Schwinden said. "I left couple of balls up in the zone, and it changed the whole game.
"I know it doesn't really help me. I think their patience is kind of wearing a little bit with my performance. I just have to keep my head on straight and try, if I get another opportunity, to go for it."
As for Manny Acosta, who allowed 11 runs in 3 1/3 innings in three appearances on the trip, Collins said: "He's really trying too hard. He really, really is. He's overthrowing. Balls are in the middle of the plate. You saw on two or three replays of the hits, the balls were right down 'Central.' They might be down a little bit, but they were still down the middle. He's trying way too hard. He's coming off two good years, and he's trying to get it going a little bit. He's just got to relax and pitch."