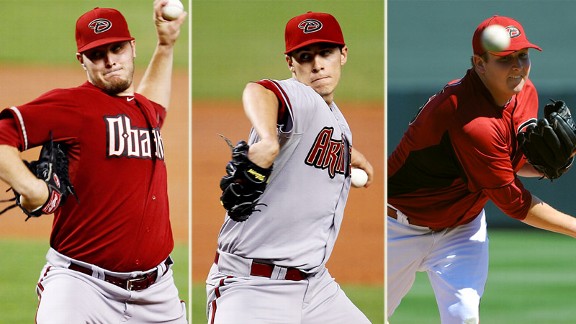 Getty Images
The Mets face three starters for the first time this weekend: (l to r) Wade Miley, Patrick Corbin and Trevor Cahill.
METS (13-12, third place/NL East) vs. ARIZONA DIAMONDBACKS (13-13, second place/NL West)
Friday: RHP Dillon Gee (2-2, 4.85) vs. LHP Wade Miley (3-0, 1.29), 7:10 p.m. ET
Saturday: LHP Johan Santana (0-2, 2.25) vs. LHP Patrick Corbin (1-1, 4.76), 4:05 p.m. ET
Sunday: RHP R.A. Dickey (3-1, 4.45) vs. RHP Trevor Cahill (2-2, 3.13), 1:05 p.m. ET
Diamondbacks short hops
• Left-hander Wade Miley topped the Mets' Kirk Nieuwenhuis for the NL Rookie of the Month honor for April, which was announced Wednesday. Miley, 25, limited opponents to a .133 average with seven walks and 15 strikeouts in 21 innings spanning five appearances (two starts). He became the third Diamondbacks player to be recognized since the monthly award's inception in 2001, joining Gerardo Parra (May 2009) and Daniel Hudson (August 2010). Miley originally pitched in relief of shaky Josh Collmenter's starts, logging as much as four innings an appearance. The southpaw entered the rotation when Hudson landed on the DL with a shoulder impingement. Hudson is due to throw a bullpen session for the first time early next week at Chase Field.
• Center fielder Chris Young has been on the DL since April 18 with a right shoulder injury. An MRI revealed a small tear of the ligament in the AC joint as well as a severe bruise. He has started swinging in a cage. GM Kevin Towers reportedly watched Vladimir Guerrero work out in the Dominican Republic on Monday, but there is no firm resolve to sign the veteran with Young's absence not expected to be prolonged. Righty-hitting rookie A.J. Pollock (.120) and lefty-hitting Parra (.256) have been sharing center-field duty in Young's absence. Pollock is a native of Hebron, Conn. He attended Notre Dame, where he was the Irish's first MVP in consecutive seasons since Aaron Heilman in 2000 and '01.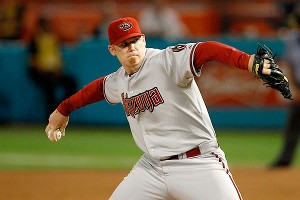 Lynne Sladky/Associated Press
Ex-Met J.J. Putz blew his second save of the season Wednesday, at D.C.
• Shortstop Stephen Drew began game action Monday in a minor league intrasquad game as he works back from surgery to repair a right ankle fracture he suffered last July 20 sliding on a play at the plate. John McDonald and Willie Bloomquist have shared the shortstop role minus Drew. Collectively, they have committed only two errors. McDonald's homer on April 17 against the Pittsburgh Pirates was his first since last May 11 against the Boston Red Sox. He had been acquired with Aaron Hill from the Toronto Blue Jays last Aug. 23 for Kelly Johnson.
• Left fielder Jason Kubel signed a two-year, $16 million contract as a free agent on Dec. 12 that includes a team option for 2014. Thursday's 0-for-4 night at Washington interrupted a streak in which the ex-Twin had hit safely in 13 of 14 games (.393, 22-for-56). Kubel leads major league outfielders in assists with six. During his Twins tenure, he had split time nearly evenly between the outfield and DH.
• Third baseman Ryan Roberts' struggles at the plate and in field have opened the door for Cody Ransom to chip away at his playing time at the hot corner. Despite singling in three at-bats Thursday, Roberts is in a 3-for-34 rut and is hitting .167 this season. Ransom has started seven of the Diamondbacks' past 11 games at third base.
• Syracuse-area native Patrick Corbin makes his second major league start Saturday. He won his major league debut, 9-5, at Miami on April 30, allowing three earned runs in 5 1/3 innings. Corbin was selected for the call-up over top-rated prospects Tyler Skaggs (No. 3 Baseball America) and Trevor Bauer (No. 1). Corbin supplanted the ineffective Collmenter (0-2, 9.82 ERA in four starts) in the rotation. Collmenter has moved to the bullpen, but has yet to appear in that role. Corbin had been 2-0 with a 1.67 ERA at Double-A Mobile before the promotion. He was acquired with left-hander Joe Saunders and Skaggs from the Los Angeles Angels in the July 25, 2010 trade for right-hander Dan Haren.
• Right-hander Trevor Cahill arrived from Oakland during the offseason along with left-hander Craig Breslow and cash for right-handers Jarrod Parker and Ryan Cook and outfielder Collin Cowgill.
• Hill has reached base safely in 20 straight games. His 74 homers trail only Dan Uggla and Robinson Cano for the most long balls by a second baseman since 2009.
• Ex-Met J.J. Putz had a 28-game save streak snapped April 14 at Colorado. He blew his second save chance of the season Wednesday at Washington. Putz surrendered a two-out, two-run homer in the ninth to Ian Desmond.
• Catcher Miguel Montero has thrown out seven of 14 would-be base stealers. He is backed up behind the plate by ex-Met Henry Blanco.
Matchups
Gee vs. Diamondbacks (career: 1-1, 4.91 ERA)
Paul Goldschmidt 1.000, 1 PA
Cody Ransom .500, 2 RBI, 2 PA
Justin Upton .400, 1 HR, 1 RBI, 1 BB, 2 K, 6 PA
Miguel Montero .200, 1 HR, 1 RBI, 1 K, 5 PA
Gerardo Parra .200, 1 RBI, 1 K, 5 PA
Lyle Overbay .167, 6 PA
Ryan Roberts .167, 1 RBI, 6 PA
Santana vs. Diamondbacks (career: 2-0, 0.62 ERA)
Miguel Montero .333, 1 K, 3 PA
Jason Kubel .333, 1 RBI, 3 PA
Justin Upton .250, 2 BB, 3 K, 6 PA
Willie Bloomquist .214, 1 RBI, 1 K, 14 PA
Henry Blanco .125, 1 BB, 3 K, 9 PA
Aaron Hill .111, 1 RBI, 1 K, 9 PA
Lyle Overbay .091, 2 BB, 8 K, 13 PA
John McDonald .077, 1 BB, 2 K, 14 PA
Dickey vs. Diamondbacks (career: 0-1, 3.86 ERA)
John McDonald 1.000, 2 PA
Jason Kubel .600, 1 HR, 1 RBI, 5 PA
Willie Bloomquist .571, 2 RBI, 7 PA
Gerardo Parra .500, 1 RBI, 1 BB, 3 PA
Aaron Hill .500, 1 RBI, 2 PA
Justin Upton .250, 1 HR, 1 RBI, 2 K, 4 PA
Lyle Overbay .071, 1 RBI, 2 BB, 2 K, 16 PA
Henry Blanco .000, 1 K, 2 PA
Cody Ransom .000, 1 K, 2 PA
Miley vs. Mets (career: never faced)
Corbin vs. Mets (career: never faced)
Cahill vs. Mets (career: never faced)
Andres Torres .222, 1 RBI, 1 BB, 2 K, 10 PA
Last series results
Arizona won, 3-0, at Chase Field, Aug. 12-14, 2011 (AP game recaps)
Diamondbacks 4, Mets 3: Ian Kennedy won his seventh straight start to become the National League's second 15-game winner. Kennedy (15-3) allowed a run on six hits in seven innings to tie Philadelphia's Roy Halladay for the most wins in the NL. Justin Upton homered, Cody Ransom doubled in two runs and Kennedy helped himself with an RBI double as Arizona pulled two games ahead of second-place San Francisco. Jason Bay went 3-for-4 with a double and RBI single in the Mets' third straight loss and ninth in 12 games. Arizona first baseman/outfielder Xavier Nady's left hand was broken when he was hit by a pitch from Dillon Gee in the second inning.
Diamondbacks 6, Mets 4: Ryan Roberts hit a three-run homer and the Diamondbacks came from behind to win for the 33rd time this season. Daniel Hudson (12-8) allowed four runs (two earned) on eight hits in eight innings. Hudson also had a run-scoring single, his 13th RBI of the year. J.J. Putz pitched a scoreless ninth for his 29th save in 33 attempts. Mike Pelfrey was hit by a line drive off the bat of Gerardo Parra leading off the fifth inning and had to leave the game with a bruised right elbow. His team led 4-2 at the time. Reliever D.J. Carrasco (1-3) came on to hit Willie Bloomquist, then Roberts followed with his 16th home run of the season on the first pitch he saw.
Diamondbacks 5, Mets 3: Justin Upton homered, Paul Goldschmidt doubled twice and Arizona earned its sixth consecutive win. Diamondbacks starter Jason Marquis, acquired in a July 30 trade from Washington, was hit on the right shin by a line drive in the third and left the game one inning later with a broken shinbone. Goldschmidt doubled and scored on Henry Blanco's double to give Arizona a 4-3 lead in the sixth inning. Zach Duke (3-4), who came on in relief of Marquis, allowed two runs and four hits over 2 2/3 innings and David Hernandez pitched the ninth for his 11th save. Chris Capuano (9-11) allowed four runs and nine hits over six innings.