Right after Saturday's 4-3 win over Arizona, Mets manager Terry Collins sought out starting pitcher Johan Santana, who had been winless for more than 20 agonizing months entering the game.
"Congratulations," the Mets' manager said.
"It's been a long time since I had one of these," his veteran hurler responded.
It certainly has.
Santana, 33, picked up his first win since 2010 as he pitched seven innings of three-run ball in the Mets' victory. The southpaw -- who missed all of last season after shoulder surgery -- won his first game since defeating Atlanta on Sept. 2, 2010, and improved to 1-2.
"It's always good to get the first win in and out of the way," Santana said. "I think every time we win a game, it's always a good feeling. Especially after four straight losses, it's always good."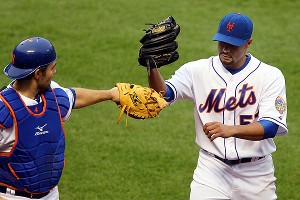 Jim McIsaac/Getty Images
Mets catcher Mike Nickeas, who drove in two runs, offers congratulations to Johan Santana.
It has been a long road back to the majors for Santana, who had been one of baseball's most dominant left-handed pitchers in the 2000s. He was shut down late in 2010 then missed all of 2011. He worked hard in spring training this year just hoping to begin the season with the team and find a way to get back.
He started on Opening Day and hasn't missed a start since then, pitching to the tune of a 2.61 ERA, but had yet to be rewarded with a win. A lack of run support in the first five games, as the team scored four runs in his 24 innings, as well as a bullpen implosion in his last start had kept him from getting that first post-injury win.
Saturday, in his longest start of the year, he finally got that win. He tossed a season-high 108 pitches in those seven innings, showing veteran toughness by working out of jams against an Arizona lineup that seemed to be making solid contact all day. He helped snap the team's four-game losing streak in the process.
"That's what aces do," Collins said. "They stop losing streaks. They take it upon themselves to do that. They know when times are tough they have to raise their games up. He's that guy."
The Diamondbacks put men on in every inning against Santana except for the first and seventh, challenging the southpaw. Arizona smacked plenty of hard-hit balls, including a home run by Ryan Roberts in the second and a two-run double by Paul Goldschmidt in the fifth.
Santana said he finished strong, ending his outing with a perfect inning, and that was a good sign for him. He cited a problem with command as a reason for his struggles. The nine hits he allowed were a season-high, although the one walk was tied for his season-low this year.
"They were good, they were putting the ball in play and getting on base, they battled out there," Santana said. "It was good at the end of the day I was able to battle through it."
As much as the first win of the season was important to Santana, the veteran hurler focused more on the team's accomplishments.
"We won and that's the most important thing," Santana said. "I think the situation we were in, losing four games, I wanted to help and somehow stop it and give our team a chance to win. That's all I was doing."