R.A. Dickey took a scoreless effort into the ninth inning before surrendering a leadoff walk to Gerardo Parra and RBI double to Justin Upton. From there, Tim Byrdak and then Frank Francisco entered to complete a 3-1 rubber-game victory Sunday against the Arizona Diamondbacks at Citi Field.
Monday's news reports:
• Ruben Tejada tumbled approaching first base on a fourth-inning bunt single and was forced to leave Sunday's game. The Mets announced Tejada had suffered a strained right quadriceps, even before Tejada had completed an MRI at the Hospital for Special Surgery. (The Post described the MRI as looking "not good.") Terry Collins also expressed concern with Tejada's right eye after the shortstop went face first into the ground after getting tripped up at first base. Justin Turner completed the game at shortstop, and Collins suggested he could accept using Turner at the position with David Wright as the backup until Ronny Cedeno returns. Cedeno (side muscle strain) now is eligible to be activated from the disabled list, but is not expected to be ready until later in the week.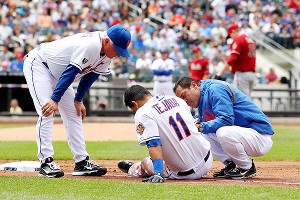 Anthony Gruppuso/US Presswire
Terry Collins and trainer Ray Ramirez check on Ruben Tejada on Sunday. Tejada left the game.
Yet regardless of Collins' outward expression of confidence, Turner does not have the range to play shortstop in the majors. The Mets are bringing Jordany Valdespin to Philadelphia as part of a taxi squad. He would be activated to man shortstop assuming Tejada lands on the disabled list, which seems like the highly likely scenario. Valdespin, who was demoted after Saturday's game when the Mets activated D.J. Carrasco, cannot return without spending 10 days in the minors unless he is replacing a player who lands on the DL. Read more in the Star-Ledger, Daily News, Record and Newsday.
• Dickey matched the longest outing by a Mets pitcher this season, and thought he had a chance at a no-hitter based on his early knuckleball quality. He slammed the rosin bag when he was removed because he wanted the complete game. (Mike Pelfrey also went eight innings April 21 against San Francisco, in what may have been Pelfrey's final appearance as a Met.) Read game recaps in the Times, Record, Newsday, Post, Journal, Daily News and Star-Ledger.
• Chris Young is due to pitch in his first official minor league game Thursday with Class A St. Lucie, which plays at Brevard County at 6:35 p.m. Young is returning from May 16, 2011 surgery to repair a torn anterior capsule in his right shoulder. That is the same procedure Johan Santana underwent eight months earlier.
• Ike Davis, who is now hitless in his last 10 at-bats and hitting .168 after going 0-for-2 with a walk Sunday, told Jon Heyman at CBSSports.com: "Let's be honest, it's a tough game. I'm working my butt off every day. Everyone wants a quick fix, but let's be honest, I'm not going to go from .170 to .300 in a day.''
• Daniel Murphy, batting in the No. 5 hole for a second straight game, contributed a two-run single in the first inning. He went 7-for-12 in the series against Arizona. "I actually believe in the middle of the order is where he belongs, in that fifth spot," Collins said. "I really do. I've hit him second because I think he gets on base. Right now, we're looking for someone that can swing the bat to drive some runs in. When Ike starts swinging the way we know he can, Murph will probably move back up to No. 2. But right now, I just think we got to kind of spread out our guys that are swinging the bats." Read more in Newsday.
• Steve Serby in the Post has a Q&A with Kirk Nieuwenhuis. The conversation includes this exchange about Nieuwenhuis' high school nickname, Bonesaw:
Q: What is up with the "Bonesaw" chants?
A: In high school I played basketball, and I wasn't the best basketball player, just kinda banged around a little bit ... kinda passed and rebounded and fouled and played defense. We had a student section [the Blue Crew] that was pretty big for a student section even though we didn't have a big school. I was a junior and a bunch of the seniors thought "Bonesaw" was a cool nickname and they gave it to me.
• Jason Bay's fractured rib remains sore, so he is not yet beginning the baseball activities that would be a prerequisite to being activated from the disabled list. Bay also is dealing with the flu.
• Columnist Bill Madden in the Daily News writes this assessment of the Mets:
Aside from David Wright and Murphy, the Mets lineup doesn't overwhelm you -- but then what National League lineup does? -- and so it comes down to what it always does, pitching, and on days like Sunday when Dickey limits the opposition to just three hits and one run over eight-plus innings, the Mets look more than respectable. So far this season, Mets starters have pitched six or more innings 18 times and, not surprisingly, their record is 13-5 in those games. Dickey is the leader with five of his starts going six or more innings. "The pitching's what's carried us," Terry Collins asserted, "and in games like this it's allowed us to use the bullpen the way it's supposed to be used."
• Columnist Kevin Kernan in the Post writes this take:
Things could go downhill quickly for the Mets. But for now they are holding on. "I personally think we're a fun team to watch, and a lot of good things can happen,'' catcher Josh Thole told The Post after driving in one of the three runs with a fourth-inning single. The other two were driven in by Daniel Murphy. In a fascinating scene three hours before the game, Murphy was offering some hitting tips to Thole in front of Thole's locker. "When I walk down the street, people are saying, 'Hey, keep going, you guys are playing hard,' " Thole said. "You appreciate hearing that, and when you show the fans that you care and have passion, that's all they are asking for.''
• Paul DePodesta is profiled in the Harvard Crimson, the student newspaper at his alma mater. Writes Scott A. Sherman:
After an injured shoulder suffered at the end of the following spring left him effectively unable to throw, DePodesta soon realized his baseball career was over. He decided to solely focus on football—where he only needed to catch—and played his senior year in 1994 under current Crimson coach Tim Murphy, who had just arrived from the University of Cincinnati. "Depo was not the most talented kid on the team, but he was a smart, tough, high-character guy," Murphy recalls.
Often, it was DePodesta's brain that stood out most quickly to his teammates. "He was a great guy, very friendly and very helpful in teaching the young guys," Colby Skelton '98, a fellow receiver on the squad, wrote in an email. "Not to mention extremely bright." DePodesta did his best to ensure people were aware of that intelligence, often wearing a button-down shirt, khaki pants, and glasses (rather than his preferred contact lenses) around campus so people did not view him as "a dumb jock."
• Josh Rodriguez's single in the bottom of the ninth scored Pedro Zapata and lifted Binghamton to a 2-1, walk-off win against Harrisburg on Sunday. Read the full minor league recap here.
TRIVIA: Who was the first Phillies pitcher to serve up a homer to Wright in the third baseman's career? (Hint: He's now a closer.)
Sunday's answer: (Jersey) Bobby M. Jones once referred to his manager, Bobby Valentine, as a "joke."