Josh Thole was experiencing dizziness, headaches and felt hot after receiving a blow from Philadelphia's Ty Wigginton on an eighth-inning plate collision.
Thole was being evaluated for what appeared to be a concussion by a Phillies doctor after the game. He did suffer a concussion in 2010 while playing for Triple-A Buffalo.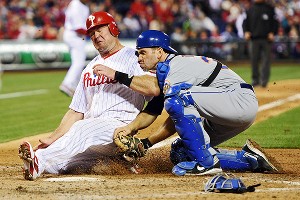 Drew Hallowell/Getty Images
Ty Wigginton deals a blow to the right side of Josh Thole's face in the eighth inning Monday.
"Pretty much they're looking at all the protocols that are in place for evaluating whether he had a concussion or not," assistant GM John Ricco said. "It's kind of all we know right now. He's alert when I was talking to him, but he's still undergoing evaluation for that. He said that he was a little bit dizzy. I think he was a little bit hot. But I really didn't get into any of the details with the doctor. I let him do his job."
Said Terry Collins: "He's hurt. He got hurt. When we got out there, the only thing he could say is, 'I'm real dizzy. I'm real dizzy.'"
Major League Baseball added a seven-day disabled list this year for concussed players. Thole appears headed for that one-week DL, but Ricco said it was too soon to firmly declare that to be the case. Still, Ricco expected the Mets would bring in a catcher from Triple-A Buffalo. Ex-Mariner/Padre Rob Johnson seems most likely, with Lucas May the alternative.
Johnson, himself, had just returned from the minor league DL last Wednesday after nursing a left knee sprain.
In addition to Mike Nickeas, the Mets now have Vinny Rottino on the 25-man roster. He has catching experience, but exclusively played left field with Buffalo this season. So Collins said he would not be comfortable starting him behind the plate as the primary alternative to Nickeas.
"You always err on the side of having enough guys in to catch," Ricco said. "And if you don't need them, then you send them back."
As for Wigginton's apparent shoulder blow to Thole's head, Collins described the ex-Met as a hard-nosed player and offered no protest about the impact.
"Absolutely," Collins said. "As a matter of fact, Ty Wigginton, I'm surprised he didn't crush him, to be honest. But it was fine."
Nickeas said there are boundaries, but he said he had not yet seen a replay. Thole had his mask off at the time of the contact, but Nickeas said that's common when the ball has been hit in the infield.
"We know the risk as catchers when we're back there," Nickeas said. "We know certain guys that like doing it -- guys that have a reputation. But when a guy slides, I think you're kind of anticipating he's going to continue sliding. I don't know if he kind of popped up and got him. But, yeah, you're ready for it. And it is part of the game. So I don't look too much into it."
Is nothing out of bounds at the plate?
"Within reason," Nickeas said. "If a guy 'trucks' you and kind of keeps his shoulder down and just tries to bear through you, that's fine. If he starts flailing stuff at you, it kind of gets a little edgy."
Said David Wright, the lone remaining Met who played with Wigginton: "Wiggy plays the game hard. I think it could have been a lot worse. And hopefully Josh is OK. You've got to be careful with those head injuries. He's got a little bit of a headache, he said. I'm sure they'll look after him tonight. He was in good spirits after the game, and that's a good sign."