Jordany Valdespin relived his first major league hit in the clubhouse moments after the blast.
On the day he returned to the big leagues with Ruben Tejada landing on the DL with a right quadriceps strain, Valdespin channeled his inner Omir Santos and belted a three-run pinch-hit homer off Phillies closer Jonathan Papelbon in the ninth inning to lift the Mets to a 5-2 win on Monday night at Citizens Bank Park.
He became the first Met to homer for his first major league hit since Mike Jacobs did it on Aug. 21, 2005, against Washington's Esteban Loiaza. Jacobs went on to homer four times in his first four games.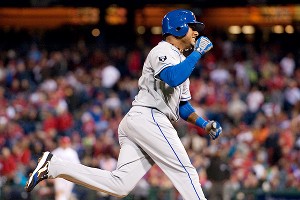 Howard Smith/US Presswire
Jordany Valdespin pumps his fist after his tiebreaking ninth-inning homer Monday against Jonathan Papelbon.Asked what entered his mind as he circled the bases, Valdespin said: "Just excited because -- you know -- first hit in the big leagues. It's exciting. I'm thinking, 'Giving the chance to my team to win.'"
Terry Collins already had promised pregame that Valdespin would start Tuesday at shortstop. The rookie had been 0-for-6 during his first tour of duty with the Mets. He had been demoted after Saturday's game, a day before Tejada suffered the leg injury, to clear roster room for the activation of reliever D.J. Carrasco.
Valdespin reeked of beer as he spoke with reporters afterward. Teammates had bathed him in uniform in the clubhouse with whatever they could grab. They then wildly cheered as replays of the game, including Valdespin's dramatic homer, were played on "SportsCenter" in the clubhouse.
"Everything they had in their hands," Valdespin said about what he got doused with.
The homer, which broke a 2-all tie, was set up by a walk to Ike Davis, then a two-out double by Mike Nickeas.
"When I see Nicky hit with a strong at-bat, I think, 'I'm the man right now. I'll hit the ball to the middle,'" Valdespin said. "He made a mistake and I hit the ball well."
Said Terry Collins: "He is an extremely talented young player. So we're going to run him out there tomorrow. You know, he hasn't played shortstop [a lot this season]. But he's just so athletic that I know he'll handle himself great."
Papelbon, of course, had allowed the homer to Santos in 2009 to blow a save at Fenway Park against the Mets. He had faced the Mets only once since then -- earlier this season.
"I threw him a sinker and it wasn't executed as well as I'd like it to be, but we're in the big leagues man," Papelbon said. "That's part of the game. I could have thrown him a better pitch."