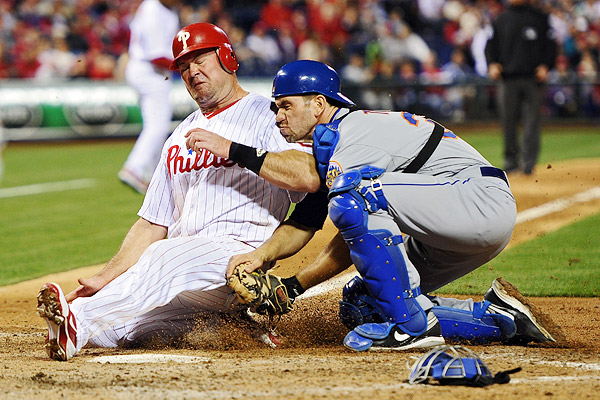 Drew Hallowell/Getty Images
Josh Thole, who suffered a blow from Ty Wigginton on a play at the plate, landed on the seven-day DL Tuesday with a concussion.
Josh Thole landed on the seven-day DL with a concussion. The Mets promoted catcher Rob Johnson from Triple-A Buffalo. Pedro Beato (shoulder) was transferred to the 60-day DL to clear a 40-man roster spot for Johnson.
Thole will need to be activated at the end of the seven days, or miss another seven days with a renewal on that DL. That's unlike the 15-day DL, in which a player does not necessarily miss a set 15 days -- it can be 16, 17, 18, 19, etc.
The seven-day DL for concussions was added last year. Brian Roberts, Al Alburquerque, Denard Span, Matt Treanor, Ronny Cedeno, Craig Gentry, Erick Almonte and Eli Whiteside all used it. Eric Chavez is the only other active player on the list.
Ruben Tejada, who landed on the DL with a strained right quadriceps, also was evaluated Tuesday for a concussion, but was cleared, Sandy Alderson said. Tejada went tumbling Sunday at Citi Field while suffering the injury and went face first into the ground.
Thole still had a headache on Tuesday, Terry Collins said. He was examined by Mets doctors in New York at 3:30 p.m. Tuesday.
Collins said Thole second-guessed himself for removing his mask, but fellow catcher Mike Nickeas said he too only keeps his mask on with balls hit to the outfield. This ball was in the infield and fielded by reliever Bobby Parnell. Nickeas saw a replay on ESPN and said he found no fault with Ty Wigginton delivering a shoulder blow to Thole's head.
"That's your buddy and your teammate," Nickeas said. "You get hit like that, it's never a good thing. But it is part of the game. I think he was just trying to kind of dislodge the ball and go in there hard. Wigginton was just playing hard and unfortunately caught Josh in a vulnerable spot.
"We've all been crushed. I haven't ever been hit in the face, in the head, that it's jarred me like it looks like it got Josh. You get good ones. You get guys coming into you hard. Hopefully it just hits you in the right spot and you're able to absorb the impact. Josh kind of got clocked."
Collins already said he planned to start Johnson on Wednesday against Cliff Lee. Johnson went 2-for-2 with a double last July against Lee while with the Padres.
Righty-hitting Justin Turner also should start Wednesday against Lee. Cedeno should be back for Friday's game against Miami left-hander Mark Buehrle, and Collins suggested he did not believe Jordany Valdespin could survive the roster cut to make room for Cedeno. "Be hard for him to do that, not that he can't," Collins said.
If Valdespin is a full-time major leaguer at some point, Collins sees second base as the most likely position.
As for Jason Bay, Collins said the left fielder's fractured rib has not improved enough to allow him to begin baseball activity.