Terry Collins offered no hesitation in saying Miguel Batista would remain in the rotation for another turn after a no-decision in Tuesday's 7-4 comeback win against the Phillies.
Collins noted Batista's breaking ball was right in the middle of the plate in the first couple of innings, when Philadelphia scored its four runs (two earned). The manager felt Batista got into somewhat of a groove after shaking off rust.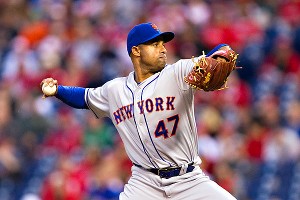 Howard Smith/US Presswire
Miguel Batista was charged with four runs (two earned) in 5 1/3 innings in his first start in Mike Pelfrey's rotation slot.
"I think as the game went on, he got in a better rhythm. He hasn't started all year, except I guess he started the doubleheader game. It's been a while. But I think he started to use all of his pitches after the second inning, started to use his changeup a little bit, and his slider a little bit more effectively, and made better pitches for sure. Those first two innings I saw the replays on the scoreboard and those breaking balls were right in the middle of the plate."
Said Batista: "If you noticed, I haven't pitched in the last seven days. My two starts I always had a lot of time in between, so that's not a good thing when you're going out there, especially when you haven't started as often. But I was just trying to make sure to keep the ball inside the yard. One left, but my team came out and played the way we believe. We know that we are a late-scoring team. So as a pitching staff we just have to keep the offense from the other team until our guys come around.
"The thing you have to understand, things get out of hand here sometimes. Before you know it, I might be in the pen warming up to relieve again. That's my job, and that's the way I have to take it. But when you go in the starting rotation with a routine, it makes a lot of difference. But in my case, I have to put my spikes on and be in the bullpen tomorrow, because if we play extra innings, I might be the guy that they're going to call for."
More to follow