Adam Kolarek's numbers speak for themselves: In 16 2/3 relief innings with Class A St. Lucie, the southpaw has yet to allow a run. He has struck out 25 and walked two. He has four saves. And lefty batters are hitting only .130 against the 11th-round pick in 2010 out of the University of Maryland.
He's one of many reasons why St. Lucie is off to a 25-7 start this season.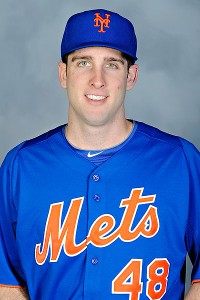 Courtesy of New York Mets
Adam Kolarek
"I think we're a very fundamentally sound team -- moving runners, getting the runner in, playing strong defense -- and then both our starters and relievers have really put together a strong start to the season," Kolarek said.
As for his striking-throwing ability, which starts with fastball command, Kolarek added: "I wouldn't say I've always had the best control, but it's definitely something I've been working on. I really started seeing a lot better control last year. And I worked on it again in the offseason. And so far this season I've had pretty good results. It's right where I want to be."
Kolarek, 23, had solid tutoring from a young age. His father Frank, who also played at the University of Maryland, caught in the minors for the Oakland Athletics in the late 1970s. He reached as high as Triple-A Ogden in '79, and played alongside Rickey Henderson at multiple levels of the minors.
"He was a catcher, so he taught a lot to me about how to pitch batters," Kolarek said. "I talk to him after every outing and we go over the hitters. … He's definitely my go-to guy. I did it in college too. It's nothing new. We just go over the outing. He can only hear so much when he's listening on the radio or following online, so I fill in the story and go over things."
Kolarek and Adrian Rosario both have accumulated saves for St. Lucie this season. Five of Kolarek's 14 appearances have been two innings. Kolarek primarily worked as a reliever in college as well. This season, the slider has been a good out pitch, particularly against lefties, in inducing groundballs. His fastball sits at 90-92 mph. He also has a changeup, which he uses more against righty batters.
"We've all kind of been in different situations, whether it's coming in for that certain matchup, or coming in for an inning or two at a time," Kolarek said. "Being able to be versatile in any kind of relieving role is important."
Kolarek's college highlight actually came at the plate, not on the mound. After entering as a defensive replacement at first base against a ranked North Carolina team on April 2, 2010, Kolarek launched a two-out, walk-off homer in the bottom of the 10th. Matt Harvey had tossed the first six innings of that game for the Tar Heels.
"I had some good moments on the mound, but the overall college moment, definitely that home run was something I'll always remember," he said.
Organization leaders
Average: T.J. Rivera, Savannah, .358; Bobby Scales, Buffalo, .350; Wilmer Flores, St. Lucie, .330; Vinny Rottino, Buffalo, .317; Jefry Marte, Binghamton, .315; Zach Lutz, Buffalo, .315; Travis Taijeron, Savannah, .314; Omar Quintanilla, Buffalo, .301; Oswaldo Navarro, Buffalo, .293; Eric Campbell, Binghamton, .286.
Homers: Cory Vaughn, St. Lucie, 8; Travis Taijeron, Savannah, 7; Valentino Pascucci, Buffalo, 6; Wilmer Flores, St. Lucie, 5; Omar Quintanilla, Buffalo, 5.
RBI: Travis Taijeron, Savannah, 23; Wilmer Flores, St. Lucie, 22; Aderlin Rodriguez, Savannah, 21; Cory Vaughn, St. Lucie, 19; Valentino Pascucci, Buffalo, 18.
Steals: Luis Nieves, Savannah, 9; Cesar Puello, St. Lucie, 7.
ERA: Alex Panteliodis, Savannah, 0.89; Jeremy Hefner, Buffalo, 1.64; Tyler Pill, Savannah, 1.65; Zack Wheeler, Binghamton, 1.75; Mark Cohoon, Binghamton, 2.06; Darin Gorski, Binghamton, 2.27; Chris Schwinden, Buffalo, 2.33; Chase Huchingson, St. Lucie, 2.51; Collin McHugh, Binghamton, 2.62; Dylan Owen, Buffalo, 2.96.
Wins: Chase Huchingson, St. Lucie, 4; Collin McHugh, Binghamton, 4.
Saves: Adrian Rosario, St. Lucie, 8; Fernando Cabrera, Buffalo, 8; Adam Kolarek, St. Lucie, 4.
Strikeouts: Matt Harvey, Buffalo, 32; Collin McHugh, Binghamton, 31; Gonzalez Germen, Binghamton, 30; Zack Wheeler, Binghamton, 30; Jeurys Familia, Buffalo, 29.
Short hops
• After tossing six scoreless innings against Gwinnett (Atlanta Braves) on Tuesday night, Harvey is 3-0 with a 0.78 ERA in his past four starts. Three of the outings have been scoreless. The lone non-win came against Syracuse last Wednesday, when a 23-minute rain delay forced Harvey to depart after four innings. A new organization policy mandates starting pitchers be pulled following a rain delay of any length if they already have logged two innings.
• Jack Voigt, the Mets' highly regarded minor league outfield and baserunning coordinator, will serve as hitting coach for Magallanes in Venezuela during the next winter league season. Carlos Garcia, who manages Class A Bradenton in the Pittsburgh Pirates organization, will serve as that winter league club's 2012-13 manager. Ex-Yankee Luis Sojo is the bench coach.
• Zack Wheeler (1-2, 1.75 ERA) should reenter the rotation later this week with Binghamton after landing on the seven-day DL with a partially torn fingernail. Wheeler threw a bullpen session Monday and reported no difficulty. He had the issue on the middle finger of his pitching hand with San Francisco in May 2010 as well -- with a growth underneath the nail pushing it off. That time, with the Giants officials being cautious, Wheeler was out of action for seven weeks.
With Wheeler temporarily inactive, 24-year-old right-hander Gonzalez Germen was promoted to Binghamton from Class A St. Lucie, where he had been 3-0 with a 3.04 ERA in five appearances (four starts). Germen, signed in October 2007 out of the Dominican Republic, made a deceptively solid Double-A debut Friday against Harrisburg. Although he was charged with five runs in six innings, he struck out nine and walked none and the damage was limited to a five-run second inning. Germen is likely to remain with Binghamton even with Wheeler's return, although Mets brass was sorting out how to juggle the rotation given a rainout Monday and the extra starter. Germen's fastball sits in the low 90s. He has a solid, deceptive changeup in which the bottom falls out.
• Jacob deGrom's first official minor league game since July 26, 2010 nearly was perfect. The 23-year-old right-hander returned from Tommy John surgery to retire 20 of the 21 batters he faced with Savannah on Monday. DeGrom suffered the elbow injury and subsequent surgery shortly after signing with the Mets as their ninth-round pick in 2010 out of Stetson University. He primarily played shortstop in college, but was drafted as a pitcher because scout Steve Nichols saw potential in his arm.
• Andy Pettitte's convenience became an inconvenience for Triple-A Buffalo.
The Yankees' nomadic Triple-A affiliate, which is without a home this season, was scheduled to play Rochester last Sunday in Batavia, home of a New York-Penn League team. But the Yankees did not want to have Pettitte rehab on an inferior mound at the low-level ballpark.
After a meeting of the minds, Buffalo's Sunday game at Rochester was moved to a Saturday doubleheader. And Pettitte's rehab start for the Yankees' affiliate against Pawtucket was played in Rochester on Sunday. Pettitte's start drew 13,584. It was the Mets who contributed to the Yankees' affiliate being homeless this season in the first place. The Mets exercised their territorial rights to prevent the club, which is temporarily displaced from Scranton/Wilkes-Barre, from playing one season in Newark.
• 2011 18th-round pick Travis Taijeron out of Cal Poly Pomona is the reigning South Atlantic League Player of the Week. Taijeron hit .542 (13-for-24) with three homers and 12 RBIs during the seven-day span. Athletic with raw power, Taijeron may not be a prototypical center fielder, but he gets good reads and is doing a capable job handling the spacious center field in Savannah. Taijeron's seven homers are tied for second in the SAL, trailing only the 10 by Charleston's Tyler Austin, a 13th-round pick of the Yankees in 2010.
• Jenrry Mejia, returning from May 16, 2011 Tommy John surgery, is due to throw 75 pitches for Class A St. Lucie on Wednesday.
• With the 50-game suspensions nearly up for catcher Dock Doyle and right-handers Brandon Moore and Scott Moviel, the trio has been working out in Port St. Lucie since early April. They are not allowed to play in extended spring training games as part of their bans for being nabbed for "drugs of abuse," but have been playing in intrasquad games and will be ready for official action as soon as the 50 games are served. St. Lucie has played 32 games so far. Binghamton has played 30.
• Infielder Chad Zurcher, the Mets' 31st-round pick last year out of the University of Memphis, underwent shoulder surgery Friday and is likely out for the season. Zurcher hit .283 with 11 RBIs and a .386 on-base percentage in 134 plate appearances with Kingsport last season.
• Left-handed reliever Eric Niesen, who was released at the end of spring training by the Mets, is pitching for the Long Island Ducks in the independent Atlantic League. Niesen, 26, has a 4.77 ERA through five relief appearances.
• The Mets announced the retirements of right-hander Tyson Seng and first baseman Sam Honeck. Seng, a 33rd-round pick last year of out of the University of Oklahoma, allowed only three earned runs in 30 innings last season with Brooklyn, but had a 6.00 ERA with Savannah this year. Honeck was an 11th-round pick in 2009 out of Tulane, who was 2-for-15 with the Gnats this season.
• The Brooklyn Cyclones open their season June 18 against the Staten Island Yankees at Coney Island. This year's squad, while primarily consisting of draft picks selected next month, also is expected to include 2011 first-round pick Brandon Nimmo and Long Island native Steve Matz.
Matz, the Mets' second-round pick in 2009 out of Ward Melville High School in Stony Brook, actually has yet to throw a pitch in an official professional game because of a slow recovery from Tommy John surgery. He is on a regular schedule that included throwing a live batting practice session last Friday. Nimmo, a 19-year-old outfielder from Wyoming, has been playing in extended spring training games.
• Passed over for a promotion and the start that went to Miguel Batista on Tuesday in Philly, Jeremy Hefner continues to be Buffalo's most efficient pitcher. Hefner, who had three scoreless innings in a cameo with the Mets against the Giants two weeks ago, has completed at least seven innings in four of his five Triple-A starts. He has walked only five in 33 innings, with 67.1 percent of his pitches being thrown for strikes. His 1.64 ERA leads the International League, topping runner-up Aaron Cook of Pawtucket (1.89) and third-ranked Jo-Jo Reyes of Indianapolis (2.03).
• Cory Vaughn's eight homers with St. Lucie lead the Florida State League. Six of the long balls came in an eight-game stretch through Saturday. The No. 3-hitting Vaughn is being protected by cleanup hitter Wilmer Flores, who leads the club with 22 RBIs. Flores' production included a game-tying eighth-inning homer Monday.
• Left-hander Chuck James went on Buffalo's DL with a back strain. The Bisons still have southpaws Josh Edgin and Justin Hampson in their bullpen.
• Elvin Ramiez made his Triple-A debut Saturday after a promotion from Binghamton. In two relief appearances with Buffalo, he has allowed one hit while recording three outs. He bailed Edgin out of a jam Monday by coaxing a double play.
• Reliever Brad Holt returned from Buffalo to Binghamton. He had a 10.13 ERA in six relief appearances with the Bisons.
• Zach Lutz returned on Tuesday night to Buffalo's starting lineup after missing nearly a full week with the flu that he apparently brought back from the major league club.
• Buffalo shortstop Omar Quintanilla is hitting .391 this month.
Adam Rubin's farm report appears Wednesdays during the regular season