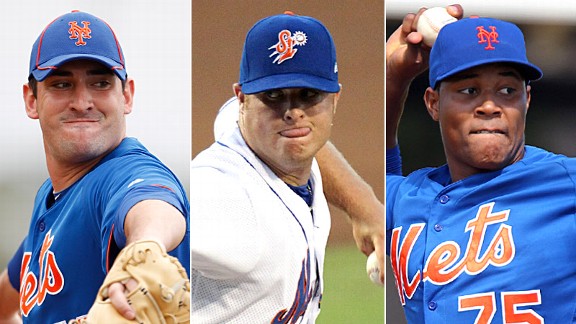 Associated Press
Matt Harvey, Josh Edgin and Jeurys Familia (l to r) have room for development at Triple-A Buffalo.
Triple-A Buffalo pitching coach Mark Brewer offered quality insights into three top pitching prospects with the Bisons -- right-handers Matt Harvey and Jeurys Familia as well as left-hander Josh Edgin, who began the season with Double-A Binghamton. The comments came during Wednesday's Bisons radio pregame show.
Brewer noted Harvey's Tuesday night outing, in which the 2010 first-round pick tossed six scoreless innings at Gwinnett, actually was somewhat misleading. He also talked about Familia's control problems (25 walks in 26 2/3 innings) entering Wednesday's start against Atlanta's Triple-A affiliate.
On Harvey:
"Matt did a good job last night without his best stuff, and without the use of his changeup that he's going to have to throw a little more often. But he got through those six innings and put up six zeroes, and it was good to see for us and for him. But there's some things that he needs to work on. And we've talked about it, and he's capable of taking it to the next level, for sure. But he's got to become more efficient and throw less pitches in six innings.
"His thought process at this point is, 'If it's not broke, don't fix it,' from the standpoint of putting zeroes up. You know, this is part of development, even at the Triple-A level. And if you don't take your changeup with your other two pitches to the big leagues, then it won't take long for those guys that are making that big league money to catch on."
On Familia:
"I expect him to be more of a bulldog tonight versus backing off every once in a while. He's a young kid who has been pushed up through the levels. And I don't mean that in a negative way. He's earned it, for sure. And the organization believes he can produce at this level and play at this level. But he needs to take the bull by the horns and be more aggressive versus trying to be so fine. He's got a 93 to a 96 mph fastball. And it's hard to catch up to that son of a gun when you throw it up there.
"Basically, what we see when he's not right is he lifts his leg and he gets out too quick and he's playing catchup. And he can't command the fastball. And what we're trying to do is get him to post, and just get up to the top of the delivery -- get his hands separated -- so once he hits that front side he can explode and he can trust his momentum more once he gets to that position.
"That 93 to 96 mph plays if you can command it, for sure. ... So what we're trying to do is to get him to gain feel of, when he does want movement, to start it on a competitive part of the plate so that it ends on a competitive spot, just off or still on."
On Edgin:
"The biggest thing we've worked on, and really the only thing we've worked on to this point, is trying to get his slider out of a fastball plane -- a little quicker break at the end of the flight of the ball, versus getting underneath the ball and casting it up there and giving a hitter a better chance at making solid contact."