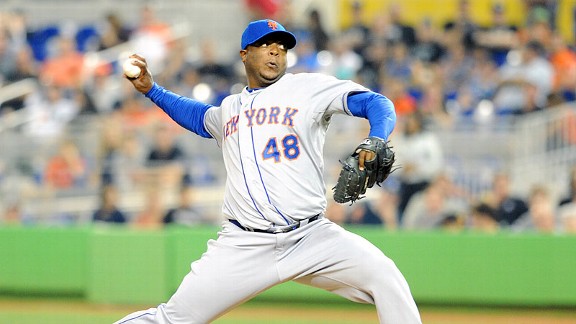 Icon SMI
Frank Francisco suffered his second blown save as a Met on Friday night.
Frank Francisco failed to protect a one-run lead in the ninth and the Mets' bid for their MLB-high 12th come-from-behind win of 2012 went for naught. Miami won, 6-5, Friday to snap the Mets' five-game winning streak. It was the 8,000th regular-season game in franchise history.
Saturday's news reports:
• Francisco suffered his second blown save in 10 chances as a Met, spoiling a rally that had the Mets turn a 3-0 deficit into a 5-3 lead on Mike Baxter's pinch-hit two-run double in the eighth. Read game recaps in the Star-Ledger, Post, Daily News, Record, Newsday, Times and Journal.
• Before the series opener, the Mets activated Ronny Cedeno from the disabled list and optioned Vinny Rottino to Triple-A Buffalo. Cedeno started at shortstop and went 1-for-2 with a pair of walks. He will serve as the regular shortstop until Ruben Tejada returns from the disabled list. Read more in the Post, Record, Daily News and Journal.
• Jose Reyes went 1-for-4 with a triple and scored two runs in Miami's comeback win. He's shown signs of life, but still has a .234 average in his inaugural season with the Marlins. "I've been feeling a little bit better -- not a whole lot, not the way that I want to be," Reyes told New York reporters before the series opener. "I haven't been consistent yet. It's going to come. It's a long season."
After stumbling out of the gate, including getting swept at Citi Field, Miami has now won nine of its past 10 with Friday's victory. "When we went to New York, we didn't play very good baseball,'' Reyes said. "Now we're playing better."
Read more from Reyes in the Times, Record and Newsday.
• Chris Young will pitch once more in the Florida State League before taking his comeback tour to Triple-A Buffalo, pitching coach Dan Warthen said. Young tossed five scoreless innings Thursday for Class A St. Lucie, in his first minor league game since undergoing May 16, 2011 surgery to repair a torn anterior capsule in his right shoulder.
• Jason Bay remains idle as he deals with a fractured rib, but Mets officials hope he will head to Port St. Lucie, Fla., after the weekend to begin baseball workouts, Andy McCullough writes in the Star-Ledger. "The other day, he said it was a lot better, but it's still not ready to do anything," Terry Collins told McCullough. "My guess is, I would hope by the time we get home [Monday], he's ready to [start baseball workouts]."
• Brian Costa in the Journal suggests the Mets have disrupted the NL East script that had the free-spending Marlins challenging the Phillies for division supremacy and the Mets occupying the basement. Writes Costa:
This was the building that was supposed to alter the state of the National League East. The indoor stadium, the air conditioning, the fish tanks, the psychedelic sculpture with the bright lights and the birds -- all of it gave the Miami Marlins the confidence to spend like they never had before. As one awestruck agent said during the winter meetings, "It's like the Marlins have become the Mets." Pause. "And the Mets have become the Marlins." Yet when the Mets walked into Marlins Ballpark for the first time Friday, the reality for them was far less bleak than most anyone predicted. A $50 million payroll cut didn't stop them from an 18-13 start. The Marlins' free-agent binge had so far produced a mere 16-15 record.
• Matt den Dekker, Josh Rodriguez and Eric Campbell homered as Double-A Binghamton beat New Hampshire, 11-4. Read Friday's full minor league recap here.
• Marlins catcher Brett Hayes came face to face with the man who allegedly shot two police officers being taking his own life in South Florida.
TRIVIA: Tim Byrdak is on pace for 96 relief appearances this season, which would break Pedro Feliciano's franchise record of 92, set in his final season with the Mets. Who has the major league record for relief appearances in a single season?
Friday's answer: Reyes' first hit as a Marlin at Citi Field -- actually his lone hit in that series last month -- came against Jon Rauch.