WHAT IT MEANS: David Wright went 4-for-6 to lift his average to a National League-leading .402. He also homered and produced three RBIs as the Mets bounced back from a ninth-inning defeat in the series opener.
R.A. Dickey limited Miami to two runs in six innings in the 9-3 victory Saturday at Marlins Park. The knuckleballer improved to 5-1.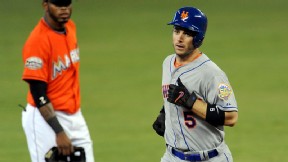 Steve Mitchell/US Presswire
David Wright went 4-for-6 with three RBIs on Saturday to lift his average to .402.
Dickey was plunked by Ricky Nolasco on the right forearm with a pitch in the fifth inning with the bases loaded to force in a run, but remained in the game.
Nolasco remained stuck at 68 career wins, tied with Dontrelle Willis for the most in a Marlins uniform.
Wright delivered a first-inning RBI single after consecutive walks to Andres Torres and Kirk Nieuwenhuis to open the game. Two innings later, after Miami had pulled even at 1, Wright restored the lead with an opposite-field solo homer against Nolasco, against whom he is now hitting .400 with five homers and 15 RBIs in 60 career at-bats.
The Mets' lead grew to 3-1 in the fourth after Brett Hayes was called for catcher's interference on a would-be flyout by Torres, which prolonged the inning for an RBI single by Nieuwenhuis.
After Mike Nickeas and Dickey were consecutively hit by pitches by Nolasco in the fifth, the Mets grabbed a 6-1 lead when Torres delivered a two-run single that chased Nolasco.
BYRD THE WORD: Tim Byrdak entered in the seventh inning to bail out Manny Acosta after the Marlins had pulled within 7-3. For the second straight game, Byrdak struck out Logan Morrison to strand a runner in scoring position, although Morrison complained to plate umpire Tony Randazzo about his called third strike this time. Byrdak was making his 20th appearance. He now is on pace for 98 appearances.
REYES OF LIGHT: Jose Reyes went 4-for-5 Saturday against his former club.
WHAT'S NEXT: Jon Niese (2-1, 4.01 ERA) opposes Carlos Zambrano (1-2, 1.98) in Sunday's 1:10 p.m. series finale.