R.A. Dickey had a mark on his right wrist, but the knuckleballer said after Saturday's 9-3 win that he should not require X-rays as the result of being struck by a fifth-inning pitch from opposing starter Ricky Nolasco.
Dickey completed one more inning before departing.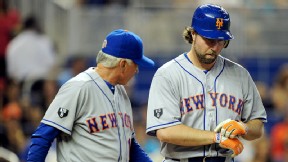 Steve Mitchell/US Presswire
Terry Collins checks on R.A. Dickey's right wrist after the knuckleballer was plunked by Ricky Nolasco in the fifth inning.
"It's pretty sore," Terry Collins said. "My concern, obviously, was if the wrist stiffened up. He came off after the sixth inning and said it was really starting to throb. So I thought that was enough."
Said Dickey: "It hit me on the inside of my right wrist. ... Nothing serious. I'd say that I probably would have pitched a couple of more innings. I certainly felt OK [pitching-wise]. But it's better to be precautionary at that stage, I think. So we'll see how it feels in the morning.
"You don't know until the initial sting of it dissipates how bad it may really be with the wrist. And I was thankful it hit me in a meatier part of the wrist. But you just never know. I got feeling back in my hand pretty quickly, and I felt like I was going to be OK."
As for his outing on the mound (6 IP, 9 H, 2 R, 2 ER, 1 BB, 0 K), Dickey said: "As far as the knuckleball goes, it was a real fight today. I threw a lot of tumbleweeds up there -- balls that were just kind of over-rotating on me. Fortunately, I didn't have my swing-and-miss knuckleball tonight, but they were hitting enough pieces of it to get me some groundballs in bigger situations, and I was able to make a big pitch occasionally when I needed it.
"But that's a good club over there. It's hard to compete against that club with less than your best stuff. And I didn't have my best stuff today. And I'm fortunate to get out of it the way I did."
• The Mets' Nos. 3-4-5 hitters had three-plus hits apiece for the first time since May 16, 2009 at San Francisco, when Carlos Beltran, Gary Sheffield and David Wright all did so.
Wright was 4-for-6. Lucas Duda was 3-for-6. Daniel Murphy was 3-for-4.
• Wright's .402 average is the second-best in franchise history on May 12 (min. 50 plate appearances). Cleon Jones was hitting .411 on May 12, 1969. Next on the list: Joe Torre (.393, 1976) and Mike Piazza (.389, 2000).