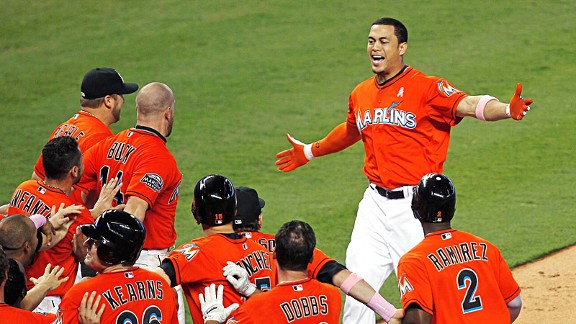 Sarah Glenn/Getty Images
Giancarlo Stanton is greeted at home plate after hitting the third walk-off grand slam in Marlins history, off Manny Acosta.
After Frank Francisco failed to protect a ninth-inning lead for the second time in the series and the Mets ultimately lost, 8-4, on a grand slam by Miami's Giancarlo Stanton on Sunday against Manny Acosta, manager Terry Collins said he would wait until cooler heads prevailed before making a formal decision on his upcoming closer usage.
"I've got eight options -- or however many guys are down there," Collins said about closing games. "But I'm not going to address that right now. The emotions are running a little high tonight. That's not a very good time to make a decision."
Said Francisco: "He's the boss. He can do whatever he wants. I'm here to help the team; I guess I'm not doing that. Whatever decision he makes, it's fine with me. But I'm here to fight. Whenever I can, I'm going to try to do my best out there every time I go out."
Clearly, in the short term, the manager likely will need to diversify his ninth-inning usage, with Bobby Parnell and Jon Rauch getting chances, or Tim Byrdak if lefties are lined up. What complicates any decision is that the Mets made a two-year, $12 million commitment to Francisco at the winter meetings in December. And so Francisco's overall use as a closer, even if it takes a hiatus, ultimately should be restored.
Collins said he would talk to Francisco on Monday -- a sign that changes are looming. Just Collins pulling Francisco after three batters in the ninth, with the lead still intact, spoke volumes. Managers typically stick with their closers on the mound -- for better or worse -- until the game is decided.
Francisco fell to 1-3 and has an 8.56 ERA. He has allowed 20 hits and seven walks in 13 2/3 innings.
Overall, the Mets' bullpen ERA rose to 5.01 -- only better than the Phillies in the National League.
"Right now is not the time to have a conversation with anybody," Collins said.
Said pitching coach Dan Warthen: "His velocity is good. He's not hitting with any offspeed pitches right now, which kind of hurts. And the location. He's not getting the balls to the sides of the plate very well. I think he's staying in his delivery pretty decently. Like I said, I think his velocity is where we want it to be. Without being redundant, we need to get some offspeed pitches across the plate."
Asked if the Mets needed to diversify their closer usage until Francisco demonstrates he is capable, Warthen replied: "That's not my call whatsoever. That's going to be Terry's call. I don't know whether we will have a powwow or not. We came in with Frankie as our closer. And, as far as I know, until I'm told differently, he will be the closer."
Overall, the Mets went 4-2 on their road trip to Miami and Philly. But the two losses were agonizing. Charged with protecting a one-run lead Friday, Francisco suffered a blown save after Stanton produced a leadoff double and Emilio Bonifacio plated him with a one-out single. Bonifacio stole second and scored the winning run in Miami's 6-5 victory when Greg Dobbs singled with two out.
"It's tough. It's very tough," Collins said. "We're fighting a lot of odds here. We're fighting against people that think whether we can be successful or not. And games like this it's, 'Well, we told you so. We told you so.' And that's not the way we're looking at it. That's not the way we're going to look at it. We'll get on the plane and we'll make sure everybody gets ready for tomorrow's game."