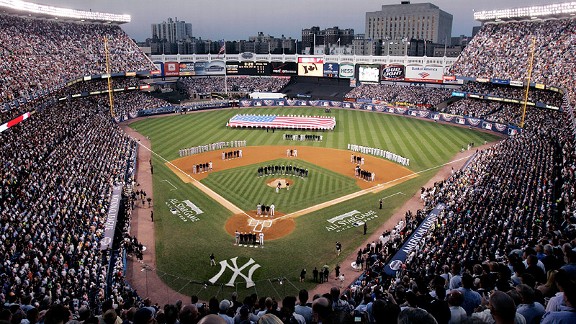 Frank Franklin II/Associated Press
Old Yankee Stadium hosted the All-Star Game in its final season, in 2008. Yet-to-be-constructed Citi Field was promised the '13 game at the same time as the Yankees were pledged that game.
Major League Baseball will make official on Wednesday the long-awaited awarding of the 2013 All-Star Game to Citi Field.
The game, along with one in 2008 to coincide with the closing of old Yankee Stadium, had been pledged to New York years ago -- before the new Queens stadium even opened.
The ceremony is expected to occur at City Hall at 11:30 a.m. and involve comissioner Bud Selig, Mayor Michael Bloomberg and Mets officials including principal owner Fred Wilpon. (You can watch like at NYC.gov.)
MLB delayed the official announcement for months because it needed to negotiate NYPD and Parks Department staffing as well as contracts with venues such as the Javits Convention Center, which will host the fan fest. Selig did not want to proceed with a formal announcement until those items were wrapped up so that MLB did not lose leverage in negotiations, a baseball official said.
The festivities, like with the Yankees' All-Star Game in 2008, will include a procession of All-Stars in vehicles in Manhattan, concert in Central Park and charity run.
"It took a little longer than anyone would have wanted," a baseball official said.
This year's All-Star Game will be held in Kansas City.
"It's great for the city," David Wright said. "I got a chance to participate in the one that closed out Yankee Stadium -- a tremendous stage for an All-Star Game. I think, deservingly so, it will give a chance for kind of the world to see the stadium, see the new place, and kind of show it off a little bit."
Asked lightheartedly if he was glad the walls have been moved in compared with the original dimensions, given the Home Run Derby is coming to Citi Field, Wright said: "Yeah. I don't think there's ever been a Home Run Derby that the winner has had one or two and wins it."