Josh Thole said the concussion he suffered in a plate collision with Ty Wigginton in Philadelphia was possibly the fourth of his professional career. The catcher added that the headaches he had continuously experienced from last Monday's injury ended Friday. He initially had sensitivity to light as well.
Thole was at Citi Field this afternoon to be examined by a team doctor and undergo a computerized concussion test that would clear him to resume physical activity.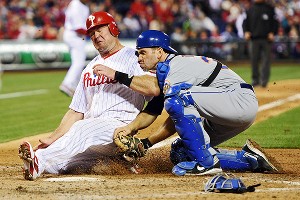 Drew Hallowell/Getty Images
Ty Wigginton deals a blow to the right side of Josh Thole's face in the eighth inning last Monday in Philly.
"I don't know what the next step is. I just know I'm going to take it easy," Thole said. "I've just been hanging out with the family. I really couldn't do a whole lot. I think Sunday I started walking around a little bit more. Other than that, the first four days was just kind of resting, laying in my bed, sleeping a lot."
Thole said he experienced potential concussions in the minors in 2007, '08 and '10. The first one was most significant, Thole believed. He was playing first base and was hit with a baseball in the forehead. The final of those three occurred on a backswing while he was catching with Triple-A Buffalo, and "left a pretty good size knot." Still, Thole said he wasn't positive all four were graded concussions because, for instance, the 2010 tests came back negative.
"The one in 2007, I think, was more significant because I had vomiting and stuff like that," Thole said. "2008 was more whiplash than anything. But I think it was still graded a concussion."
Thole said he will wear a hockey-style mask, as Brian Schneider of the Phillies does, rather than the more traditional catcher's mask, when he eventually returns.
"A lot of guys wear them," Thole said. "I just never did."
Given the concussions around the Mets in recent years that have led to lenghty absences, from Ryan Church to Jason Bay, Thole said he would proceed slowly once cleared.
"It's something that you don't want to rush back into," he said. "You want to definitely build back up. You just really have to listen to what the doctors have to say."
Thole added that he watched a video and found no fault -- "none whatsoever" -- with Wigginton's contact with him.
"I watched the replay, and I got lucky," Thole said. "Wiggy could have got me pretty good, I think, if he really wanted to. I think my head was just at the wrong place at the wrong time. He slid. He could have crushed me if he wanted to, I think. I gave him the plate. Again, I think it was just bad timing on my part as far as when I came back over the plate."
He is not for altering rules to protect catchers.
"It's been for 100 years. That's just how the game is played," Thole said. "If you don't like it, get out of the way. That's what we sign up for back there. We know that there's going to be contact. Sometimes it's unfortunate what the contact is. Again, I don't think there should be any changes in any rules. I just think that's how the game is."
Terry Collins expects Thole will see some sort of minor league action before being activated from the DL. But, clearly, Thole is not jumping right into games once he gets a doctor's clearance to begin physical activity.
"I've seen guys get injured that I know had concussions -- I've seen guys get hit in the head with blood pouring out of one of their ears -- and three days later go 4-for-5," Collins said. "What happened to them 20 years later? I can't answer that. But there certainly is more information and more studies being done on head injuries today that will certainly dictate making sure guys live happily when they leave the game. Years ago, it just was part of the sport. I think there's more knowledge [now] what to look for and how to take care of those injuries."