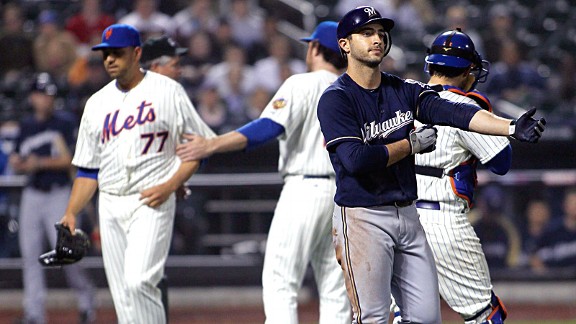 Mike Stobe/Getty Images
Ryan Braun reacts to getting plunked as D.J. Carrasco walks off the mound after being ejected.Terry Collins fully admitted pulling David Wright as well as Daniel Murphy the half-inning after D.J. Carrasco was ejected for plunking Ryan Braun because the manager did not want his marquee players as targets for retribution in the 8-0 loss to Milwaukee.
Collins said the Brewers had every right to retaliate, and figured they would go after his star, Wright, who was due to lead off the next half-inning. The manager added that plate umpire Gary Darling had every right to eject Carrasco.
Wright persistently argued in the dugout with Collins about being removed from the game, but said afterward he loved his manager and was merely upset with the situation. Wright wanted to take any retaliatory blow for the team.
"He wasn't getting hurt," Collins said about his reason for pulling Wright, who was 2-for-2 to up his average to .408. "I'm not accusing anybody of the possibility of retaliation. But I don't blame the umpires for doing what they did. I don't blame the other team for any perception they had of what happened. But I've got news for you: In this game, there are unwritten rules. And one of the unwritten rules is you hit my guy, I'm hitting your guy.
"They're not hitting my guy tonight. I'm not exposing him to being hit. He said, 'If anybody gets hit, I want it to be me.' I said, 'I'm sorry, it isn't going to be you.' They're not going to hit Jordany Valdespin. But if they're going to retaliate, they're going to hit David Wright. And that ain't happening tonight. ...
"And I'm not saying they were going to hurt him. Believe me, I'm not accusing them of anything. I just know what might have taken place. And I was trying to avoid it."
Said Wright: "Terry's the manager, and I've got all the respect in the world for Terry. I try to go to battle for Terry every day. He's got to make the move that he thinks is best for the team, and he obviously did that. Whether I agree with it or disagree with it, I respect him. I've loved playing for him the short amount of time that we've had together. And I've got all the respect in the world for Terry specifically.
"You get caught up in the moment. Things probably looked a lot worse than they really were and we go on from here. Terry and I have no issue. It's one of those things, like I said, in the heat of the moment it probably looked worse than it really was. ...
"I guess my thinking at the time was Ryan gets hit and then I go up there and get hit and then everything is settled."
#77 RP
New York Mets
2012 STATS
Carrasco, incidentally, denied intent in hitting Braun with the first pitch after Rickie Weeks' homer. Wright said it would be handled inside the clubhouse whether Carrasco actually meant to hit Braun, since it put the third baseman in a perilous spot.
"I was just trying to throw a sinker in first pitch and it got away from me and hit him," Carrasco insisted.
As for the ejection, Carrasco added: "It was a really quick decision. There was not even like a time to read my emotion or take into account the score of the game or the situation there that I was there to throw a few innings out of the bullpen. I'm not trying to get tossed out of the game two or three hitters into the game."
Carrasco didn't think there was a heightened sensitivity to Braun being hit because of beating a 50-game MLB suspension. The umpire made it clear to Carrasco that he was ejected for hitting Braun a pitch after Weeks' homer. Braun has been hit an NL-high five times. Braun declined to comment to Milwaukee reporters.
"I think it was more the fact that there was a home run hit and then a guy was hit right after that," Carrasco said about Darling's motivation. "I told [the umpire] I wasn't trying to hit him right there. It's a seven-, eight-run game, and I'm trying to throw some innings. I'm not trying to hit a guy and get thrown out. He didn't feel that way. He thought it was a retaliation kind of deal for a home run hit. But I don't play that way."
Said Wright about Carrasco's action and the motivation: "That's something that we'll take care of in here. It's not something I'm going to get into right now. But it'll be taken care of. I think it's one thing when the emotion of the game is there and things are said. And it's another thing after you get a few hours or sleep on it and figure it out the next day. ... I'm not sure why he got hit. I don't know."
Wright is playing with a broken right pinkie. He also was infamously beaned by Matt Cain in 2009.
Brewers manager Ron Roenicke said about plunking Braun: "I didn't like it, and I don't understand it."
Asked about Collins pulling his stars, Roenicke added: "It was interesting what that was showing."
#13 SP
Milwaukee Brewers
2012 STATS
Collins noted there may not have been retaliation because the umpire had given a warning. Any retaliation would have fallen on Zack Greinke, who was working on a shutout. What would have happened if Wright stayed in the game to face Greinke?
"It made sense," Greinke said about Collins' move. "I don't know what would have happened if he stayed in. They don't want anyone important to get hurt, just like we don't want someone important getting hurt. That's kind of the main thing."
The Mets and Brewers don't meet again until Sept. 14-16 in Milwaukee.
Wright said he regretted venting in the dugout to Collins.
"I was up first that inning, so I didn't have the luxury -- I probably should have picked a better spot for it," Wright said. "But in the heat of the moment, like I said, I was up first and was ready to get my stuff on and Terry kind of got me at a moment where I was upset with the situation and got me at a moment that I was pretty hot. It wasn't directed at Terry at all. I talked to him a handful of times after it happened and we made it very clear -- or I made it very clear to him -- that was not directed at him or the coaching staff whatsoever."