Terry Collins reiterated Wednesday that his relationship with David Wright is sound and that the third baseman was upset at the situation, not at the manager. Collins pulled Wright from an 8-0 game for a pinch-hitter a half-inning after D.J. Carrasco was ejected for drilling Ryan Braun.
Collins said he also received an assurance from Carrasco there was nothing purposeful about hitting Braun one pitch after Rickie Weeks homered for Milwaukee. The manager said he would not have been pleased if he believed Carrasco did it on purpose.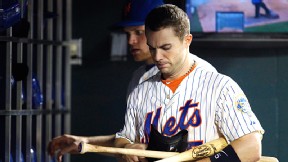 Kathy Willens/Associated Press
David Wright grabs his bat at the end of Tuesday's 8-0 loss to Milwaukee. He was pulled in the seventh.
"I'm certainly going to believe him. I have no reason not to," Collins said. "If he did it on purpose, he put us in a bad situation. And I told him so. But I trust in what he says and I trust the way he told it, and we're putting it behind us."
Colllins said he had never been involved in a decision like that before in pulling a player to prevent him from being a target for retaliation.
"If the game was 3-3, he's hitting," Collins said about Wright. "That's just the nature of the beast. And he probably would have had to wear one for the club at that particular time. But what I didn't need was for him to get one in the middle of the back to where all of a sudden today he can't bend over, to where we lost him for two or three days."
Even though Wright and Collins had smoothed things out at the stadium, Wright texted his manager later that night just to make sure everything was OK between them.
"It's all done," Wright said.
Collins also was asked Wednesday if he has considered naming Wright the captain. The manager said he has not "recently" entertained that notion. He did consider it last offseason, but did not want to put too much on Wright's plate coming off a subpar, injured-filled 2011 season. Collins added that he never has had a captain before.
Collins said should he some day decide to name Wright captain, it merely would require passing along his desire to Sandy Alderson and Jeff Wilpon.
"I've thought about it," Collins said. "I thought about it this winter. I thought about it. But, again, when we were going into spring training, I think we were putting him in a tough situation. He's coming off a rough year with the injury, and you've got to put up huge numbers. And I don't want him to think that he's got to somehow be the guy that takes everybody else's complaint. He's got enough on his plate to play well. I work hard every day to make sure I communicate with each and every player. And if they have things they want to complain about, they can come to me. They don't need to go to David."
Would it be awkward or ill-advised to name Wright captain before he's locked up long term?
"It might be. It might be in Sandy's case," Collins said. "I've never had one. I've never been around one. The teams that I've been around have never had a guy named the captain of a team. So I don't know all the parameters of what it would take, and if I went to Sandy and said, 'I want to do this,' if he'd say, 'You better wait until we get this guy locked up,' if that's what the case is going to be."
Also Wednesday:
• While Jenrry Mejia's next minor league outing will be Saturday as a starter for Double-A Binghamton, Collins acknowledged a relief role probably is in the offing. The reason for starting right now is so that Mejia can work on his breaking ball and other secondary pitches while throwing 80-plus pitches.
"I don't have a lot to say about it," Collins said. "I don't think that's my job. I have enough problems here. But I think down the road you'll probably see Jenrry Mejia somehow get in that bullpen."
• Collins will probably use Scott Hairston as DH on Friday in Toronto against a left-hander, Ricky Romero.
• Lucas Duda took extensive groundballs at first base before batting practice. Does that mean Ike Davis could get bumped to the minors when Jason Bay returns? Collins insisted that was not the logic. The manager said now that Daniel Murphy at second base and Duda in right field have become acclimated to their new positions, he will be more inclined to move them on a double-switch to first base if that is the best defensive alignment as opposed to locking them into their new positions.
Still, the Mets will have a fascinating decision looming once Bay returns, assuming Ruben Tejada subs for Jordany Valdespin. Collins said it is not realistic to go to six relievers. And there is no one clear-cut person to be bumped from the roster otherwise position-player wise. So could Davis or Duda be vulnerable?
"There is no obvious person," Collins said. "That's for sure. Right now, we'll worry about that when we get there."
• Collins said he is "shocked" with Mike Baxter's success as a pinch hitter given it's Baxter's first full season in the majors, and coming off the bench and producing clutch hits is a difficult role. As for starting Baxter and Justin Turner, that was just about getting a rest for Ronny Cedeno and Andres Torres during a 20-games-in-20-days stretch, according to the manager.
• Minor league coach Jon Debus told Collins that Pedro Beato (shoulder) is "throwing very well" in extended spring training.
• Collins said the organization was still awaiting word from team doctors late Wednesday afternoon whether Josh Thole passed Tuesday's concussion test and would be cleared for physical activity.
• Miguel Batista threw a between-starts bullpen session without issue Tuesday and is on target for Saturday's start, Collins said.