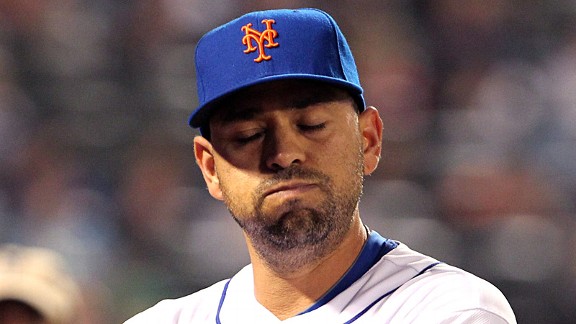 Anthony Gruppuso/US Presswire
D.J. Carrasco leaves the mound after a rough eighth inning Wednesday. He was designated for assignment after the game.
D.J. Carrasco got tossed by umpire Gary Darling for hitting Ryan Braun on Tuesday. A night later, after he served up a two-run homer to Todd Frazier in a 6-3 loss to the Cincinnati Reds, the Mets tossed aside Carrasco, too.
Carrasco was designated for assignment by the organization after the game. He expects to ultimately be granted free agency.
The Mets will promote left-handed reliever Robert Carson. The 23-year-old Carson (0-1, 1.84 ERA at Double-A Binghamton) had a three-day stint with the Mets last month but did not appear.
"It was pretty self-explanatory," said the struggling Carrasco, who allowed a homer Tuesday to Rickie Weeks as well before plunking Braun. "I would have done the same thing if I was the GM."
#77 RP
New York Mets
2012 STATS
Carrasco, along with Ronny Paulino, were Sandy Alderson's first two signings as GM, at the December 2010 winter meetings. Carrasco received a two-year, $2.4 million deal. He said he believed the decision to dump him was based on lack of results, not anything regarding putting the team in a bad position by hitting Braun. He has denied intent.
The decision to hold Carrasco over the winter tied up a 40-man roster spot and forced the Mets to remove outfielder Fernando Martinez, who was lost off waivers to the Houston Astros.
"I've struggled here," said Carrasco, who had a 6.11 ERA in 46 appearances (one start) with the Mets over two seasons. "Last year was a pretty big struggle for me. I got off to a slow start now."
The bullpen overall allowed four runs in 2 1/3 innings and failed to protect a 3-2 lead Wednesday. It was the latest no-decision for Johan Santana in a game he deserved better.
"Shoot, I think I've screwed him over twice at least this year," said Jon Rauch, who started Cincinnati's four-run eighth and was charged with the loss. "I've blown two of his games. It's really tough. I can't even look the guy in the eye right now."
Said Santana: "I just try to do my job. It is tough. Once I do my job and I'm out of the game, I just hope that the guys can finish it. But, again, it's out of my control. There's not much I can do. I just watch and hope that we get it done. That wasn't the case tonight. We've just got to wait for the next one and see if the results are different."
Regarding strategy, Terry Collins had been boxed into a corner with only one capable lefty in the bullpen.
After Bobby Parnell struck out Zack Cozart to end the seventh inning and strand a runner inherited from Santana, Collins could have left Parnell in to open the eighth instead of inserting Rauch. That would have allowed Collins to then insert southpaw Tim Byrdak to face the second hitter due up, 2010 NL MVP Joey Votto.
#19 1B
Cincinnati Reds
2012 STATS
GM

36

HR5

RBI24

R22

OBP.465

AVG

.311
Instead, Rauch opened the eighth and Parnell's night was done after five pitches. Collins reasoned that he was holding Byrdak back for an inevitable pinch-hitting opportunity by lefty-hitting Jay Bruce. Byrdak had struck out Bruce on consecutive days last summer in Cincinnati.
Byrdak ultimately could go up against Votto or Bruce. Collins selected Bruce.
Sure enough, Bruce eventually entered and so did Byrdak. Bruce delivered a go-ahead sacrifice fly against the southpaw. That was the second of three runs charged to Rauch, who had already allowed a double to Votto among three hits.
"He's not hitting 1.000," Rauch said about his failed opportunity against Votto. "He's a great hitter. Don't get me wrong. But I think you can get him out."
Had Carson been available instead of Carrasco on Wednesday night, would Collins' strategy have been different? Arguably no. The manager otherwise would have been asking the novice Carson to retire Votto. Rauch, even with a righty-lefty matchup, very well would have been the preference anyway.
"We certainly have talked about the importance of having another lefty down there, just to give Tim some nights off once in a while," Collins said postgame, but before the roster move. "But, again, the one thing we're looking at, when we're in games, we're close. Everything's close. So that's that big lefty. Unless it's an experienced guy, who has done it at this level, who has shown he can get left-handed hitters out, you're asking a lot of some young pitcher to come up here and do that, because Tim's going to be the guy who you ultimately want in that game anyway."