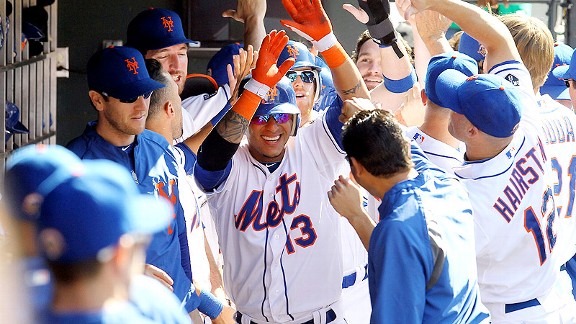 Jim McIsaac/Getty Images
The Mets may not be better than the Yankees on paper, but they've been better in the box score.Well, right now they are.
Through May 17 -- nearly a quarter of the way through the regular season -- the New York Mets are 21-17, while the New York Yankees are 20-18.
That's right. The Yankees, picked by many to win the American League East and advance deep into October, trail the Mets, picked by most to finish in the cellar of the National League East and be irrelevant long before September.
The 49 Greatest Mets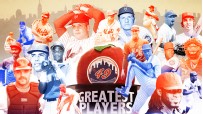 Fifty years after the Mets' first home game (they lost), we give you ...
The 49 Greatest Mets

Rank 'Em
You tell us: Who should be No. 50? »
I covered my first Mets game of the season on Thursday afternoon -- a thrilling 9-4 win over the Reds. It was their 12th come-from-behind victory of the season, which tied them for the major league lead.
I got home in time to watch the final four innings of the Yankees' far-from-scintillating 4-1 loss to the Blue Jays, in which the Yanks mustered just one measly hit over their final 12 outs.
Weren't the Yankees the team that used to rally from late-inning deficits time and time again, capped off by the customary flying pie in the face?
When you think about it, it really is amazin' (pun intended) that the Mets have a better record than the Yankees right now. Consider:
• The Mets are missing three of their eight starting position players: catcher Josh Thole, shortstop Ruben Tejada and left fielder Jason Bay.
On Thursday afternoon, manager Terry Collins sent out a lineup card that featured four players with batting averages of .185 or lower. And yet ...
The Mets have a better record than the Yankees.
• Let's turn to the starting rotation. The Mets' best pitcher, Johan Santana, has an ERA of 2.89, yet only one win to show for it in eight starts.
One of the team's five starters, Mike Pelfrey, has already been lost for the season due to injury. The man currently occupying Pelfrey's spot is 41-year-old journeyman Miguel Batista. And yet ...
The Mets have a better record than the Yankees.
• The bullpen? Well, three relievers got the job done on Thursday, but coming into the day the Mets' 'pen was tied for the major league lead with nine blown saves.
The team's closer is Frank Francisco, the proud owner of a sparkling 8.04 ERA. And yet ...
The Mets have a better record than the Yankees.
There's a lot of baseball left to be played this summer, to be sure. But with one week remaining before Memorial Day weekend, there's no getting around it, guys.
The Mets (21-17) are better than the Yankees (20-18), which nobody can deny.