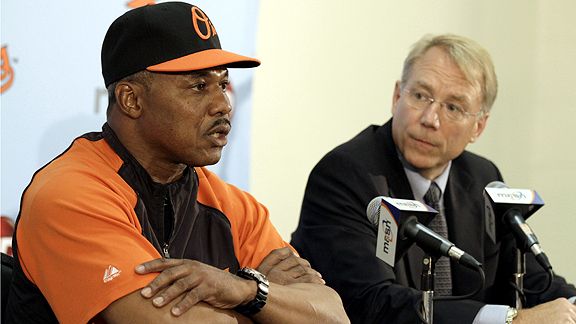 AP Photo/Rob Carr
Juan Samuel (left) was named interim manager of the Baltimore Orioles, succeeding Dave Trembley, last Friday.
METS (32-28, second place/NL East) at ORIOLES (17-43, fifth place/AL East)
Friday: RHP R.A. Dickey (3-0, 3.20) vs. RHP Jeremy Guthrie (3-6, 3.71), 7:05 p.m. ET
Saturday: LHP Hisanori Takahashi (4-2, 3.80) vs. LHP Brian Matusz (2-6, 5.10), 7:05 p.m. ET
Sunday: RHP Mike Pelfrey (8-1, 2.23) vs. RHP Kevin Millwood (0-7, 4.64), 1:35 p.m. ET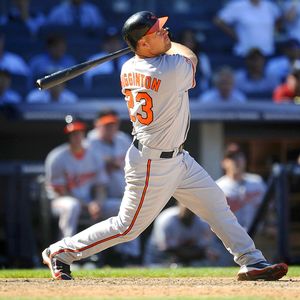 Jeff Zelevansky/Getty Images
Ex-Met Ty Wigginton is one of several Orioles who could be traded by the July 31 deadline.
Orioles short hops
Juan Samuel became interim manager last Friday and earned his first win in his third game, when the Orioles snapped a season-high 10-game losing streak. Samuel, a former Double-A manager in the Mets' organization with Binghamton, succeeded Dave Trembley, who had a .398 winning percentage (187-283) from 2007 until his dismissal. The only worse winning percentage in franchise history: Jimmy Dykes (.351), whose 1954 Orioles squad went 54-100 in his lone season at the helm. Samuel had been coaching third base. Gary Allenson, who had been managing Triple-A Norfolk, replaced Samuel in that coaching box. Bobby Valentine, Buck Showalter and former Cleveland Indians manager Eric Wedge are among the candidates for the full-time managing position, according to The Baltimore Sun. … Baltimore has lost 12 of 14. The O's have been outscored 88-33 during that stretch. They are 0-8-1 in their last nine series. … Right-hander Kevin Millwood, infielder Ty Wigginton, left-handed reliever Will Ohman and third baseman Miguel Tejada are in the final years of contracts and are candidates to be traded before July 31. Millwood originally signed a five-year, $60 million deal in December 2005 with the Texas Rangers, who are picking up $3 million of the $12 million owed to him this season. The Orioles also likely would be willing to trade DH Luke Scott and right-hander Jeremy Guthrie if they could yield promising young players. … Millwood remains winless at 0-7 and has not completed six innings in consecutive starts this season. The O's had averaged only 2.75 runs a game in Millwood's first 12 starts, but that wasn't a valid excuse Tuesday, in a 12-7 loss. For the second straight start, both against the Yankees, Millwood was charged with six runs on 10 hits in 5 2/3 innings. This season, Millwood has allowed American League highs with 16 homers and 97 hits. … Ohman had allowed seven runs in 3 1/3 innings over five appearances before tossing 1 1/3 scoreless innings Thursday against the Yankees. The southpaw had not allowed a run in his first 25 appearances. Ohman's 31 appearances rank second in the American League, one behind Tampa Bay's Randy Choate. … The ex-Met Wigginton has 13 homers. He had 12 homers in 2009 -- a total he reached on May 15 this season, in 292 fewer at-bats (410 vs. 118). … Tejada signed as a free agent with the Orioles on Jan. 26 and moved to third base. Prior to this season, the only spot other than DH at which Tejada had started in the major leagues was shortstop: 1,833 games. He has been passable at third base, if unconventional. … Second baseman Brian Roberts, who appeared nearing a return from a herniated disc in his lower back that has kept him out since April 9, had the issue resurface and is out indefinitely. … Closer Michael Gonzalez is on the disabled list with a left shoulder strain. The reliever initially replacing Gonzalez as closer, right-hander Alfredo Simon, also is on the DL, with a hamstring strain. The hope is Simon returns after the Mets series, when Baltimore opens a series at San Francisco. Ohman suffered a blown save Sunday. The next chance went to David Hernandez, who opened the season in the rotation. Hernandez fired fastballs up to 96 mph and successfully closed out Thursday's 4-3 win against the Yankees that avoided a sweep. … Several young Orioles who figured to form the team's nucleus are struggling: Catcher Matt Wieters, who made a heralded debut last season, is hitting .241. He snapped an 0-for-20 skid Saturday against Boston. Center fielder Adam Jones had a career-high 13-game hitting streak May 14-27, but is hitting just .251 for the season. Jones -- who did have two hits and two RBIs on Thursday -- won a Gold Glove in 2009 and became the youngest Oriole to make the All-Star team since Mike Mussina (also 23) in 1992. Right fielder Nick Markakis ranked eighth in the American League in walks through Wednesday, but he has only three homers. Markakis signed a six-year, $66 million deal in January 2009. Meanwhile, outfielder Nolan Reimold is currently struggling at Triple-A after hitting .205 in 83 at-bats earlier this season with Baltimore. Reimold hit .279 with 15 homers and 45 RBIs in 358 at-bats last season with the Orioles. … Struggling Brad Bergesen was reassigned from the rotation to the bullpen with prospect Jake Arrieta's promotion. Arrieta faced the Yankees on Thursday night in his major league debut and allowed three runs on four hits and four walks in six innings while striking out six and picking up the victory. With Arrieta's call-up, left-hander Alberto Castillo was designated for assignment. Arrieta led the Triple-A International League in opponent batting average at .189. Buffalo, the Mets' Triple-A affiliate, tagged him for a season-high four runs in six innings on May 15, in a game in which two Bisons homered: Mike Hessman and Andy Green. The Orioles actually have two pitchers younger than the 24-year-old Arrieta in their rotation: Brian Matusz (23) and Chris Tillman (22). Guthrie was pushed back into the series against the Mets by Arrieta's start, which allowed the rookie to pitch on his regular day. … Left fielder Corey Patterson had been slowed by a mild groin injury. When Patterson entered in the eighth inning Wednesday as a pinch hitter, it marked his first appearance since starting Saturday. He struck out in that at-bat against the Yankees, dropping him to 1-for-his-last-15. Patterson then started Thursday and went 1-for-4. … The O's bullpen has been working hard, having logged 32 innings in the past eight games. Bergesen lasted only 2 1/3 innings in his final start last week while Tillman recorded only four outs last Friday. … First baseman Garrett Atkins is 7-for-his-last-52. His lone homer this season came on May 26 against Oakland, snapping a longball drought that was one shy of matching his career high of 146 at-bats. Wigginton played first base Thursday, while Scott Moore started at second base for the fifth time this season. Moore produced his first homer this season with a fifth-inning solo shot off A.J. Burnett. … Julio Lugo is 2-for-his-last-20. … Scott has raised his average 101 points -- from .177 to .278 -- since May 8.
Matchups
Dickey vs. Orioles (career: 0-2, 5.19 ERA)
Julio Lugo .375, 2 RBIs, 8 AB
Miguel Tejada .000, 4 AB
Ty Wigginton .000, 1 AB
Takahashi vs. Orioles (career: never faced)
Chris Denorfia .500, 2 AB
Pelfrey vs. Orioles (career: 1-0, 3.18 ERA)
Nick Markakis .667, 1 HR, 2 RBIs, 3 AB
Matt Wieters .500, 2 AB
Adam Jones .333, 3 AB
Ty Wigginton .167, 1 RBI, 6 AB
Luke Scott .143, 7 AB
Garrett Atkins .000, 1 RBI, 7 AB
Miguel Tejada .000, 4 AB
Guthrie vs. Mets (career: 0-1, 4.26 ERA)
Henry Blanco 1.000, 1 RBI, 2 AB
Jason Bay .500, 3 HR, 4 RBIs, 12 AB
David Wright .333, 1 RBI, 3 AB
Alex Cora .200, 15 AB
Rod Barajas .190, 1 RBI, 21 AB
Matusz vs. Mets (career: never faced)
Rod Barajas .000, 1 AB
Millwood vs. Mets (career: 8-5, 3.36 ERA)
Jose Reyes .429, 14 AB
Jason Bay .267, 15 AB
Alex Cora .200, 5 AB
Rod Barajas .083, 12 AB
Fernando Tatis .080, 1 RBI, 25 AB
Henry Blanco .000, 5 AB
David Wright .000, 2 AB
Last series results:
Orioles won 2-1 at Camden Yards, June 16-18, 2009 (AP game recaps)
Mets 6, Orioles 4: Knowing how bad it feels to lose a game on a dropped popup, the New York Mets refused to revel in the Baltimore Orioles' misery. Orioles first baseman Aubrey Huff muffed a seventh-inning pop down the right-field line, an error that produced two unearned runs and helped the Mets pull out a victory. New York had lost eight of 12, including two of three to the hated Yankees over the weekend. In the first game, Mets second baseman Luis Castillo dropped a popup that enabled the Yankees to score two ninth-inning runs in a 9-8 victory. This time, the same kind of error went New York's way. The Mets led 4-2 in the seventh before loading the bases with two outs. David Wright lifted a fly that Huff tried to snare with an over-the-shoulder catch. The ball bounded out of his glove, providing New York with what proved to be the winning runs. It isn't often that a game is decided by a dropped popup. For the Mets, that's twice in four games. It was a difficult play for Huff, who had to run a long way to catch up to the pop. A second baseman usually has a better angle on that kind of hit, but Brian Roberts had too far to run because he was shaded toward the middle with Wright at the plate. The Orioles also made two errors during New York's four-run fourth inning. New York scored three unearned runs in all, helping Mike Pelfrey (5-2) earn his first win in more than five weeks. Besides that painful 9-8 loss to the Yankees, the Mets dropped the series finale, 15-0. But after a travel day, they enjoyed a reversal of fortune against the last-place Orioles. Pelfrey allowed two runs and five hits in 5 2/3 innings. The right-hander had gone 0-2 in six starts since defeating Philadelphia on May 7. Francisco Rodriguez gave up a bases-loaded walk to Ty Wigginton and a run-scoring groundout to Roberts in the ninth, then struck out Adam Jones with two runners in scoring position for his 17th save in 18 opportunities. Baltimore starter Jeremy Guthrie (4-7) permitted five runs in 6 1/3 innings. Nick Markakis homered for the Orioles, who have lost nine of 12. In the New York fourth, the trouble for the Orioles began when Roberts fumbled Carlos Beltran's potential double-play grounder. Wright followed with an RBI single, and Beltran took third on a poor throw by left fielder Nolan Reimold. Gary Sheffield then singled in a run, Daniel Murphy hit a sacrifice fly and Brian Schneider capped the uprising with a run-scoring single. Baltimore got its first baserunner when Markakis singled with two outs in the fourth. In the fifth, Pelfrey struck out Roberts with the bases loaded and two outs. Markakis homered in the sixth following a leadoff single by Jones. It was his eighth homer, but the first in 22 games since May 21.
Orioles 6, Mets 4: Following his long-awaited arrival in the big leagues, Matt Wieters went 13 games without a home run or an RBI. One swing changed everything. Wieters hit his first home run, Aubrey Huff had a tiebreaking shot in the seventh inning and the Baltimore Orioles withstood Gary Sheffield's 507th career homer. Wieters, the fifth overall pick in the 2007 amateur draft, entered the game batting .234 with three extra-base hits since making his debut with Baltimore on May 29. The drought ended in the second inning, when the rookie catcher hit an opposite-field, two-run drive to left off Tim Redding. Even if the ball barely made it into the seats. Wieters received a standing ovation from many in the crowd of 31,906. The fans kept cheering until Wieters finally acknowledged the reception with a brief curtain call. Then, to top it all off, Wieters had his postgame TV interview interrupted by a shaving cream pie, courtesy of teammate Adam Jones. Nick Markakis matched a career high with four hits and scored twice for the Orioles, who blew leads of 1-0 and 4-2 before pulling away for the final time in the seventh. With one out and the score 4-all, Markakis singled off Pedro Feliciano (2-2) and Huff hit a 2-2 pitch over the right-field wall, his first extra-base hit in 17 games since May 26. The Mets didn't have another comeback left in them. Jim Johnson (3-3) worked two innings and George Sherrill got three outs for his 13th save. Unlike Wieters, Sheffield is an old hand at hitting homers. His latest, a solo shot off Brian Bass, moved him within four of Mel Ott for 23rd on the career list. Orioles starter Koji Uehara was lifted with Baltimore ahead 4-2 entering the sixth. The bullpen promptly blew the lead, keeping the Japanese rookie winless in nine starts since April 13. In his second appearance since returning from the 15-day disabled list with a strained left hamstring, Uehara gave up seven hits and struck out five. Although the right-hander was not on a pitch count, manager Dave Trembley decided 89 was enough. After Uehara left, Bass got one out in the sixth before Sheffield homered. The Mets then loaded the bases, and Mark Hendrickson walked Alex Cora to force in a run and make it 4-all. But Fernando Tatis squashed the uprising by bouncing into a double play. A run-scoring single by Huff put Baltimore up 1-0 in the first inning, but the Mets used an RBI single by Daniel Murphy to pull even in the second. In the fourth, a sacrifice fly by Brian Schneider got the Mets to 3-2. Markakis hit a two-out single in the fifth and stole second before Huff was walked intentionally to get to right-handed hitting Melvin Mora, who bounced an RBI single up the middle.
Orioles 5, Mets 4: The Baltimore Orioles were 0-34 when trailing after eight innings, and they were down a run in the ninth when New York Mets closer Francisco Rodriguez entered the game. K-Rod's 0.56 ERA was exquisite enough, but the right-hander also had 16 saves in 17 chances -- the blemish coming by virtue of a dropped popup against the hated Yankees. Twenty pitches later, the Orioles celebrated perhaps their most uplifting performance of the season. Aubrey Huff drove in the winning run with a ninth-inning single, capping a two-run rally that carried Baltimore to a victory. Rodriguez, who last yielded an earned run on April 27, made no excuses after allowing five of the six batters he faced to reach base. Matt Wieters led off the ninth with a double and Nolan Reimold walked. Brian Roberts laid down a bunt, and the throw to third by catcher Omir Santos was too late to nail pinch-runner Felix Pie. Rodriguez (1-2) then walked Adam Jones to force in a run, and after Nick Markakis struck out, Huff hit a liner to right -- his second straight game-deciding hit. After he touched first, the veteran was buried under a pile of his teammates in an impromptu and improbable celebration. Matt Albers (1-2) pitched the ninth and Robert Andino homered for the Orioles. Held to one infield hit over the first five innings by rookie Jason Berken, New York rallied from a 2-0 deficit by scoring two runs in the sixth and two more in the seventh. Alex Cora got the first hit in each inning and scored twice. Baltimore closed to 4-3 in the eighth when Huff doubled and scored on a groundout by Luke Scott, and the Orioles completed the unlikely comeback against K-Rod in the ninth. Mets starter Livan Hernandez gave up two runs and eight hits in seven innings. He left with the lead, and although the bullpen gave it away, remained unbeaten since April 23. After putting only one runner in scoring position through the fifth, the Mets pulled even in the sixth. Singles by Cora and Carlos Beltran preceded a sacrifice fly by David Wright, and after Gary Sheffield singled, Ryan Church hit an RBI single off the right-field wall. Berken retired the first two batters in the seventh before Cora singled and scored on a double by Daniel Murphy. Beltran followed with a run-scoring single off Danys Baez. Making his fifth career start, Berken allowed four runs and seven hits in 6 2/3 innings. He had a career-high eight strikeouts, getting Wright, Santos and Murphy twice. Andino put the Orioles up 1-0 in the third with his first home run since April 7, 2008, with Florida. Baltimore added a run in the fifth when Roberts ended an 0-for-12 skid with an RBI double. But with the bases loaded and one out, Markakis struck out and Huff lined out to Luis Castillo at second base.