TORONTO -- Frank Francisco has a theory about the hostile reception he received from the Rogers Centre crowd.
"Because they loved me and I left," joked Francisco, who signed a two-year, $12 million deal with the Mets at the winter meetings after Toronto opted not to retain him.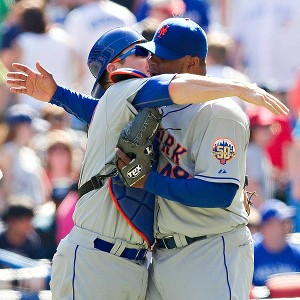 Chris Young/Associated Press/Canadian Press
Frank Francisco celebrates with catcher Rob Johnson after narrowly closing out his first save chance against his former employer Sunday.
Francisco eked out his 10th save as a Met on Sunday, as the Mets salvaged a 6-5 win against the Blue Jays. Francisco walked leadoff batter Yunel Escobar and then surrendered a single to Jose Bautista through the right side of the infield, which had been vacated by a shift, to open the inning, causing his manager a little angst.
"I said, 'Oh boy, let's see what happens here,'" Terry Collins said. "And he reached back for a little extra."
Sure enough, topping out at 98 mph, Francisco then consecutively struck out Edwin Encarnacion, J.P. Arencibia and Eric Thames as the Mets escaped with a victory and the closer avoided a reprise of recent meltdowns.
"I really thought in the ninth inning today, Frankie coming back here, I thought he might be amped up," Collins said. "You had a great crowd today. With the middle of that lineup, I said, 'If you're ever going to show your true colors, now's the time.' He hit 98 mph a couple of times on the gun, so we know it's still in there."
Catcher Rob Johnson twice visited Francisco on the mound to nurse him through the frame.
"I think he threw a 98 mph fastball," Johnson said. "It was away. And I was like, 'Whoa, man, where did that come from?' Because you're used to 92-94 mph. That was awesome to see, playing here last year."
Collins, by the way, believed Bautista's single through the vacated right side of the infield was only the second groundball there by the slugger this season, according to Mets data. That's why Daniel Murphy had been positioned behind second base.
As for the crowd reaction to Francisco, the ex-Jay lightheartedly summed it up this way: "I'm deaf on the mound. I don't hear anything."
Johnson concurred.
"I hear nothing," the catcher said. "I have very good selective hearing, if you want to look at it as good. My wife doesn't like it too much."