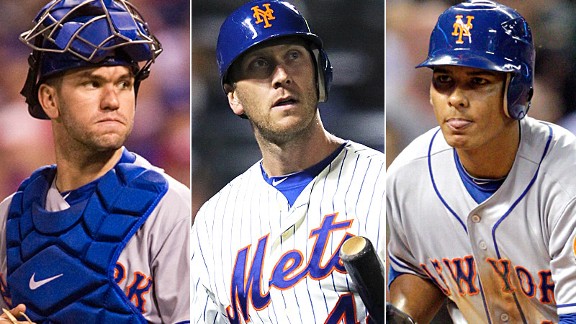 US Presswire/Getty Images
Josh Thole, Jason Bay and Ruben Tejada are inching closer to activation from the disabled list.
PITTSBURGH -- Josh Thole did not experience a recurrence of concussion symptoms while doing cardiovascular workouts such as running and stationary bicycle riding during the weekend, so Mets doctors cleared him to travel to Port St. Lucie, Fla., to begin baseball activities, Terry Collins said Monday afternoon.
Thole suffered the concussion -- possibly the fourth of his professional career -- in a plate collision with Ty Wigginton in Philadelphia two weeks ago.
Collins said the Mets are eyeing Thole catching five innings in minor league games May 28 and 29, with an eye toward being activated from the disabled list shortly thereafter.
• Jason Bay, on the disabled list since fracturing a rib April 23 on an attempted catch in left field, traveled to the Mets' Florida complex as well on Monday.
Bay has been hitting off a tee. He is due to take batting practice from coaches Wednesday for the first time.
Collins said Bay initially will play minor league rehab games at DH in order to guard against him being overaggressive in the outfield and attempting to make another play that could jeopardize the rib's healing.
• Ruben Tejada (quadriceps) was due to continue running in Port St. Lucie on Monday. Collins said the shortstop could begin minor league games midweek and, under the most optimistic scenario, be activated from the DL next weekend.
• Rob Johnson's thumb continues to throb as the result of a foul ball that struck his glove in a vulnerable spot while catching in Miami during the last road trip. Mike Nickeas will start two games this series behind the plate, with Johnson in all likelihood still starting the other game.
Collins did request that newly promoted Vinny Rottino play games this past weekend at catcher with Triple-A Buffalo before his activation to be ready as an in-game replacement. It remains unlikely, though, that Rottino would start a game at the major league level at catcher.