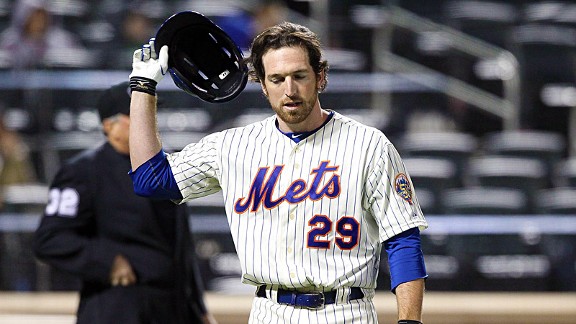 Jim McIsaac/Getty Images
Ike Davis is out of the lineup Monday for the second time in four games on the Mets' trip.
PITTSBURGH -- Terry Collins originally intended to start Ike Davis on Monday against Pittsburgh left-hander Erik Bedard. But in meeting with his coaches, Collins decided loading his lineup with righties against Bedard would be a better option.
So the struggling Davis will sit for the second time in four games on the road trip. He also sat Friday when the Mets faced left-hander Brandon Morrow in Toronto.
#29 1B
New York Mets
2012 STATS
GM

39

HR5

RBI15

R12

OBP.221

AVG

.163
Bedard is holding lefty hitters to a .161 average this season, versus .280 for righties.
"I just thought maybe some right-handed bats would be a better option," Collins said.
Righty-hitting Vinny Rottino instead makes his first major league start at first base on Monday night. Rottino did appear there as a midgame replacement on Sept. 5, 2007 while with the Milwaukee Brewers. He has logged 164 minor league games at the position.
Lucas Duda is the lone righty-hitting position player starting against Bedard. Duda is hitting .293 against southpaws this season -- 29 points higher than against right-handers.
"Besides making sure we have patience with Ike, we're trying to also win baseball games," Collins said. "When you've got a guy who is dominating left-handed hitters, when you've got a guy who is struggling, that's a bad match. So the worst thing I want to do is put this guy in a situation where he's going to fail. I'm trying to get him in a situation where there's going to be success more than failure."
Davis is 3-for-29 in his past 10 games. And Collins pointed to Davis swinging at the first pitch in each of his first three at-bats Sunday as a concern.
"Every day you feel you want to be in the lineup," Davis said. "That's why we play. But obviously a lot of people are off today because it is a lefty, and we're going to the righty-matchup thing. I'm not the manager."
Davis actually has a modestly better average this season against lefties than righties (.188 versus .145).
"Obviously, there's tough lefties out there that give me trouble, give every lefty trouble, like (Cincinnati's Aroldis) Chapman," Davis said. "Lefties really don't hit him. Usually a starter I can sneak out a hit or something."
Collins said hitting coach Dave Hudgens extensively has reviewed video. While Davis appears to be jumping at balls, his mechanics are comparable with last season, according to Collins.
"The mechanical side is not the issue," Collins insisted.
As for a potential demotion, Davis said: "Everyone here can get sent down besides, like, maybe three people. That's the way it is. … Nothing is etched in stone. It's a true statement. I'm not sent down yet, so I don't know what to tell you guys. I'm just going to play until something happens.
"The last five or six games I've hit the ball solid, I just haven't gotten hits," Davis added. "I've lined out like four or five times."