PITTSBURGH -- Nine starts. One win.
That's all Johan Santana has to show for his 3.24 ERA in his first season back from shoulder surgery.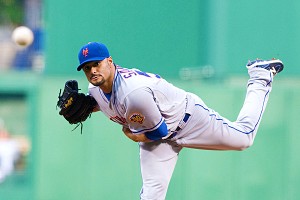 Vincent Pugliese/US Presswire
Johan Santana could not protect a four-run lead Monday.
This time, though, Santana could not deflect the fault to a leaky pen or lack of offense. Although the Mets had opportunities to pad their lead, they nonetheless staked the southpaw to a 4-0 lead in the second inning Monday against the Pittsburgh Pirates.
Santana then had some trouble leaving balls up in the middle of the plate, including on the consecutive doubles he surrendered to open the bottom of the fourth by Josh Harrison, Andrew McCutchen and Pedro Alvarez.
Michael McKenry's two-run shot evened the score at 4 in the seventh and the Pirates ultimately won, 5-4, after Santana departed.
"We were trying to throw a fastball away. It stayed pretty much in the middle of the plate and up, and he put a good swing," Santana said about the homer.
The offensively challenged Pirates had not overcome more than a three-run deficit to win since 2009.
"I was very surprised," Terry Collins said. "The pitch he made to McKenry was a ball I'm sure he wishes he could get back. It was up. You felt pretty good going into that.
"But we didn't add on. When they scored two, we had several opportunities to get back and add on some runs. That's what we've got to do. This is the third or fourth game now where we've scored three or four in an inning and you look up and that's all we've got. We've got to add on. That would make it a lot easier for our pitching staff."
Asked for his assessment of his 1-2 record, with six no-decisions, Santana expressed appreciation for his shoulder's health and said he still needs to get his control more pinpoint. He was charged with four runs on eight hits while striking out seven and walking two in 6 1/3 innings Monday.
"I still feel that I have some work to do with my command, and especially with my fastball," he said.