Left-hander Jack Leathersich owns the Division II UMass Lowell single-season strikeout record. His gaudy K totals have continued as a pro, since getting drafted in the fifth round last June.
Leathersich, who made his high-A St. Lucie debut on Tuesday night, has now fanned 66 batters in 39 1/3 pro relief innings through stops with Brooklyn, Savannah and now in the Florida State League. He has surrendered only 18 hits. Not bad for a kid who threw 85 mph as a high school senior and described himself as "tiny" back then -- 5-foot-8, 150 pounds.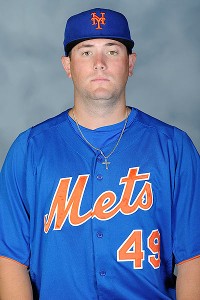 Courtesy of New York Mets
Jack Leathersich
Leathersich's fastball now sits at 91-93 mph and tops out at 95-96 mph when he's aiming for a strikeout. He also throws a circle change as well as what he describes as a slurve -- "kind of in the middle … not really like a 12-to-6 (curveball), but not like a hard slider. It kind of comes in diagonal."
Said Leathersich: "I don't really go out there trying to strike people out. I never really have. Getting ahead is the biggest thing for me. When I get ahead 0-1, 1-2, 0-2, I do try to put them away. I try to get them out of there. But I've been working actually a lot this year on not going so deep in the counts -- trying to get one-, two-pitch outs."
Leathersich burst onto the radar while competing in the prestigious Cape Cod League during college. He was one of only the three or four Division II players invited, by his count. That's where he picked up his nickname -- "Rocket." His Twitter handle remains @LeatherRocket.
"My buddy, Marcus Stroman -- he's going to be a top-10 pick this year, from Duke -- he just started calling me that," Leathersich said. "We were roommates. He pitched the ninth inning and I pitched the eighth normally. I don't know. It kind of just stuck."
Leathersich's best experience as a pro so far? That would have to be his Aug. 30 appearance for Brooklyn last season. The Lowell Spinners are in that league, and share a stadium with Leathersich's college program. Pitching as a pro on the field where he was a college standout, Leathersich tossed two scoreless innings, striking out the side in his first frame.
"That was crazy," Leathersich said. "That was definitely a pretty cool moment in my life. Everybody was there. I mean, everybody from my town (Beverly, Mass.), which is only a half-hour away. And everybody from Lowell, where I went to school. The place was pretty packed. It was a rush when I got called into the game."
In his Florida State League debut Tuesday, Leathersich surrendered his first professional homer. He was charged with two runs on two hits and two walks while striking out three in 2 2/3 innings.
"Anybody, I feel, who says that they don't have to work on anything is lying to you," Leathersich said. "I've definitely been working on my offspeed a lot -- changeup, curveball, throwing it in any count for a strike. That's what (Savannah pitching coach) Frank Viola and I were really working on when I was down there. He's helped me out tremendously with everything. … I'm just going to keep working on my offspeed pitches and holding runners, fielding my position and all of the stuff I had been working on in Savannah."
Organization leaders
Average: Bobby Scales, Buffalo, .339; T.J. Rivera, Savannah, .333; Jefry Marte, Binghamton, .321; Matt den Dekker, Binghamton, .310; Eric Campbell, Binghamton, .310; Wilmer Flores, St. Lucie, .310; Vinny Rottino, Buffalo, .307; Matt Tuiasosopo, Buffalo, .301; Juan Lagares, Binghamton, .293; Danny Muno, St. Lucie, .283.
Homers: Valentino Pascucci, Buffalo, 11; Travis Taijeron, Savannah, 8; Cory Vaughn, St. Lucie, 8; Wilmer Flores, St. Lucie, 7.
RBI: Valentino Pascucci, Buffalo, 34; Aderlin Rodriguez, Savannah, 29; Travis Taijeron, Savannah, 27; Wilmer Flores, St. Lucie, 25; Vinny Rottino, Buffalo, 25.
Steals: Luis Nieves, Savannah, 9; Cesar Puello, St. Lucie, 9; Wilfredo Tovar, St. Lucie, 9; Pedro Zapata, Binghamton, 8.
ERA: Zack Wheeler, Binghamton, 2.15; Collin McHugh, Binghamton, 2.15; Tyler Pill, Savannah, 2.29; Angel Cuan, St. Lucie, 2.37; Alex Panteliodis, Savannah, 2.63; Rafael Montero, Savannah, 2.64; Chase Huchingson, St. Lucie, 2.68; Jeremy Hefner, Buffalo, 2.72; Chris Schwinden, Buffalo, 2.72; Dylan Owen, Buffalo, 3.19.
Wins: Chase Huchingson, St. Lucie, 5.
Saves: Adrian Rosario, Binghamton, 12; Fernando Cabrera, Buffalo, 9; T.J. Chism, Savannah, 6; Adam Kolarek, St. Lucie, 4.
Strikeouts: Matt Harvey, Buffalo, 49; Garrett Olson, Buffalo, 49; Jeurys Familia, Buffalo, 45; Collin McHugh, Binghamton, 45; Zack Wheeler, Binghamton, 45.
Short hops
• Infielder Danny Muno, the Mets' eighth-round pick in 2011 out of Fresno State, was suspended 50 games for a positive test for a metabolite of Drostanolone, a performance-enhancing drug, Major League Baseball announced Friday. Muno, 23, had been hitting .283 with five homers and 23 RBIs while batting leadoff and manning second base for Class A St. Lucie. Robbie Shields, a third-round pick in 2009 from Florida Southern College, has taken over at second base for the Florida State League club. Alonzo Harris Jr. has assumed the vacated leadoff spot. Since Muno's suspension, Harris is hitting .391 (9-for-23) with five runs scored in five games. That has upped the Mississippi high school product's average 38 points, to .271.
• Left-hander Josh Edgin opened enough eyes in spring training that he formally was added to camp in March after initially not receiving an invite. Now, he has not allowed an earned run in his past six relief appearances with Triple-A Buffalo. Edgin touched 95 mph with his fastball Monday, then tossed a no-hit inning with two strikeouts Tuesday against Indianapolis.
• Right-hander Collin McHugh (4-3, 2.15 ERA in nine starts) has been a bright spot in a Double-A Binghamton rotation that largely has struggled of late. He had completed at least seven innings in each of his past three outings, until that streak ended Tuesday when McHugh served up a solo homer to open the seventh inning at New Britain that broke a scoreless tie, then hit a batter with the next pitch and was ejected. "My ejection from the game tonight was completely absurd!" McHugh tweeted afterward. "I did not throw at ANYONE, nor would I consider it in a 1 run game in the 7th."
McHugh, an 18th-round pick in 2008 out of Berry College, has allowed only six earned runs in 27 1/3 innings during his past four starts. McHugh made his Double-A debut on May 31, 2011. In what is now a full year in the Eastern League, the Atlanta native has compiled a 12-5 record and 2.62 ERA in 27 appearances (25 starts).
• Right-hander Elvin Ramirez, the former Rule 5 pick returned to the Mets after spending a season on the Nationals' 40-man roster with shoulder woes, has yet to allow a run in seven Triple-A appearances. In nine scoreless innings, he has limited opponents to three hits while striking out 10, walking none and hitting one batter. Opponents are hitting .100 (3-for-30) against him. Ramirez began the season with Binghamton.
• Josh Satin is 6-for-his-last-14 with eight walks during that stretch. He nearly exclusively has played first base with the Bisons.
• Jordany Valdespin delivered a pinch-hit homer Saturday for Buffalo, on the day he awoke in Toronto and then was demoted to clear a roster spot for Jeremy Hefner. In two subsequent games while starting at second base, though, Valdespin went 0-for-5 with five strikeouts. He committed two errors Sunday. Brad Emaus started at second base Tuesday, and Valdespin was retired as a pinch hitter.
• Fernando Cabrera is 9-for-9 in save opportunities with the Bisons.
• The Mets released 22-year-old right-hander Eduardo Aldama. He went 3-5 with a 5.37 ERA at Class A Brooklyn last season.
• Minus Hefner, Buffalo's rotation now includes Dylan Owen along with Matt Harvey, Jeurys Familia, Garrett Olson and Chris Schwinden.
• Since-promoted Vinny Rottino lost a 20-game International League hitting streak Friday, then had a three-homer game Saturday. The modern-era Buffalo record is a 28-game hitting streak by Alex Ramirez in 1998, when the Bisons were affiliated with the Cleveland Indians. Ramirez currently is in his 12th season playing in Japan.
• Corey Wimberly became the second Mets farmhand to steal home this season. Wimberly's came Sunday with Buffalo on a straight steal of the plate. Josh Rodriguez with Binghamton did his last month as part of a double steal. Wimberly went 2-for-4 with a walk Tuesday and is hitting .395 in nine games since being activated from a season-opening DL stint. He fractured the fifth metatarsal in his left hand in a Grapefruit League outfield collision with Cory Vaughn.
• Valentino Pascucci has 11 homers this season. His 49 career long balls as a Bison (spanning three seasons) are tied for sixth on Buffalo's modern-era list.
• Left fielder Rafael Fernandez left Saturday's St. Lucie game with a groin strain and landed on the DL. Fernandez's in-game departure prompted catcher Blake Forsythe to complete the game in the outfield -- his first action there as a pro.
• Buffalo's Matt Tuiasosopo produced an inside-the-park homer last week. Tuiasosopo, who went 3-for-4 Tuesday to up his average to .301, is the son of former Seattle Seahawks nose tackle Manu Tuiasosopo and the brother of former Raiders quarterback Marques Tuiasosopo.
• St. Lucie closer Adrian Rosario was promoted to Binghamton last weekend. He had a save in his Double-A debut Saturday, then pitched a scoreless inning Sunday while walking two batters. Rosario came with Daniel Herrera as players to be named in the trade that hurriedly dumped Francisco Rodriguez's contract on the Milwaukee Brewers during last year's All-Star break. Rosario, 22, made one appearance for current Binghamton manager Pedro Lopez after last year's trade with St. Lucie.
Adam Rubin's farm report appears Wednesdays during the regular season