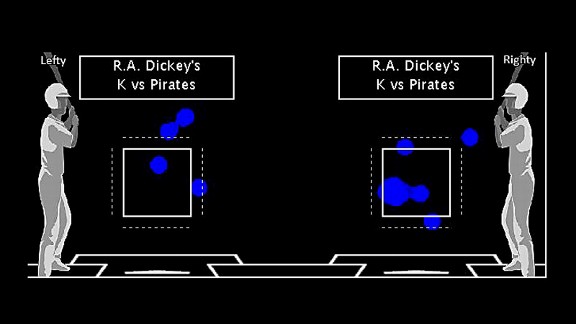 R.A. Dickey struck out a career-high 11, all with the knuckleball, in Monday's win.
The Mets won two of three from the Pirates to finish a 3-3 road trip. With the help of Baseball-Reference.com and some of our other research tools, let's look at some statistical notes from this series win.
Stat of the Series: R.A. Really Awesome … Again
R.A. Dickey continued his run of fine work with an 11-strikeout, no-walk gem in a 3-2 win over the Pirates on Tuesday.
This was the second straight season in which the Mets got at least 11 strikeouts and no walks from their starter. Chris Capuano had a 13-strikeout, no-walk game in a two-hit shutout of the Braves last August 26.
The Mets did not have any such starts from 2000 to 2010. The last prior to Capuano was by Rick Reed on the next-to-last day of the 1999 season, one that put the Mets into a tie for the wild card spot, against the Pirates.
Dickey was the first Met to author an 11-strikeout, no-walk start without pitching at least nine innings since David Cone against the Cardinals, June 21, 1992.
An 11-whiff, no-walk game is impressive for a knuckleball pitcher. Tim Wakefield never had one in his major league career. Hall of Famer Phil Niekro had one … in 1967, also against the Pirates.
An Ugly Finish
The Mets blew a 4-0 lead and lost on Monday with Johan Santana on the mound in the series opener.
The Elias Sports Bureau had an amazing note on this: Pittsburgh had lost its previous 160 games when it trailed by at least four runs, the second-longest streak in major-league history, shy only of the 1906 to 1910 Washington Senators (178 games). Their last win in a game in which they trailed by four-or-more runs came on June 1, 2009 and was also against the Mets.
Lost Game With 0 H, BB, HBP
Mets History
After having made only one error all season, David Wright made two errors in this game. It was the eighth multi-error game of his career. Wright's multi-homer games lead his multi-error games by a 17-8 tally.
Santana gave up a game-tying two-run home run in the seventh inning. It was only the second time in his Mets career that Santana gave up a multi-run homer in the seventh inning or later. The other was to Gabe Kapler of the Brewers on April 12, 2008.
Elias noted that Santana's team lost a game in which he was given a four-run lead for the seventh time. His teams are 83-7 in those games.
Day Tripping
Wright's 1-for-4 in Wednesday's series finale dropped his batting average to .399 through 40 games. It snapped a streak of seven straight games in which Wright finished with a batting average of .400 or better.
Wright finished well short of the Mets record for the highest batting average through any 40-game span for a Mets player.
The mark depends on what minimum you set. Via the Elias Sports Bureau, a minimum of 100 at-bats yields Lenny Dykstra's .440 (44-for-100) from May 27 to July 13, 1986 as the best.
Raising the bar to 120 at-bats nets Mookie Wilson's .414 stretch (55-for-133) from August 3 to September 22, 1998 tops.
Wright's best is a .412 from May 1 to June 16, 2009.
More on this topic, Thursday.