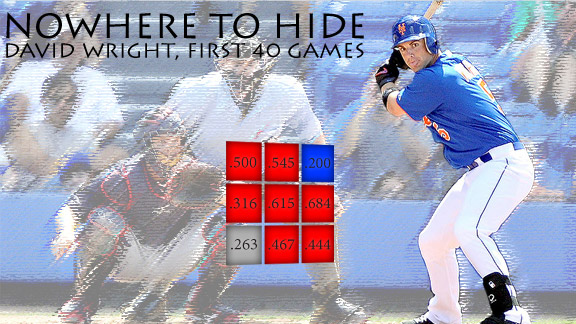 US Presswire/Brad Barr; Photo Illustration by Trevor Ebaugh, ESPN Stats & Information
David Wright has a high batting average in just about every area of the strike zone.Through 40 games, David Wright is hitting .399 with four home runs, 26 RBIs and a 1.099 OPS.
It is one of the best 40-game stretches in Mets history, though there are a few that surpass it. With the help of the Elias Sports Bureau and Mets historian Greg Prince, we remember a half-dozen of the other top 40s in Mets history:
Frank Thomas, 1962
The Mets were terrible but lovable in their early days, and thanks to playing in a Polo Ground ballpark where cheap home runs were commonplace, they had an immediate star with a hitter who tallied impressive numbers in his first 40 games of 1962.
Thomas hit .333 with 13 home runs and 31 RBIs in his inaugural 40 as a Met, setting a standard for others to follow.
Cleon Jones, 1969
Jones hit .378 with seven home runs, 32 RBIs, and 32 runs scored in his first 40 games. The start would launch Jones to set a Mets record with a .340 batting average, a mark that would last for multiple decades.
The year would end well for Jones as well. He would catch the final out of the World Series.
Keith Hernandez and Gary Carter, 1985
We list Hernandez and Carter together because they are forever linked by a championship in 1986. But a year earlier, the two closed the season with a pair of amazing runs.
Other Notables, Mets History
From Greg Prince/Mark Simon
Hernandez's final 40 games of 1985 were marked by a series of huge hits. He hit .354 and reached base 74 times via hit, walk or error as the Mets fell just shy of the NL East title.
The big moments included a game-winning, ninth-inning home run in San Francisco against the Giants and a walk-off hit on Sept.12 against the Cardinals that put the Mets in first place against their then archrivals.
Carter matched Hernandez for big hits and then some.
Over the 40 games he played from Aug. 23 to the next-to-last day of the regular season, he hit .325 with 15 home runs, 38 RBIs and a 1.048 OPS. He had 15 go-ahead RBIs in that stretch, four more than any other player in the majors over that time period.
Darryl Strawberry, 1990
Strawberry struggled to hit in the first 40 games of the 1990 season, and was hitting just .230 with five home runs coming into a May 26 matchup with the Padres.
Most Home Runs in 40-Game Span
Mets History
A Strawberry eighth-inning home run against Calvin Schiraldi was the finishing touch for the Mets offense in an 11-0 win over the Padres and started arguably the best barrage in Mets history.
Over the 40-game stretch from May 26 to July 14, 1990, Strawberry hit .372, with 18 home runs and 42 RBIs. He had as many home runs in that stretch as he did strikeouts. No Met hit more in a 40-game span than this one.
John Olerud, 1998
Highest BA in 40-Game Span
Mets History (Minimum 120 AB)
On July 11, 1998, Olerud went 4-for-4 with a pair of home runs in an 8-4 win over the Expos. This would begin his most torrid 40-game stretch as a Met, one in which he hit .408 with 10 home runs, 29 RBIs and a 1.148 OPS.
Olerud would carry his hot streak all the way through to the end of the season, as the Mets fell one game shy of the NL wild card. He'd finish the season with a Mets-record .354 batting average.
Mike Piazza, 2000
Piazza seemingly had a bunch of of these 40-game bursts in each of his first four seasons with the Mets. You can take your pick from a couple that look alike.
We'll look at one from the NL pennant-winning 2000 season.
On April 14, 2000, Piazza went 5-for-6 with two home runs and four RBI in a 12-inning win in Pittsburgh.
That started a tear that lasted beyond 40 contests, but at the point at which we cut it off, Piazza had a .383 batting average, 12 doubles, 14 home runs, 33 RBIs and a 1.254 OPS.
The most memorable of his hits would be a game-winning home run against Padres reliever Trevor Hoffman, though two days after this stretch concluded, he'd hit a grand slam against Roger Clemens.