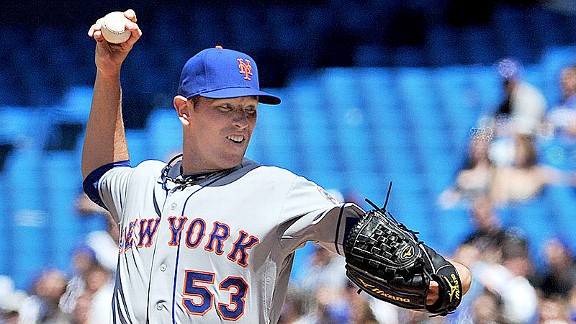 Aaron Vincent Elkaim/Associated Press/The Canadian Press
Jeremy Hefner takes over the rotation slot most recently held by Miguel Batista on Thursday.PITTSBURGH -- Jeremy Hefner went to Hat World at an Oklahoma mall and bought his wife and son Pirates hats after being claimed off waivers by that organization Nov. 18.
The following month, he needed new headgear.
#53 RP
New York Mets
2012 STATS
Designated for assignment by Pittsburgh when it acquired Yamaico Navarro from Kansas City and needed to free a 40-man roster spot, Hefner was claimed off waivers again, this time Dec. 12 by the Mets.
Now, after a pair of appearances this season in games started by Miguel Batista, including three scoreless innings against the San Francisco Giants in his major league debut on April 23, Hefner is poised for his first big league start.
He is scheduled to face his original organization, the Padres, as the Mets open an 11-game homestand Thursday. San Diego drafted Hefner, 26, in the 10th round in 2007 out of Oral Roberts University.
Sandy Alderson and Paul DePodesta were running the Padres when Hefner originally was drafted, although the right-hander does not recall either personally scouting him in college. The Mets previously had drafted Hefner twice -- in the 46th round out of high school in '04, then in the 48th round the following year out of junior college. Neither time did Hefner entertain signing.
Hefner will be the fourth person to hold that rotation slot -- following Mike Pelfrey (Tommy John surgery), Chris Schwinden (demotion) and now the DL'd Batista (oblique strain). Hefner may be a temporary patch, too, since Chris Young -- after an interruption -- is poised to make his third start with Class A St. Lucie this weekend since returning from surgery to repair a torn anterior capsule in his right shoulder. Young has contract outs on June 1 and July 1 if he is not promoted to the majors by those dates.
Hefner limited a solid Blue Jays hitting corps to two runs in five innings Saturday in relief of Batista. He earned praise for sparing the bullpen.
His fastball averaged 90.2 mph in the two major league appearances. He was leading the International League in ERA with Triple-A Buffalo at 1.77 before getting roughed up by Gwinnett in a couple of innings in his final start. He was charged with six runs in 5 2/3 innings to up his ERA to 2.72. The subpar outing came on a rough travel day. The Bisons had flown the day of the game from Charlotte to Buffalo and landed at noon.
A native Oklahoman who has lived in the state his entire life except for a three-year detour to Kansas, Hefner has been a mentor for Michael Fulmer, who was taken by the Mets with the 44th overall pick last June out of high school in that state. Hefner's family had Fulmer, 19, regularly come over during spring training. They have since spoken by phone about three times.
Hefner said he would have been content had he never had another opportunity after his major league debut in the doubleheader against the Giants, after which he made a U-turn and returned immediately to Buffalo.
The Triple-A Bisons were playing at Lehigh Valley when word came he was needed. He had never been to New York before, so his car-service driver for the two-hour trip took him on the "scenic route," which provided Hefner views of the Statue of Liberty and the Empire State Building.
"Even if I just had that one day, and I never got called up again, that would have been fine. You know what I mean?" Hefner said. "Just the opportunity to see how I could do."