NEW YORK -- The pitching coach and manager stood in the dugout, trying to make sure their eyes weren't deceiving them.
On the mound was Johan Santana, looking every bit the ace he was before shoulder surgery in 2010 cost him all of last season. Pitchers often are never the same after undergoing surgery to repair a torn anterior capsule, yet here was Santana on Saturday, tossing changeups and keeping hitters off-balance like it was 2004.
"Could you have imagined this?" pitching coach Dan Warthen said to manager Terry Collins.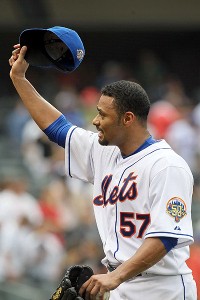 Jim McIsaac/Getty Images
Johan Santana doffs his cap to the crowd after his four-hit shutout.
Imagination wasn't needed, though. This was real.
Santana tossed his first complete game shutout since 2010 as he dominated the Padres in a 9-0 victory. The southpaw gave up just four hits as he recorded the ninth shutout of his career and his 14th complete game to improve to 2-2.
"I didn't know how everything was going to be coming into the season," Santana said. "I was definitely waiting to have an opportunity and go out there and build from there. That's what I've been doing.
"I'll go back to when Dr. (David) Altchek told me everything was successful. From that point on, I knew it was up to me to do my things, and I've been working and I'm just trying to get better every time and make my adjustments."
After Santana underwent surgery he faced a grueling road. Other pitchers like Mark Prior had returned after the same surgery, but they struggled to pitch at the level they had prior to the procedure. Teammate Chris Young is still trying to work his way back from the surgery.
The team has kept a close eye on Santana, keeping him on pitch counts in certain situations, hoping to get him some extra days of rest as the season progresses. Through his first 10 starts, it's like he has never left: He's 2-2 with a 2.75 ERA.
"He's so special," Collins said, "it's incredible."
Saturday proved to be Santana's best outing. Against a woeful San Diego team, he pounded the zone, getting ahead of hitters and working efficiently. He threw 96 pitches, with an astounding 74 of them for strikes. He yielded just four hits, two of which could have been outs. San Diego only mustered one runner in scoring position the entire game.
"Any time you throw a complete game it's a great feeling," Santana said. "It's not easy to do, and every time you have an opportunity it's good and it saves the bullpen and gives them a break. It's definitely a great feeling."
On the final play of the game, the slick-fielding pitcher scooped up a slow dribbler along the first-base line and tagged the runner to end his outing.
It was only fitting that the ball would be in his hands for the final out on the day when Santana showcased that his surgery hasn't slowed him down.
"It was great," Santana said of the final play. "Finally had the opportunity to go all the way and to get the last out, it was good."