NEW YORK -- Ike Davis doesn't want to make too much out of one at-bat, but the signs of improvement are starting to show for the Mets' struggling first baseman.
Since the team announced it would not be demoting him to Triple-A Buffalo, Davis has recorded at least one RBI in each of the three games against San Diego, including a pinch-hit RBI double in Saturday's 9-0 win. Davis now has four hits in his last nine at-bats.
"I feel a lot better," Davis said. "Obviously, you can tell the swings are a lot better."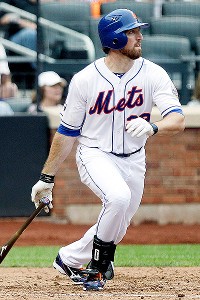 AP Photo/Frank Franklin II
Ike Davis ripped a run-scoring double and scored on Mike Nickeas' grand slam.
Davis is only hitting .173, but he has a four-game hitting streak -- and the support of manager Terry Collins and GM Sandy Alderson.
"There's no reason to think he's not (turning the corner)," Collins said. "I salute Sandy for sticking by this guy. He's got his confidence back and I think Ike Davis is off and running."
SIMPLY GRAND: Mike Nickeas couldn't have asked for a better day. The catcher caught a complete game shutout from Johan Santana and added the first grand slam of his career.
"Johan was awesome. That's the most gratifying thing, when a guy can go CG shutout after being however long it was since he last did that," Nickeas said. "The grand slam was the icing."
Santana, who missed the 2011 season after shoulder surgery, hadn't thrown a shutout since Aug. 12, 2010.
Nickeas entered the game batting .160 with no home runs, but he made his first homer memorable. With the team up 5-0 in the eighth and the bases loaded with two outs, he swatted a home run over the left-field wall.
"You grind out through this game a lot. That's part of this game. That's part of baseball," Nickeas said. "I've struggled hitting at home a little bit, so it was a tremendous feeling to go and do something to kind of get the weight off my shoulders."
FIRST FOR ROTTINO: Six years into his major league career, Vinny Rottino finally had the sweet feeling of jogging around the bases. The 32-year-old hit the first home run of his career. He had 46 career at-bats without a homer before his drive to left-center.
"It's a pretty special feeling," Rottino said. "When you run around the bases, you don't feel like you're running around the bases. You're just kind of floating."
As he grinded through the minors and had some brief stints in the majors, none lasting more than nine games, Rottino said his love for the game kept him in it. His solo home run gave the Mets a 4-0 lead. His two hits were a career-high.
CEDENO FINE: Shortstop Ronny Cedeño left the game in the eighth inning with a leg cramp, but he is fine, according to Collins.
MEJIA UP: Jenrry Mejia was promoted to Triple-A Buffalo and his next start is scheduled for Wednesday against Columbus.