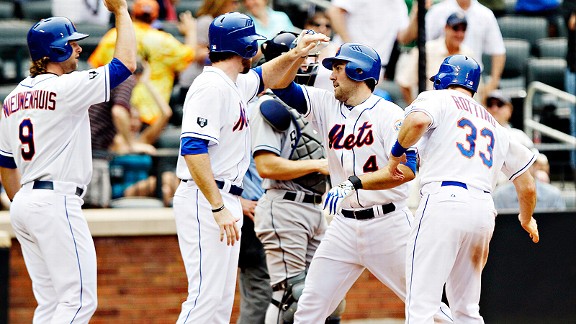 AP Photo/Frank Franklin II
Mike Nickeas had muliple reasons to celebrate this weekend.
With the help of Baseball-Reference.com, we recap the Mets series win over the Padres.
Stat of the Series
On Saturday, Mike Nickeas became the first Mets catcher to hit a grand slam and catch a shutout in its entirety since Mackey Sasser on July 29, 1990 against the Cardinals. That was a combined shutout by Dwight Gooden and Bob Ojeda.
The only other Mets catcher to match that was Jerry Grote for Tom Seaver in 1973. Gary Carter gets inclusion with an asterisk for hitting a grand slam and catching five innings of a Sid Fernandez shutout in 1986.
Byrdak Soaring
Tim Byrdak pitched a full inning in relief in Friday's win and got two outs in Sunday's victory. That snapped a streak of 13 straight appearances in which he pitched exactly one-third of an inning. That is, by far, a Live-Ball Era record for consecutive appearances of that length, breaking the mark of eight shared by four pitchers.
These were Byrdak's 14th and 15th straight hitless appearances. That's the most such consecutive hitless appearances, retiring at least one hitter, in that span, surpassing the 14 set by Sergio Romo of the Giants last season.
Golly Gee
Dillon Gee struck out a career-best nine in seven innings to earn the win. Gee posted a Bill James Game Score of 71, the second-best mark of his career, trailing only his 7 2/3 inning scoreless start against the Nationals last May 25 (a 75). Of Gee's nine strikeouts, seven came on pitches that were out of the strike zone.
V is for Vinny and Victory
Vinny Rotino became the 370th player to hit a home run for the Mets. The Mets have had five players whose given name started with the letter V hit a home run, the others being Valentino Pascucci, Vance Wilson, Vince Coleman and Victor Diaz. Pascucci hit his most recently, last season.
Moment of the Series: Johan Santana completes a shutout
On Saturday, Santana became the 10th pitcher in Mets history to record multiple walk-free shutouts. He also had one against the Pirates in 2008. Seaver had nine walk-free shutouts as a Met, the most in franchise history.
Baseball-Reference.com has fairly complete records of pitch counts. The last documented instance they have of a Met throwing 96 pitches or fewer in a nine-inning complete game is Rick Reed against the Braves in 2001 (he had back-to-back 96-pitch complete games against them).
Elias noted that Santana threw nine pitches in each of the last five innings, the first time in his career he's thrown fewer than 10 pitches in each of five straight innings.
R.A. is Really Awesome ... Again and Again
R.A. Dickey led the Mets to the last of their three straight wins in this series, striking out 10 in 7 1/3 innings. Dickey joined Pedro Martinez (2006) as the only Mets with consecutive double-digit strikeout games in the last 20 seasons.
Looking ahead, the last Met with three in a row was David Cone in 1992.
Perhaps more impressive is that Dickey has only one walk in his last two starts. He joins Tom Seaver, Dwight Gooden and Cone as the four Mets with consecutive starts of double-digit strikeouts AND one walk or fewer.
Dickey struck Jesus Guzman in the fourth inning with a 60 mile-per-hour pitch. It was the slowest strikeout pitch of the season, edging out a 61-mile-per-hour curve by Carlos Zambrano against Joey Votto.