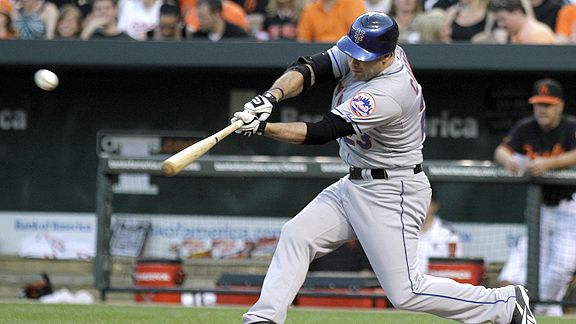 AP Photo/Rob Carr
Chris Carter did not recover the baseball, but his first major league homer nonetheless helped lift the Mets to a 5-1 win against the Baltimore Orioles on Friday night.
Before Friday's series opener against the Baltimore Orioles, manager Jerry Manuel floated the improbable idea of bringing back Carlos Beltran from the disabled list within the week to serve as designated hitter.
What, and disrupt Chris Carter's chance to shine in the lineup?
Carter contributed a three-run homer off Orioles starter Jeremy Guthrie while serving as the DH at Camden Yards as the Mets opened a three-stop trip to American League ballparks with a 5-1 win against hapless Baltimore.
"That's a little subliminal message to Carter to get it going," Manuel quipped regarding his pregame Beltran remark. "No, no, no. Not really. Carter is a good hitter. He has shown some pretty good pinch-hit appearances for us. He has gotten some big hits for us. It was a big hit tonight. To send him to the plate that many times gives him a chance to get involved in the flow and the rhythm of the game."
It was Carter's first major league homer, although he did not successfully recover the souvenir.
Carter indicated David Wright successfully predicted the homer before the game -- even nailing the location.
"He said I was going to hit it to right-center, right over the '373' mark. And I did," Carter said. "That's pretty good."
Actually, Wright confessed, he had no extra sensory power.
"I tell him every day he's going to hit a home run," Wright said. "I figured I'd call it one of these days. He's one of those guys that he brings so much energy, he brings so much excitement, that you just want to try to feed him a little bit more."
Carter should find himself on the bench Saturday, when Fernando Tatis should get a start against left-hander Brian Matusz. But the Mets will see a right-hander in Sunday's series finale, Kevin Millwood, as well as in all three games at Cleveland during the next series -- Justin Masterson, Mitch Talbot and Jake Westbrook. So Manuel predicted the lefty-hitting Carter will see plenty of action with results like Friday night's longball. (Tatis may play third base or DH on Saturday, with Wright getting the other assignment. Wright, who will make the call, suggested he is indifferent.)
"Even though I'll probably either DH Tatis or David tomorrow, this is a stretch of games with right-handed pitching that gives him an opportunity to show his stuff and do his thing," Manuel said about Carter.
In Carter's first at-bat Friday, he swung at the first pitch and flied out to left-center. After that plate appearance, Manuel sidled up to Carter in the dugout and advised him not to be so aggressive as a DH.
"I sat down next to him and I said, 'Hey, you're going to get some more at-bats. You can look at a few pitches if you like,'" Manuel said. "He has that pinch hitter's mentality, which is good for a DH."
Carter was patient the next trip to the plate and went deep on a 1-1 offering with two on and one out in the fourth inning.
"I was like, 'Oh my god, is that going out?'" Carter said regarding his first career longball. "It was a great feeling."