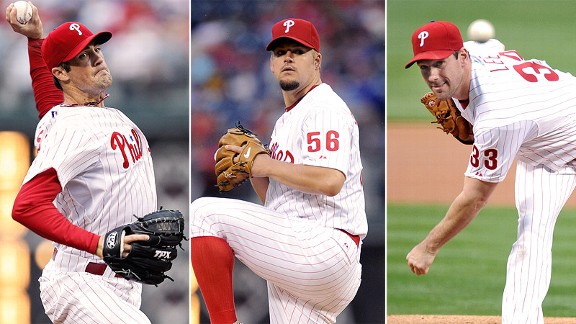 Getty Images
The Mets face (l to r) Cole Hamels, Joe Blanton and winless Cliff Lee this series.
METS (27-21, second place/NL East) vs. PHILADELPHIA PHILLIES (25-24, fifth place/NL East)
Monday: LHP Jon Niese (3-2, 4.29) vs. LHP Cole Hamels (7-1, 2.17), 1:10 p.m. ET
Tuesday: RHP Jeremy Hefner (0-2, 6.17) vs. RHP Joe Blanton (2-2, 4.55), 7:10 p.m. ET
Wednesday: RHP Dillon Gee (4-3, 4.92) vs. LHP Cliff Lee (0-2, 2.82), 7:10 p.m. ET
Phillies short hops
• Cliff Lee is winless on May 28 for the first time since 2003, when he did not make his season debut until June 30 and opened the season as a minor leaguer. During Lee's most recent outing, center fielder Shane Victorino and the southpaw were caught on camera in a verbal altercation in St. Louis in the dugout. The spat came after Victorino and Hunter Pence each lost fourth-inning fly balls in the twilight at Busch Stadium.
• The Phillies remain without the duo of Ryan Howard and Chase Utley. Howard, who is trying to recover from an infection in his surgically repaired left Achilles' tendon, has taken live batting practice at the team's complex in Clearwater, Fla. Utley (knee) has started taking grounders, but has yet to run the bases.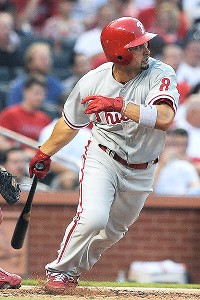 Jeff Curry/US Presswire
Shane Victorino and Cliff Lee jawed in St. Louis after Victorino lost a fly ball.
In Utley's absence, Freddy Galvis has heated up at second base. Galvis is hitting .314 (22-for-70) with 15 RBIs in his past 18 games.
Ty Wigginton, Hector Luna and John Mayberry Jr. all have seen time at first base of late. Luna was promoted from Triple-A Lehigh Valley on May 11 when Laynce Nix landed on the disabled list with a strained left calf. He delivered a grand slam in his first at-bat as Phillie, while pinch-hitting five days later. Luna became the first player to produce a slam in his first at-bat as a Phillie since Gene Freese on April 18, 1959. Mayberry is 5-for-28 in his past 11 games (seven starts). Jim Thome (back) -- who also has logged time at first base this season -- has been on the disabled list for the past month, although he has resumed swinging a bat.
• Cole Hamels' seven wins are tied with R.A. Dickey, St. Louis' Lance Lynn and ex-Met Chris Capuano for the National League lead. Hamels, a free-agent-to-be at season's end, took a no-hit bid one out into the sixth inning in his most recent start. He ultimately tossed eight scoreless innings against the Nationals.
• Joe Blanton has been knocked out in the fifth inning in each of his past two starts. He allowed seven runs apiece against Boston and St. Louis. The consecutive subpar outings have lifted his ERA from 2.96 to 4.55.
• Roy Halladay departed Sunday's game at St. Louis after two innings with right shoulder soreness. Halladay has logged 220 innings in each of the past six seasons. Since '06, Halladay's 1,487 innings are the most in the majors, ahead of runner-up CC Sabathia's 1,463 and Dan Haren's 1,429. Halladay had surrendered a grand slam to Yadier Molina before departing. Brian McCann also had a slam against Halladay this month. They are the first two slams allowed by the ace since Evan Longoria accomplished it in 2008. Fellow starter Vance Worley (elbow inflammation) may throw a bullpen session during the series in Queens but has yet to be activated from the DL.
• The Phillies are hitting .282 with 85 extra-base hits in May. They are averaging 4.8 runs per game this month. In April, they hit .247 with 47 extra-base hits and averaged 3.3 runs per game. Among the top May performers: catcher Carlos Ruiz (.410, 4 HR, 19 RBIs), Victorino (.288, 16 RBIs), Galvis (.283, 18 RBIs), Pence (.272, 8 HR, 18 RBIs) and left fielder Juan Pierre (.310). Ruiz has batted in the cleanup spot four of the past five games, with Pence moving to No. 3 and Victorino to fifth. Ruiz had never batted in the No. 4 hole in his seven-year career before this stretch.
• Philadelphia is carrying four left-handed relievers -- Antonio Bastardo, Jake Diekman, Joe Savery and ex-Met Raul Valdes. Bastardo has allowed one run over his past 12 appearances, spanning 10 1/3 innings. Diekman and Valdes were promoted immediately after the meltdown series early this month against the Mets at Citizens Bank Park, when Philadelphia failed to hold a lead in three straight games and was swept.
• Jonathan Papelbon's 14 saves lead the NL. He has converted every chance this season. His lone loss remains May 7, when Jordany Valdespin delivered a tiebreaking, pinch-hit three-run homer.
• Jimmy Rollins took until at-bat No. 136 to homer. That was the second-longest drought to start a season in his career, only shy of the 155 at-bats required in 2004. Rollins missed three games last week on paternity leave for the birth of his first child, a daughter. If Rollins starts all three games this series, he will match Larry Bowa in Wednesday's finale with 1,667 games played at shortstop for the Phillies.
Last series results
Mets won, 3-0, at Citizens Bank Park, May 7-9 (AP game recaps)
Mets 5, Phillies 2: Jordany Valdespin had a pinch-hit three-run homer off Jonathan Papelbon in the ninth inning for his first major league hit. David Wright hit a tying two-run double off Roy Halladay in the sixth. On the same day Ruben Tejada was placed on the disabled list, Josh Thole left with a concussion after colliding with Ty Wigginton at the plate. More
Mets 7, Phillies 4: Lucas Duda had a tiebreaking RBI single in the seventh. The Mets took the lead with four two-out runs on four hits, including Duda's single off Antonio Bastardo (1-2). Kirk Nieuwenhuis' RBI single pulled New York within 4-2. Chad Qualls replaced starter Joe Blanton and gave up an RBI single to David Wright. On Hunter Pence's throw home, Wright got caught in a rundown between first and second. After Jimmy Rollins threw to first while second base was uncovered, Pete Orr tried to get Nieuwenhuis off the bag at third. The throw bounced past Placido Polanco, allowing Nieuwenhuis to score. More
Mets 10, Phillies 6: Ike Davis hit a three-run homer and Andres Torres also connected as the Mets completed their first three-game sweep in Philadelphia in six years. The Mets rallied to win all three against slumping Philadelphia. They trailed after five innings against Roy Halladay in the opener, then after six against Joe Blanton, and after six against Cliff Lee in the series finale. The Mets (18-13) moved five games above .500 for the first time since July 19, 2010. The loss prompted manager Charlie Manuel to address his team. Lee left with a 4-2 lead, but Kyle Kendrick (0-3) quickly gave that up. More